Sports
United Football League Hunts For New Teams, TV Deal And An NFL Marriage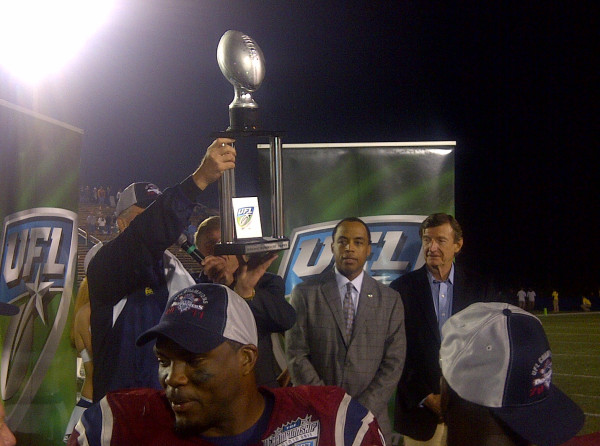 Though still without a Super Bowl appearance, former NFL head coach Marty Schottenheimer walked away with his first professional football championship this week, leading the Virginia Destroyers of the United Football League to a 17-3 victory over the Las Vegas Locos.
Now, it remains to be seen whether or not the teams played their final game ever because the financially challenged UFL has struggled to attract the television licensing deal or NFL partnership that would propel it into financial stability and the American mainstream. League commissioner Michael Huyghue said Friday that a decision should come in January.
Officials reached by KXSC Sports this week were optimistic that the league would survive long enough to play a fourth season.
The four-league team had to cut its regular season short by two weeks to save about $4 million, leaving total losses this season at $20 million. The savings will help the league come out stronger in future seasons, officials said.
The league reportedly came close to securing a television agreement when the prospects of a 2011 NFL season were dim. Instead, the league now faces several lawsuits from unpaid executives and lenders.
"Obviously they fell short on finances this year and that's why we're where we are at," said Rick Mueller, the general manager of the Omaha Nighthawks. "The overall model has to be a little more financially responsible."
Neal Pilson, the former head of CBS Sports who has brokered several television licensing deals as a consultant, said there's no chance the UFL would secure a TV rights deal.
"Everyone has to find out the hard way that the American public is not interested in any brand of football other than the NFL," said Pilson, who was approached by the UFL early on for help. "I told them they would lose a lot of money. They just don't understand."
The league has benefitted from its coaches -- widely recognized former NFL coaches like Schottenheimer, Jim Fassel and Dennis Green -- and its players, among them high-caliber NFL castoffs such as J.P. Losman, Dexter Jackson and Aaron Rouse.
"The product on the field is probably an A+," Mueller said.
Attendance increased in each of the league three successive seasons, especially in Sacramento and Omaha.
"Unfortunately, the league is only as strong as its weakest link. Not to sit here and point any fingers, but that's not us," said John Castleberry, the vice president of sales and marketing for the Virginia Destroyers. "I know Omaha has done well. Sacramento has done well. There are some other challenges out there."
Both Castleberry and Mueller alluded to the troubled financial situation of the Locos, owned by one of the leading figures behind the league's formation, Bill Hambrecht.
League officials all agree that the next step is to add more teams, which would would attract more eyeballs across the country and extend the season. Both of those effects would make it easier to find a broadcast network willing to carry the league's games.
"With everyone playing four or five games, that's not a real football season," Mueller said.
Portland, Ore., Salt Lake City, Chattanooga, Tenn., Des Moines, Jackson, Miss. and Austin have all been mentioned as cities where investors might step up.
Castleberry said football has surpassed baseball as America's pastime, and like minor league baseball, the UFL can deliver a cheap, family-friendly and entertaining experience.
"I think once we get past these hurdles that have caused us to take step back, I think we're going to be very good," Castleberry said.
Mueller, who spent 15 years between the player personnel departments of the New Orleans Saints and Jacksonville Jaguars, said the NFL is in need of a UFL-style farm system.
"The people in the NFL that I know and speak with are really happy with this league because you get to evaluate players that typically wouldn't be playing right now," Mueller said." If it wasn't for the UFL, these 200-plus players playing for us would be sitting home on the couch."
Mueller suggested teaming up with the UFL would help the NFL deliver programming to the NFL Network and expose its brands to smaller markets without a specific NFL team to follow. He suggested in an 8-team UFL, each team could serve as the "farm team" for four nearby NFL franchises.
"If you do have a strategic relationship with the NFL, then you get the benefits that come with that from a marketing standpoint," Mueller said.
Castleberry pointed the half-dozen sponsors for the championship game as an example of how the league had begun correcting its mistakes.
But there remained one sign of troubles in the championship game. Players on the winning team earned $25,000 bonuses in 2009, $20,000 bonuses in 2010 and were expected to receive no more than $10,000 this year, according to the Las Vegas Review-Journal. The Locos won the championship in both 2009 and 2010.
Like reporter Paresh Dave on Facebook, follow him on Twitter, circle him on Google+ or send him an e-mail.
Best way to find more great content from Neon Tommy?
---
Or join our email list below to enjoy Neon Tommy News Alerts.
You may need: Adobe Flash Player.