NFL
Suck For Luck Is A Bunch Of Muck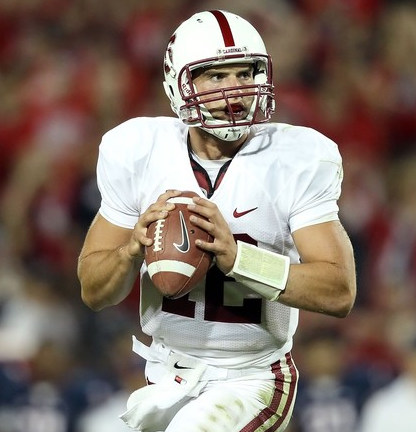 Legendary basketball coach John Wooden said in one of his suggestions for succeeding that you must "understand that the harder you work, the more luck you will have."
Instead of trying to work hard and "just win, baby," NFL fans are hoping their teams will instead try to "Suck for Luck."
Al Davis must be rolling in his grave.
The golden goose come draft time is Stanford quarterback Andrew Luck. His strong arm and prowess for the game make him a hot commodity; seemingly hot enough to drive teams towards a losing record and hopefully a No. 1 draft pick.
But, "Suck for Luck" does not benefit anyone— not the teams, the fans, the sport or Andrew Luck.
The Dolphins, Colts, Rams and Vikings are all in strong contention for placing at the bottom of the rankings and the top of the draft order. But, here is where the problem lies; is Luck their motivation for mediocrity or do they truly lack the talent (not the drive) to win?
It's never good to lose. Ticket sales, fan support and league respect are all at risk. Being the laughing stock of the NFL should never be a coveted position, potential for a star quarterback or not. Teams should be ashamed if they are already giving up, midseason. Fans should be ashamed for wanting that. No player is that important.
Remember Ryan Leaf?
The Chargers gave up two first round picks, a second round pick and three-time pro bowler Eric Metcalf just to get the second round pick in the 1998 draft to sign Leaf. A four-year, $31.25 million contract (not to mention an $11.25 million guaranteed signing bonus) later, Leaf is considered one of the biggest busts in NFL history.
The Heisman trophy candidate from Washington State threw only two touchdowns and 15 interceptions in ten games his first year with the Chargers. After being released in 2000, Leaf took a walking tour around a few more teams before retiring at 26.
Don't forget Matt Leinart and JaMarcus Russell either.
Things don't always pan out they way you think they will. Andrew Luck could be amazing or he could fade into oblivion because of poor play or an injury. A team shouldn't bank their future on one player— Peyton Manning was great for the Colts, until he wasn't and now the Colts are collapsing worse than the Red Sox.
The Chargers are a great example of a team who has generated success with small, strategic draft choices and trades. After trading (losing) Eli Manning to the Giants in the 2004 draft, the Chargers built up their team with the likes of Drew Brees, Philip Rivers, Shawne Merriman and LaDainian Tomlinson. They are a team who wins more than they lose and consistently ranks at the top of the AFC West.
Even with Andrew Luck, I doubt the Dolphins would come back next season and all of a sudden have a winning record. The Rams just signed Sam Bradford. Would they really bench him just because drafting Luck too irresistible? Christian Ponder put up respectable numbers in his first NFL game against the defending Super Bowl Champions. Does his value to the Vikings drop, just for a chance at the Heisman favorite? Is there no hope for Manning's remarkable return?
Teams shouldn't mess with the ebb and flow of football. Luck should go to the team that naturally deserves him and he wants to play for. It's hard to respect and play for a team that may have intentionally phoned in the season.
In a year where a lockout was successfully avoided and fans are tuning in in record numbers teams should be working hard, playing to win—trying to generate their own luck.
Reach Sara Ramsey here. Follow on Twitter here.
Best way to find more great content from Neon Tommy?
Or join our email list below to enjoy the weekly Neon Tommy News Highlights.