Style
Style Icon Of The Week: Kate Moss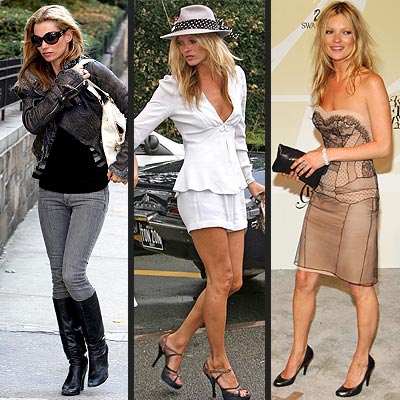 From the runways to magazine covers to the streets. Kate Moss has created an iconic style that inspires the masses of the fashion world.

The supermodel first made her appearance on the runways in the 1990's where she helped create a new style dubbed "heroin chic". Not only has Kate been an influential fashion force since then but even in her 30's she still manages to remain in high demand.

Kate's personal style has been nothing short of influential.

Kate Moss oozes style from head to toe. She always knows how to put an outfit together without making it look put together. If there was one word that sums up Kate's style its effortless.

Kate's style begins with her hair. Her hair always looks messy but just the right amount. It is never pin straight or curled, just loose waves. Those loose waves give her style an air of boho-chic, reminiscent of the hair styles of the late 1960's and early 1970's.

Minimalism is the key to her make-up. Kate always has a clean canvas with dramatic eyes. She wears a smoky eye or a lot of kohl black eyeliner to play up her look. She is rarely ever seen not sporting one or the other giving her just enough of an edge.

Kate's wardrobe and thrown-together outfits range from skinny jeans to skirts and cut-off denim shorts to loose and layered tops. She uses jeans as a fashion statement themselves. She does not stick to just one style but likes to play it up with high-waisted or wide leg jeans.

Accessories are what make Kate's style. She always has the right pieces to take her outfit to the right level. Scarves, oversized sunglasses, handbags and leather jackets are all staple pieces in her wardrobe. She usually wears them all together or mixes a couple of them with one outfit.

She never works too hard to put the right pieces together. Her look always has an air of simplicity and an effortless touch.

Her accessorizing does not stop there. Kate likes to pair up cut-off shorts and skirts with tights and a wide variety of boots.

Her boot choices range from red ankle boots to over the knee leather boots. The boots add that extra oomph to anything she chooses to wear.

Belts and fur coats are also abundant in Moss' wardrobe. She uses them to make simple dresses look like something out of the runways.

Not only does her iconic style dominate the streets, they also dominate the red carpet.

Kate is not particular about what type of dresses she wears. She wears anything from long and fitting to mid-length but short, cocktail dresses are her favorite. Modern prints, sequins and leather she does it all.

What makes Kate's style work is that she is a chameleon. She can wear pieces from any time era put them together with the modern era clothes and makes it work. She never goes over the top trying to get the top fashion or tries to emulate what is seen in fashion shows. She uses simple and vintage clothing to begin her own trends.

Kate Moss is not only a supermodel and a designer but ever since her emergence into the fashion world in the 90's she has created a style that is her own and is now able to add fashion icon to her resume.

Reach reporter Denise Gonzalez here


Best way to find more great content from Neon Tommy?

Or join our email list below to enjoy the weekly Neon Tommy News Highlights.