Arts+Culture
Street Activist Releases 1800 Balloons at L.A. Art Walk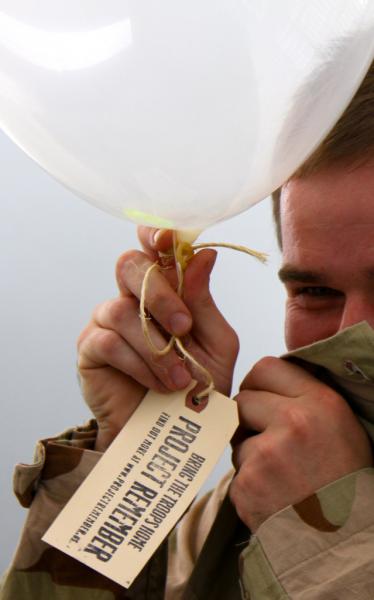 At downtown L.A.'s monthly
Art Walk
Thursday, street activist
Leba
released 1,800 balloons from five of Gallery District's tallest buildings as a message to bring the troops home from Afghanistan. Each balloon had a small green glowstick inside and was tagged with a card that stated a fallen soldiers' name, date of death, and the website for "Project: Remember", the name of Leba's cause.
"Our main goal is to put a visual to 1,800 dead people. That's crazy. If you were to stack 1,800 bodies high – which is a morbid visual – it'd be taller than some of these skyscrapers," said Leba, gesturing from The Loft Salon's 8-stories-high window in downtown Los Angeles.
Five groups of volunteers joined the activist at The Loft to inflate balloons and carry them in large bags to the five buildings, where they were released around 8 p.m. Each balloon was dropped after a volunteer read the deceased's name.
The idea for the project was sparked when Leba's friends saw a light floating in the sky and decided to chase it until it fell into a tree. Although the puzzling object was only a paper bag with a flashlight inside, Leba was inspired to use the idea of a mystifying light for a new street activism performance.
"I thought, 'Look at the intrigue this light created,'" Leba said. "How could we use that as a way of expression?"
Leba brought the idea to The Site Unscene, which manages street artists in L.A. The project was initially planned for September, but had to be pushed back to increase the time needed to plan and raise over $300 through Kickstarter to fund the helium tanks.
"We didn't know how big of a project it was gonna be," said Leba. "There's 1800 balloons, 1800 strings, 1800 cards, 1800 names, 1800 stamps, five rooftops, five helium tanks, 20 volunteers…It's huge."
"It's taken us three months to get to this point," said J.B. Jones, owner of The Site Unscene, "but it's totally worth it."
Jones said she was somewhat disappointed that the balloons didn't fall quickly enough to make a huge impact but Thursday evening scores of pedestrians could be seen toting their own balloons as they visited stores around L.A.'s gallery district.
"This project is taking street art one step beyond to create an impact on the streets and tonight, above the streets," said Jones.
The project also took into consideration ecological concerns, making sure each balloon was biodegradable, made with organic latex and recycled cardstock.
The website for "Project: Remember" features a petition that will be sent to Congress to urge the return of all U.S. troops in Afghanistan.
"I wouldn't say I was anti-war, but let's be responsible with where we're sending people to die," said Leba. "It's just not a legitimate war. If you look at the numbers, violence against women is up; child deaths are up; the drug trade is up."
Leba said he became even more passionate about the cause after a 22-year-old member of his church was killed two weeks ago in Afghanistan.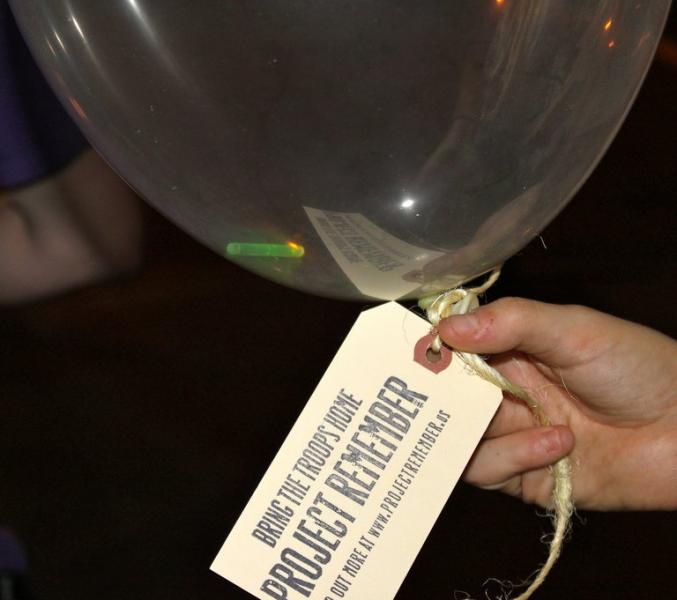 "He died for a lie," said Leba. " It made me really angry to sit in his funeral mass."
The event was followed by an art show at The Loft displaying the work of Leba and other street artists including Dog Byte, Mear One, Destroy All Design and Zombie. Proceeds went to Wounded Warriors, an organization that provides assistance to injured soldiers and service people in their transition to civilian life.
Leba said he hopes that the next step will be bringing "Project: Remember" to cities like Seattle, New York and Chicago. Next time the project may take the form of planting a tree for each fallen soldier or another representation of the lives lost.
"We want people to make this project their own," said the artist. "These guys are still there, they're still dying every day. Let's bring these guys home."
Reach Reporter Elizabeth Johnson here.
Best way to find more great content from Neon Tommy?
Or join our email list below to enjoy Neon Tommy News Alerts.