Music
REVIEW: Ryan Adams Returns With "Ashes and Fire"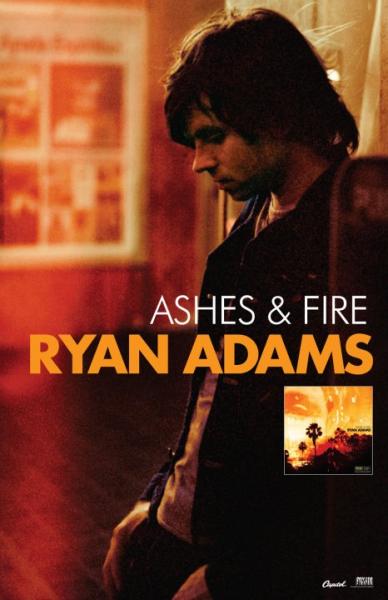 After a two-year hiatus from music, rocker-poet-singer-songwriter, Ryan Adams has returned with a tensely felt comeback album Ashes and Fire. Though, the term "comeback" may be improper.
While healing from Meniere's disease and pursuing other creative ventures, namely the writing of two books of shorts stories and poems, Adams released a few albums recorded back in 2006: III/IV, a country-rock double LP with his longtime backing band The Cardinals, and Orion, a vinyl-only heavy metal album. Not bad for a hiatus.
But Adams' most notable creative pursuit in the last two years has been his marriage to singer and actress Mandy Moore, who appears on the album.
Tranquil married life is a decisive departure for Adams, who was known to mix cocaine with heroin and whiskey at the height of his creative output in the 2000s.
It seemed the driving force behind Adams' incredibly prolific songwriting was an inner turmoil that drove him to the extremes of human feeling, and fueled 11 prolific albums in a nine-year period.
While Ashes and Fire has fewer harsh edges than acclaimed albums Heartbreaker, Gold and Love Is Hell, it has a depth that will not disappoint longtime fans of the musical genius.
The record was produced by the legendary Glyn Johns, who produced The Beatles, The Clash, Bob Dylan and The Rolling Stones. In terms of vocals, Norah Jones and Mandy Moore create a full-bodied background for Adams' pure, raw voice.
Ashes and Fire is a steady, rich body of songs that tell of love, of course, but not just at its height.
"Do I Wait" and "Dirty Rain" dwell in the deeper shades of human connection. This tension peaks in "I Love You But I Don't Know What To Say": "When the night is silent and we seem so far away / Oh I love you when I don't know what to say." "Come Home" slows the pace down even more, featuring Mandy Moore and Norah Jones.
Adams sings in a wispy near-falsetto that's complemented by Moore and Jones' jazzy vocals. The song "Rocks" has an almost Zen-like quality to it: "I am not rocks / I am not rain / I'm just another shadow in the stream / That's been washed away / After all these years / I am not rocks in the river / I am birds singing, tears falling / And the day is dawning."
"Chains of Love", "Lucky Now" and the title track are the more traditional standouts of the record. With signature hooks and infectious choruses, these tracks are the shuffle and beat of the album. The hardy drum and haunting violin of "Chains of Love" are signature Adams ingenuity.
Adams simply cannot be pigeonholed into a genre. Ashes and Fire has country, blues, rock and folk. It has its standouts, but the album is characterized by a resounding monotony; there are very few changes in the mood and tone. But this is its beauty. A sweet melancholy and, dare I say, sense of contentment flows forth from these songs.
Ashes and Fire is pure, uncontrived Ryan Adams, just with a new story to tell.
Best way to find more great content from Neon Tommy?
Or join our email list below to enjoy the weekly Neon Tommy News Highlights.