International
Libyan Prime Minister: Muammar Gaddafi Died Of Gunshot Wound To Head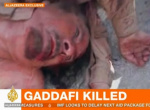 More details are emerging about the capture and death of former Libyan dictator Muammar Gaddafi. Citing forensics evidence, Libyan Prime Minister Mahmoud Jibril said Gaddafi
died from bullet wounds to the head
a few minutes before reaching the hospital. Gaddafi was killed in his hometown of Sirte, Libya. According to reports,
Gaddafi survived a combined strike
on Thursday and was initially
captured alive
.
From CNN: "Gadhafi is believed to have been killed Thursday at the hands of fighters outside of his hometown of Sirte, Libya, after surviving a NATO airstrike on a convoy in the area, a senior NATO official told CNN."
The New York Times also reported: "Officials of the Transitional National Council told reporters later Thursday that Colonel Qaddafi had been killed in a crossfire when a gunfight erupted between his his captors and his supporters in Surt — making the argument that he was not killed intentionally. Forensics experts outside of Libya who viewed photographs of the bullet wound to his head, said it appeared to have been caused by a small handgun."
The Huffington Post had more on the events that transpired before Gaddafi's death:
While he was still alive, the fighters drove him around lying on the hood of a truck, perhaps to parade him in public. One fighter held him down, pressing on his thigh with a pair of shoes in a show of contempt.
Standing upright, he is shoved along a Sirte road by fighters who chanted "God is great."
Gadhafi appears to struggle against them, stumbling and shouting as the fighters push him onto the hood of a pickup truck.
"We want him alive. We want him alive," one man shouted before Gadhafi is dragged away, some fighters pulling his hair, toward an ambulance.
The 69-year old Gaddafi rose to power after a coup in 1969. He ruled the country for 42 years. Gaddafi was the third North African dictator to fall in the wake of Arab Spring, following Tunisian dictator Zine El Abidine Ben Ali in January and Egypt's Hosni Mubarak in February.
Libya's ambassador to the United Kingdom said Gaddafi's body is in Misrata, Libya, CNN reported.