Sports
Pac-12 Basketball Media Day: North Division (And UCLA) Roundup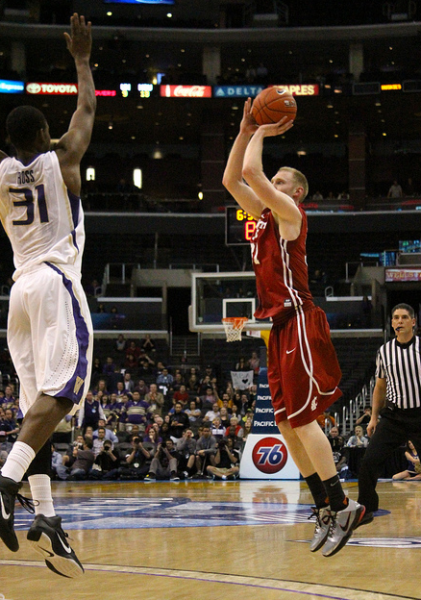 Pac-12 Media Day for basketball was held on Friday in Los Angeles. We got the scoop on the Pac-12 North division (except Stanford) and UCLA, including the top quotes from each session.
Washington State - Even head coach Ken Bone couldn't deny the reality: Washington State is a far different team without Klay Thompson and DeAngelo Casto. The 2010-2011 squad's best players declared early for the NBA and leave a lot of uncertainty in Pullman. When asked about who will ascend and provide leadership to a team in transition, Bone couldn't identify one player but rather mentioned multiple, including Abe Lodwick, Reggie Moore and Marcus Capers, who was on hand at LA Live. Bone singled out the importance of the play of Moore, who was never completely healthy last year.
Much is expected of transfer Mike Ladd, a marksman from three-point range and capable defender who got the task of guarding Thompson in practice last year. Bone expressed excitement about his squad opening the season against in-state rival Gonzaga.
Bone assessing this year's squad: "It's a new team and it's a different time for players to shine. We're excited about what's going on in the Palouse."
Oregon - After going 21-18 in his first year as Oregon head coach, Dana Altman is looking to take the Ducks, ranked fifth in the preseason poll, to the next level. One of his primary topics of discussion was who will be the team's starting point guard. Garrett Sim, who started at shooting guard last year and represented the team at Media Day, is going to get a chance to move over to the point but Jonathan Lloyd is being considered as well. The Ducks bring in a top 25 recruiting class and attention is centered on Jabari Brown, who received high praise from Altman.
Altman on Brown: "(He is a) very talented young man. ... He'll definitely play for us and play a significant role. How much is still to be determined. ... I think he's got a bright future and been very easy to work with."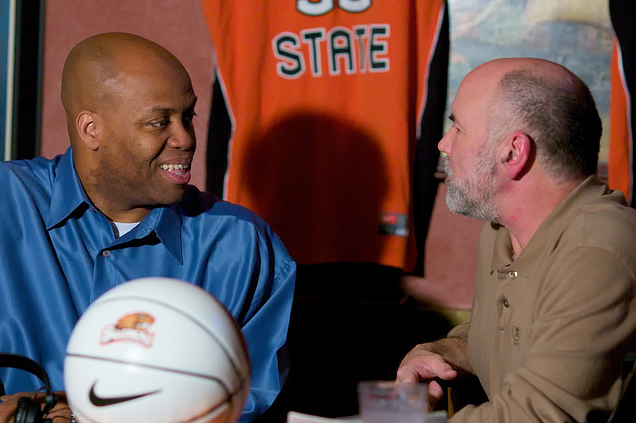 Oregon State - After three years trying to rebuild the culture at Oregon State, Craig Robinson's enthusiasm Friday was palpable. Not only does he bring back one of the conference's best players in Jared Cunningham, he has a solid group of sophomores and juniors that includes Angus Brandt, Devon Collier, Roberto Nelson and Joe Burton. Robinson cited the fact that these players are more experienced and polished than their year may indicate due to the amount of playing time they got early upon the dearth of talent Robinson got upon arriving to OSU.
Robinson was adamant in saying that though the Beavers may have the athletes to play more man-to-man defense, "we would never ever stop playing the 1-3-1." Robinson isn't the only one excited about the state of OSU basketball, saying he has received support from former Beaver greats like Gary Payton and A.C. Green.
Robinson on the improvement of Oregon State: "In the past, I've had to couch my statements but this is the first time I've felt we have a chance every game."
Robinson on Burton: "He is our big secret weapon. He has improved in every aspect… Expect more scoring from him."
Washington - Similar to their in-state Pac-12 rivals, the Huskies will be without their two best players from last season's campaign. However, freshman Tony Wroten has Seattleites buzzing with his precocious potential. Though some have questioned his attitude, the first thing Romar cited was Wroten's intangibles, saying the "showboat" theory is inaccurate. A lot is expected of Terrence Ross at the offensive end but Romar emphasized his improvement rebounding and on defense. Romar noted the balance of youth and experience on his squad, with half his players returning contributors and the other half "brand new."
It was announced that one of the Huskies top returning players, sharp-shooting guard Scott Suggs, is out for 6-7 weeks with an injury. Romar cited the benefit of playing non-conference games against teams like Duke and Marquette and pinpointed the importance of staying healthy as a team and having the freshmen step up.
Romar on the new recruiting rules that permit more texts and calls from coaches: "I'm in favor of it because nowadays, trust me, kids can look to see who's calling and just ignore it. I know for sure they can do that."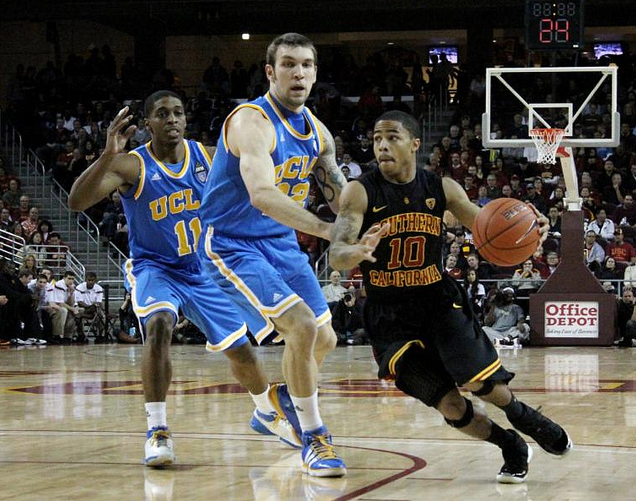 UCLA - Ben Howland opened his remarks by discussing the Bruins size and depth in the frontcourt, emphasizing that they will try to utilize their distinct advantage there and try to "own the boards." Part of the reason for this size advantage is the eligibility of David and Travis Wear, who transferred from North Carolina. Howland said the 6-foot-10-inch David Wear will get an opportunity to start at the small forward position. Though expectations are high for the team picked to win the Pac-12, Howland said it won't be a distraction because his teams always have high expectations.
A popular topic was the Bruins playing most of their games at the LA Sports Arena while Pauley Pavilion is renovated. While the odd nature of it being so close to USC was cited by guard Lazeric Jones, Howland said that when the renovation is complete, Pauley will be "spectacular."
Jones on friend and former high school teammate Derrick Rose: "The biggest thing he tells me is make sure I get my degree."
Howland on big man Josh Smith: "(He) has got to get in better condition. ... When he finally reaches his potential on condition, he'll be unstoppable."
Cal - Coach Mike Montgomery provided perhaps the biggest, and most sobering, news of the day when he announced that he was diagnosed with bladder cancer a month ago. He said that he is virtually cancer-free now after after undergoing surgery and doesn't expect to have any physical limitations. Guard Jorge Gutierrez said the ordeal allowed the team to connect with Montgomery on a more personal level.
In terms of basketball, Cal returns a solid nucleus from a team that finished fourth in the Pac-12 a year ago. Montgomery's biggest concern is depth, especially given the injury history of key contributors Harper Kamp and Allen Crabbe. Montgomery was the only coach who openly took a stance against the NCAA's new recruiting rules.
Montgomery on relaxed restrictions on communication with recruits: "It kind of blows my mind, to be honest with you. The fact that we're now going to be tweeting, texting, calling these kinds any time, any place, it's hard for me to understand. I've always been relatively protective of kids and their privacy."
Montgomery on UCLA: "You walk through the airport, and they scare the heck out of you. They're huge. You've got to think that UCLA's going to be awfully good."
____________________
Reach Johnie by email, or follow him on Twitter.
Best way to find more great content from Neon Tommy?
Or join our email list below to enjoy the weekly Neon Tommy News Highlights.