NFL
NFL Mock Draft - Midseason Edition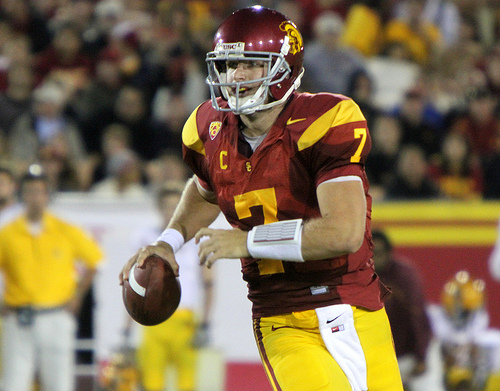 It's about that time of year where terrible teams start to get rewarded for having miserable seasons.
Yes, friends, it's time for my first 2012 NFL mock draft.
Below are the teams and a brief summary of the pick they make based on the current standings and their records. I also am taking into account draft-eligible third year players who I think have a chance of declaring for the draft.
Without further delay…
1. Indianapolis Colts: Andrew Luck, QB, Stanford
As any Colts fan will tell you, watching the Peyton Manning-less squad has been horrifying. Making matters worse is the fact that Manning is already 36-years old and does not have too many years left in his Hall of Fame career. Andrew Luck would make perfect sense here; he is a smart, accurate quarterback in the mold of Manning, and would be able to learn behind him for as long as needed. In a perfect scenario for Indianapolis, Luck would wear blue and white for the next 15 years or so.
2. Miami Dolphins: Matt Barkley, QB, USC
The Dolphins would probably prefer not to draft a quarterback this high, but after Barkley and Landry Jones, there's a pretty big drop-off in talent. Chad Henne has not worked out, and Matt Moore isn't making anyone forget about Dan Marino. In most years Barkley would probably go first overall with his combination of arm strength and experience. He's just unfortunate to be behind one of the best prospects EVER.
3. St. Louis Rams: Justin Blackmon, WR, Oklahoma State
The Rams are pretty bad right now. Coming off a surprising seven win season in 2010, they are winless and Sam Bradford is injured. He also has no one to throw the ball to. As much as I love Brandon Lloyd, Danario Alexander and Donnie Avery, there really isn't a threat on this team at receiver. Blackmon won the Bilitnikoff award as a sophomore, catching 20 touchdowns in the process. He could be another Dez Bryant type of player.
4. Minnesota Vikings: Matt Kalil, OT, USC
The Vikings, outside of Adrian Peterson and Jared Allen, really haven not gotten much production out of anyone on the roster. Charlie Johnson is currently their left tackle, and he is better suited as backup or on the right side. Kalil is having a great year and is incredibly athletic; pairing him with Peterson, guard Steve Hutchinson, and tackle Phil Loadholt could be a sight to see.
5. Arizona Cardinals: Jonathan Martin, OT, Stanford
I'd say Arizona needs a QB, but they almost have to give Kevin Kolb another year given what they gave up to get him. Beanie Wells has looked okay but cannot stay healthy, and they traded away last year's leading rusher Tim Hightower. However, I don't think a back is the answer; they need help on the line. Martin would make the lives of Wells and Kolb much, much easier.
6. Jacksonville Jaguars: Dre Kirkpatrick, CB, Alabama
I personally think this is way too high to take a cornerback, but given the fact that the Jaguars are slated at this position and just took a QB last draft, there really isn't a position of need that provides value at this point in the draft. Kirkpatrick is an excellent corner, and though this is a reach, he's definitely a top ten talent.
7. Carolina Panthers: Quinton Coples, DE, North Carolina
Ever since they lost Julius Peppers to the Bears, the Panthers defense just has not been the same. Charles Johnson is a stud, but if they could team him up with a rusher like Coples, it could be scary for opposing teams.
8. Seattle Seahawks: Landry Jones, QB, Oklahoma
It's becoming rather apparent that Tavaris Jackson and Charlie Whitehurst are not the long-term solutions for Pete Carroll. They managed to score three points against Cleveland. That's right. Three. Carroll needs an upgrade, and Jones is the next best quarterback on the board.
9. Philadelphia Eagles: Vontaze Burfict, LB, Arizona State
Usually linebackers don't go that high, but then again, Burfict isn't most linebackers. He's an absolute beast and has been that way for almost three seasons. The only real weakness on the Eagles roster is at linebacker. Burfict would certainly help that hole.
10. Denver Broncos: Alfonso Dennard, CB, Nebraska
Champ Bailey's getting older, and on the other side, well…I'm not impressed. Their defense is pretty bad, and corner is probably their weakest spot.
11. Dallas Cowboys: Trent Richardson, RB, Alabama
Yeah, I know DeMarco Murray had a great game last week, and Felix Jones is still there. But really, is either one ever going to be a feature back? I doubt it. Richardson could fill the void they have had at tailback since, well, Emmitt Smith. Richardson has 17 touchdowns already and is a workhorse that would give Tony Romo a lot of help.
12. Washington Redskins: Morris Claiborne, CB, LSU
I'd love to give the Redskins a new quarterback, but I don't see anyone worth taking this high. Rex has gone back to being Rex, and John Beck sure is not the answer. However, given their slot in the draft, I'd say they should invest in a corner to match up with those good wideouts in the NFC East. Claiborne is a stud, and while he's not Patrick Peterson, he's pretty good.
13. Tennessee Titans: Whitney Mercilus, DE, Illinois
The Titans have no pass rush. Literally. They have no one on the roster with more than two. They have a total of around 11, and they could use that one impact player. Mercilus is leading the country in sacks currently, and although most people don't know who he is, he reminds me a lot of Simeon Rice, another former Illini.
14. Cleveland Browns: Alshon Jeffrey, WR, South Carolina
Mohammed Massoqui. Greg Little. Brian Robiskie. Josh Cribbs. Yes, these are they key receivers for the Browns. Not good at all, to say the least. Jeffrey could already start for Cleveland.
15. Kansas City Chiefs: Alameda Ta'amu, DT, Washington
Kansas City needs DT help; Glenn Dorsey hasn't panned out as expected and they need someone to replace him. Who better than Ta'amu, who is having a great year?
16. New York Jets: Michael Floyd, WR, Notre Dame
Plaxico Burress isn't going to do it for a long period of time; let's be honest. Santonio Holmes is a good player, but New York needs another redzone threat and Floyd would be perfect.
______________________
Reach Michael by email, or follow him on Twitter.
Sources for this piece included DraftCountdown, WalterFootball, and NEPatriotsDraft.
Best way to find more great content from Neon Tommy?
Or join our email list below to enjoy the weekly Neon Tommy News Highlights.