Entertainment News
MTV Cast Member Sues Over Toothbrush Rape
MTV's "The Real World" and "Road Rules Challenge: The Ruins" cast member, Tonya Cooley is filing a lawsuit against MTV, Bunim/Murray Productions, and her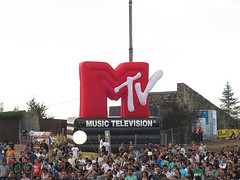 two cast members Kenneth Santucci
and Evan Starkman.
She is suing on the basis that they raped her with a tooth brush while MTV and producers hid what happened, according to TMZ reports.
Cooley claims that Santucci and Starkman took another castmate's toothbrush and rubbed it around her genitals and even inserted the toothbrush in her vagina all while she was passed out and cameras were filming.
She also says producers were aware of the incident and instead of informing her, they simply replaced the toothbrush and left her in the dark on what occurred.
Cooley's lawsuit is also saying that female cast members were deprived of their bathing suits and producers prompted male cast members to inappropriately touch the females.
When TMZ tried to contact MTV and Bunim/Murray Productions, neither party was willing to give a statement.
Reach reporter Phoebe Abraham here.
Best way to find more great content from Neon Tommy?
Or join our email list below to enjoy the weekly Neon Tommy News Highlights.