MLB
MLB Playoffs - NLCS Q&A With Brewers Writer Jim Breen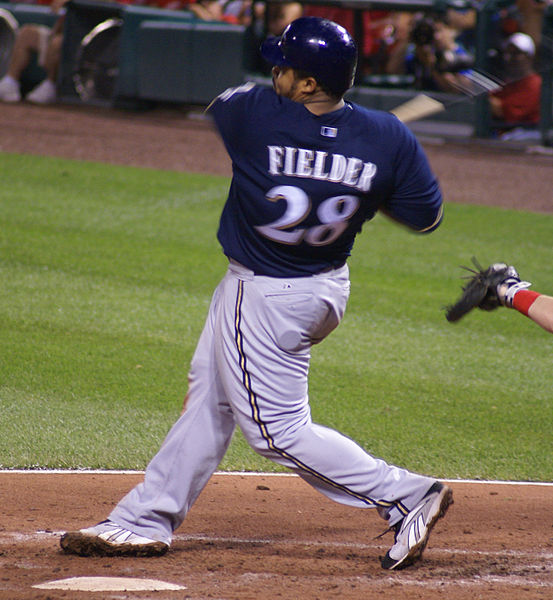 Check out Aaron's ALCS Q&A here.
After defeating the Arizona Diamondbacks in thrilling, walk-off fashion in Game 5, the Milwaukee Brewers got a chance to watch the other National League Division Series Game 5 on TV.
If the Cardinals could upset the mighty Phillies, that would mean that the Brewers would be given home-field advantage in the National League Championship Series.
Behind Chris Carpenter's impressive three-hit shutout, the Cardinals edged the Phillies 1-0 and effectively gave the Brewers home-field advantage, as Philadelphia was the only NL team to finish with a better record than Milwaukee.
The Cardinals win also set up an NL Central battle to determine this year's NL champion.
This year's Brewers, led by first-year manager Ron Roenicke, posted the best home record in the big leagues, winning 57 of their 81 home games (a winning percentage of .704).
Starting pitcher Zack Greinke was acquired before the season, and the move has significantly paid off. The Brewers have won all 16 games that Greinke has started at Miller Park.
I caught up with Jim Breen, founder of the Brewers blog on the Milwaukee Journal Sentinel to discuss the 2011 NLCS. Thanks a lot for your time and insight, Jim!
1. The Brewers finished with the best home record in baseball (57-24), but were very average on the road (39-42). How important, if at all, does the Brewers' home field advantage figure to be in this year's NLCS?
Home field advantage in baseball is routinely underrated, in my opinion, especially when you have the raucous crowd that Miller Park features every night. The Brewers seem to play with added enthusiasm at home, and the overwhelming record stated above is evidence to that fact.
2. Ryan Braun (left) and Prince Fielder were lights out offensively at Miller Park this year with a 1.068 and 1.096 OPS, respectively. What is it about the home cooking that has benefitted these guys so much in 2011?
With Braun and Fielder, I think it's much more that the two are simply All-Star-caliber hitters than anything. Players generally hit better where they are more comfortable -- and Miller Park obviously fits that bill -- but as one scout told me earlier in the year, "Hitters hit." It doesn't matter where it happens. Quality hitters will punish opposing pitchers, and Braun and Fielder were able to do that in 2011.
3. Nyjer Morgan (aka Tony Plush, among other alter egos) provided some late-game heroics, driving in Game 5's winning run. In general, how do Brewer fans react to Morgan's quirky personality and unique antics?
Brewers fans have uniformly embraced Nyjer Morgan and his many names. He is the type of charismatic player that can galvanize a fanbase ... as well as a clubhouse. I think Morgan needed a place where he could be himself. The loose and fun Brewers clubhouse gives him that freedom, and as long as he continues to play great defense in center field and collect walk-off hits, the Brewers' fanbase will elevate him to cult status, as well.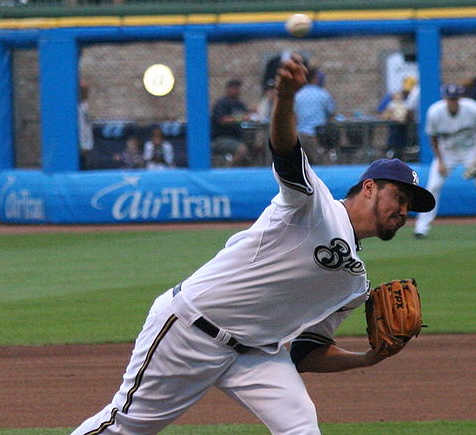 4. Starter Yovani Gallardo has been good, but does his propensity to give up the home run ball concern you? He has surrendered 11 home runs in his last seven starts.
Absolutely. Being home run-prone is never desirable for a starting pitcher, especially in the playoffs. Luckily, he has limited the damage as of late by striking out a ton of batters and keeping runners off the basepaths. As long as the home runs are solo shots and not three-run bombs, the team should be in good shape.
5. With Shaun Marcum really struggling, how would you assess the rest of the Brewer rotation? Do you expect manager Ron Roenicke to go with Gallardo, Greinke, and Marcum as his top three starters against the Cardinals?
Marcum has struggled over the past month, but Randy Wolf has not been much better. I don't think there is any reason to mess with the starting rotation at this time. Instead, Marcum needs to pitch more like the guy who dominated in August, not the guy with a 5.17 ERA in the month of September.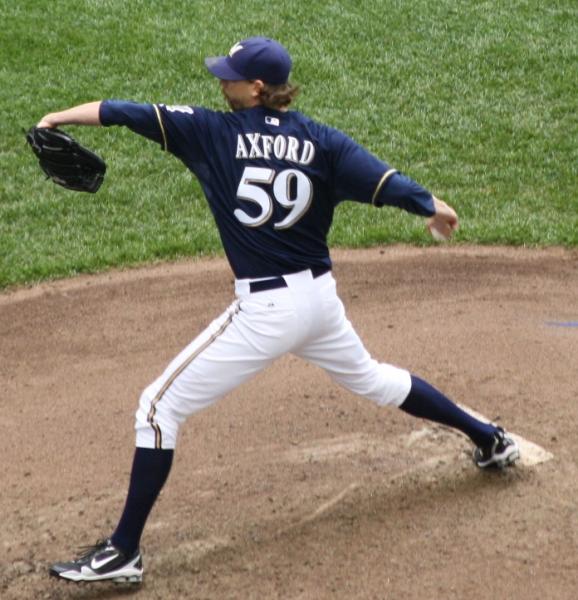 6. Along with closer John Axford (left), the team's bullpen is stocked with three former closers in K-Rod, Takashi Saito, and LaTroy Hawkins. How do you assess the bullpen in its current construction?
Manager Ron Roenicke likes to utilize rigid bullpen roles, which was extremely difficult for the Brewers' bullpen earlier in the season. Roenicke tried to force a square peg into a round hole with Kameron Loe in the eighth inning, and the same with LaTroy Hawkins. Doug Melvin then made the trade for K-Rod, which helped the bullpen fall into place.
The benefit of having shutdown guys at the back-end of the bullpen is that Takashi Saito and LaTroy Hawkins can be used more effectively in the middle innings, and Kameron Loe can be the true right-handed specialist that he is.
With K-Rod and Axford, though, the Brewers have the luxury of shortening games (Friday evening notwithstanding). Both have nasty stuff, and Roenicke trusts both pitchers implicitly.
7. With the Brewers dropping six of their last seven to the Cards, is that a legitimate concern?
It's simply signifies that the St. Louis Cardinals are a quality baseball team. The Brewers already knew that. In the postseason, regular season context is thrown out the window. The series are too short and anything can happen.
Sure, the fact that Milwaukee has dropped six out of their last seven games to the Cardinals is concerning, but there is no reason to focus in on those seven games as an arbitrary endpoint. The Brewers did not have Rickie Weeks in those games, for example. Things change. The teams are playing differently than they were a month ago.
With that said, it should be a phenomenal series that goes the distance to Game 7.
8. Ron Roenicke has coached baseball for a long time, but this was his first year as manager at the major league-level. How has his managerial approach differed from that of former manager Ken Macha?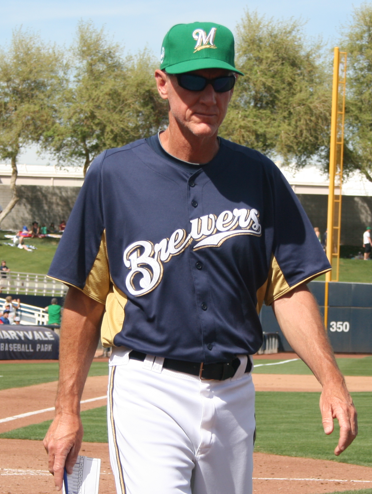 As with most newly-hired managers in the big leagues, his style is the exact opposite of his predecessor. He is a great communicator, where Macha struggled to bridge the gap between he and his players. Roenicke (right) is aggressive on the basepaths, where Macha preferred to go station-to-station to avoid running into outs with such a powerful lineup.
The players absolutely love playing for Roenicke, by all accounts. Prince Fielder and Ryan Braun -- two leaders in the clubhouse -- endorsed him as a leader early in Spring Training. Roenicke trusts in his players no matter what, and his players respond to that.
9. From Milwaukee's perspective, what are the keys to winning the National League pennant?
Pitching, pitching, and pitching.
If the Brewers are able find the Shaun Marcum and Randy Wolf that they left behind in the regular season, the Milwaukee Brewers will be in good shape in the NLCS. Gallardo and Greinke should be solid, but two quality starters in a seven-game series is not enough. One of Marcum and Wolf will have to rise to the challenge and pitch much better than they did against Arizona in the NLDS this past week.
10. In your opinion, who will win the series and in how many games?
The Brewers in seven. Given the fact that this postseason and the end of the regular season ended with such theatrics, I don't think that one can expect anything other than a dramatic Game 7 elimination game in the Brewers-Cardinals series.
And I wouldn't have it any other way.
______________________
Reach Aaron by email, or follow him on Twitter.
Follow Jim Breen on Twitter here.
Best way to find more great content from Neon Tommy?
Or join our email list below to enjoy the weekly Neon Tommy News Highlights.