Sports
L.A. Galaxy Edge Chivas USA 1-0 In SuperClasico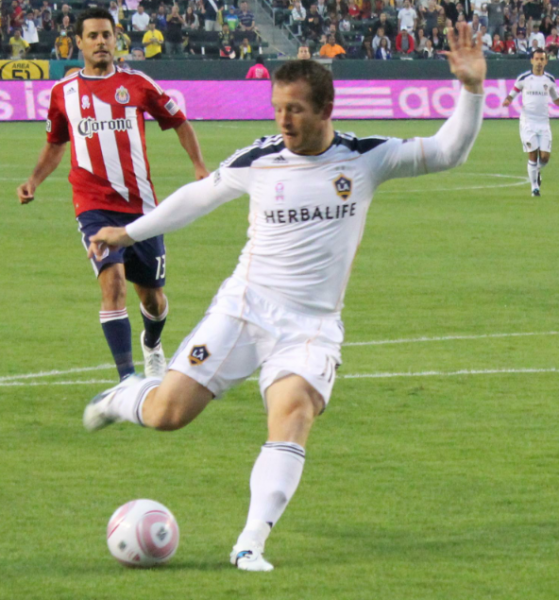 L.A. Galaxy forward Chad Barrett may have six goals this season, but by halftime against Chivas USA on Sunday at the Home Depot Center, he should have scored at least three more.
With leading-scorer Landon Donovan and Irish-international Robbie Keane still recovering from injuries ahead of Thursday night's CONCACAF group stage finale against Motagua, Barrett had the opportunity to shine before the start of the MLS playoffs. It would take him a while, but he'd get there eventually.
Barrett's first and best chance came moments after kickoff when he found himself one-on-one against Chivas USA goalkeeper Dan Kennedy. He dribbled around the goalie, but had his shot blocked by on-rushing defenders Andrew Boyens and David Junior Lopes.
The Galaxy continued to pressure their rivals as Barrett ran behind a high Chivas USA back-line on several occasions, and David Beckham, who was listed as questionable before the match, finding room and time to pass from the right side of midfield.
Barrett was unlucky in the 18th minute when his bicycle kick from five yards out was well saved by Kennedy after a long throw-in from the sideline.
Midfielder Marcos Mondaini created one Chivas USA's few chances of the first half when he dribbled around Galaxy fullback A.J. DeLaGarza in the 33rd minute, but L.A. goalkeeper Josh Saunders was able to gather Mondaini's low shot easily.
Barrett came close yet again when his header from Todd Dunivant's cross hit the left-post in the 38th minute.
Barrett said after the game that he didn't let all those spurned chances get to his head at halftime with the game still tied at 0-0.
"It wasn't bad shots... I put all of them on goal and they just weren't going in," said Barrett." I knew I was going to get another chance, and I made sure when I got that chance I was going to bury it."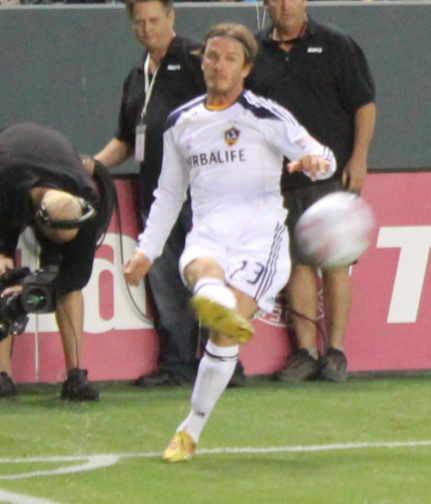 "We told him to score –- simple as that," said teammate David Beckham post-match.
That confidence paid off in the 53rd minute when Barrett finally redeemed himself. The striker raced in front of Kennedy;s net to latch onto an Adam Cristman cross and nodded the ball home to give the Galaxy a 1-0 lead. The assist was Cristman's first of the season.
The relieved Barrett celebrated by blowing kisses to the raucous Angel City Brigade supporters' section.
However, Barrett was back to his profligate ways soon after in the 62nd minute when he failed to connect on a well-placed pass from Dunivant in the center of the Chivas USA penalty area.
A fantastic cross from Beckham in the 71st minute found Cristman alone to Kennedy's right, but unfortunately for the Galaxy forward, he was offside.
Former Galaxy player Juan Pablo Angel, who has scored seven goals since joining Chivas USA from the Galaxy in August, had a chance to equalize a minute later when he raced through on Saunders' goal, but his shot was blocked by Galaxy defender Omar Gonzalez, who got back just in the nick of time.
Barrett made way for Jovan Kirovski in the 86th minute, but Chivas USA couldn't make him pay for wasting so many chances, and the Galaxy closed out the game to earn a coveted 1-0 win in the Los Angeles SuperClasico. The match was a relatively tame affair in what has typically been a hot-tempered affair between the two local rivals.
After the game, Beckham spoke highly of Barrett's performance.
"It shows character. It was great to see him put one away," said Beckham. "It could definitely be a hat trick... but one will do."
Galaxy coach Bruce Arena said during the post-game press conference that it was "good to see [Barrett]come back determined in the second half. It's obviously a big goal, and I think it should be a boost to his confidence."
As for the bigger picture, Arena said the Galaxy's undefeated home record was "the most important factor, probably, in winning the Supporters' Shield." As the top-overall seed, the Galaxy will enjoy home-field advantage throughout the MLS playoffs.
However, Arena did single out the team's finishing and passing as two areas that he would like like to see improve before the postseason, which begins later this month.
For more, check out Neon Tommy photographer Ryan Kantor's photo essay from the match:
--------------
You can reach Omar by email or follow him on Twitter at @omarshamout.
Best way to find more great content from Neon Tommy?
---
Or join our email list below to enjoy the weekly Neon Tommy News Highlights.