International
Kenyan Forces Enter Somalia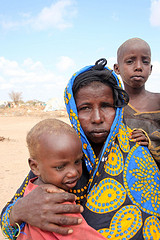 Hundreds of Kenyan soldiers pushed into Somalia to battle the al Shabaab militant group on Sunday, the
NY Times
said.
Armored trucks, tanks and helicopters have already begun bombing al Shabaab targets. The al Shabaab is an Islamist militant group claiming alliance with Al Qaeda. Kenya's involvement comes after Somali pirates conducted a string of kidnappings along its coasts in recent months.
Kenya is the largest economy in East Africa and the spate of kidnappings threaten to weaken its lucrative tourism industry, Reuters reports.
On Thursday, two female Spanish aid workers were abducted from Kenya's Dabaab refugee camp. The camp is home to 450,000 Somalis who have fled their country's violence, according to the Sydney Morning Herald.
One of the biggest challenges facing the Kenyan military is al Shabaab is not a conventional military so it will be difficult to fight them with conventional strategies, the Daily Nation reports.
A crippling drought and severe famine have added to urgency of the conflict.
Best way to find more great content from Neon Tommy?
---
Or join our email list below to enjoy Neon Tommy News Alerts.