Entertainment News
Ke$ha To Collaborate With Human Rights Campaign In T-shirt Launch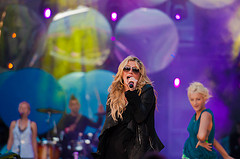 Pop singer Ke$ha, in collaboration with LGBT civil rights organization Human Rights Campaign, is launching a limited-edition t-shirt as a part of the Musicians for Equality series to promote HRC's message of equality and individualism. This launch comes just in time for National Coming Out Day on October 11th. National Coming Out Day is an annual celebration of the LGBT community and its members, and this year its theme is "Coming Out for Equality."
Ke$ha's message of self-expression and being unique in many ways reflect the ideals of "Coming Out for Equality". "Much like a zebra doesn't change its stripes, we hope people of all walks of life, LGBT and straight allies, celebrate themselves and their unique contribution to the fight for equality," said HRC president Joe Solmonese.
Called "We R Who We R", the shirt references Ke$ha's pop hit by the same name and features a purple zebra as well as Ke$ha's signature, the HRC equality logo, and the slogan "We R Who We R". Only 1,000 shirts are being produced, and are available at HRC stores and http://shop.hrc.org/ for $35. One hundred percent of the sales proceeds will go to supporting HRC.
Learn more about HRC here and learn more about National Coming Out Day here.
Chloe can be reached here.
Best way to find more great content from Neon Tommy?
---
Or join our email list below to enjoy the weekly Neon Tommy News Highlights.