Nation and World
John McCain Calls For Deeper Libyan Support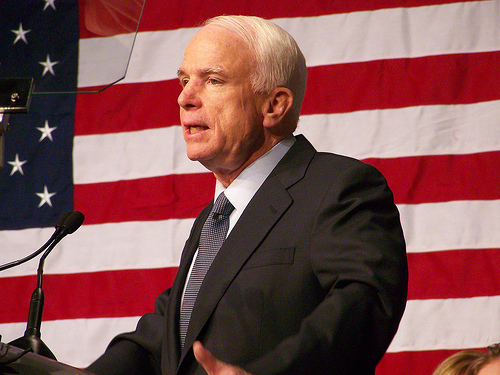 Sen. John McCain called for the United States to deepen its support for Libya after Thursday's reports of ousted dictactor Muammar Gaddafi's death,
reported the Los Angeles Times
.
McCain's statement came before President Barack Obama's official comments on Gaddafi's reported death. According to the LA Times, the statement also made no mention of Obama or his administration's role in supporting the rebels.
The statement said that the Libyan people have liberated their country, though final fighting continues.
"Now the Libyan people can focus all of their immense talents on strengthening their national unity, rebuilding their country and economy, proceeding with their democratic transition, and safeguarding the dignity and human rights of all Libyans," the statement said. "The United States, along with our European allies and Arab partners, must now deepen our support for the Libyan people, as they work to make the next phase of their democratic revolution as successful as the fight to free their country."
-------
Reach assistant news editor Agnus-Dei Farrant here.
Best way to find more great content from Neon Tommy?
Or join our email list below to enjoy Neon Tommy News Alerts.