Nation and World
Immigration Advocates Divided On Raising Or Eradicating U-Visa Cap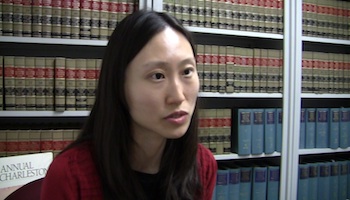 Proponents of a visa program for undocumented immigrants who are victims of crime are pushing Congress to pass legislation that would triple the reach of the temporary coverage.
U-visas provide legal status and work eligibility in the United States for up to four years to those who have been identified as victims of crime. Applicants must have suffered substantial physical or mental abuse from criminal activities ranging from extortion to rape and assault. In its current state, the three-year-old program has a set annual cap on accepted applications of 10,000.
U.S. Sen. Robert Menendez, D-N.J., announced the Power Act in April 2010, which would add labor exploitation to the list of qualifying abuses and raise the application ceiling to 30,000 per year. Despite gaining supporters like California Reps. George Miller, D-Martinez, and Judy Chu, D-Monterey Park, the legislation has stalled.
Meanwhile, some involved with actually carrying out the protective services feel such a bill falls short. Betty Song, staff attorney at the Asian Pacific American Legal Center in downtown Los Angeles, said that setting a cap on visas at all makes little sense for such a beneficial program.

Neon Tommy: Why don't you walk me through the process of providing aid to victims, whether or not they're covered under the U-visa program?
Betty Song: Sure. The work that I do is primarily with domestic violence victims. We focus on helping the immigrant community, specifically the Asian Pacific Islander community in Los Angeles and Orange County. We first assess whether a client has an immigration remedy. So for example, with the U-visa, a person must be a victim of a crime. In the U.S., domestic violence is a crime, so if you're a victim of domestic violence you may be eligible. You also have to prove that you suffered some kind of injury because of this crime; it could be physical or emotional. And then one of the most important requirements is you have to prove that you cooperated with law enforcement. Usually what that means is that the crime has to have been reported to either the police or to some law enforcement official, and you have to have cooperated in the investigation and received some kind of signed certification by the law enforcement official.
NT: What level of support is available to victimized immigrants while they're going through the legal process to find justice or relief?
BS: A lot of our clients come to us having already reported the incidents to the police. They're looking to us to help them with the immigration side of their case. When we take on a case, we do full representation for clients. We prepare the application, we submit it to immigration, we help them through the whole process. Hopefully, they will get their U-visa at the end of that process. Some clients come to us before they've reported the crime. In that situation, we may accompany them to the police station and help them to report the crime so it's clear what to report and how to report it so that the police will understand what they're trying to do.
NT: I understand the U-visa applications were put on hold until the new fiscal year, which started October 1. How many applications have you already seen?
BS: We're a broader civil rights organization. Our direct services area isn't as large as some of the larger legal aid organizations in Los Angeles, for example. And domestic violence is a small part of what we do, so for us there isn't the huge volume as with other legal aids, but I would say that we do help probably over 400 victims of domestic violence each year. Of that amount, about 50-plus clients are U-visa clients, or at various stages of their U-visa process. Either they've applied for U-visa or they've actually applied for their green card visa having been U-visa approved.
NT: From the legal center's standpoint, what are the benefits of the U-visa program?
BS: The benefits are really great. The fact that U-visa actually exists helps so many people because, to be eligible for a U-visa, it doesn't matter what your relationship is with the perpetrator of the abuse. So for example, there are certain immigration remedies which you must be married to a U.S. citizen or a green card holder and be abused by that spouse. For the U-visa, it doesn't matter whether you're married to the abuser, it doesn't matter what status the abuser has—if you're a victim of domestic violence, you may be able to apply. That allows so many more people to have this potential status without the help of their abuser.

NT: What would happen to the people denied protection under this program? What are the options available to them?
BS: There are probably two different potential difficulties for people in this situation. One is for people who are eligible but because of the cap that they implemented of only issuing 10,000 visas per year, that would delay somebody's ability to get a U-visa. So that's a problem, because we're talking about people who, prior to getting their U-visa, don't have a work permit, don't have a Social Security number—they don't have documentation to be able to go through their life and be self-sufficient. The second issue I see is that, if somebody is eligible for a U-visa but for some reason they're having a difficult time getting documentation to prove their eligibility and as you said, if they are denied, then it might be very difficult for them to able to get status any other way.
NT: What do you consider problematic about the ceiling placed on granting U-visas?
BS: The thing that I'm not really understanding in terms of this cap is that we actually help victims of domestic violence with other immigration remedies, such as self-petitions under the Violence Against Women Act. We also help people with what are called I-751 waiver petitions based on domestic violence. As far as I know, there's no cap for those types of remedies. It only seems to apply to U-visa. And the U-visa law can actually help a much broader group of people. So by having the cap, you're artificially delaying the possibility for people who are actually eligible to get this kind of benefit. I'm not really sure why there's a cap for this particular remedy versus other remedies that are available to victims of domestic violence or crime.
NT: You deal more with the victims themselves, providing aid directly, but what are your impressions of the obstacles standing in the way of the legislation to expand the U-visa program?
BS: The first issue is understanding why USCIS (U.S. Citizenship and Immigration Services) has the cap in the first place, and what is it they're trying to achieve by having this cap? Unless they're going to be convinced that this cap is unnecessary or arbitrary or artificial, then it would be difficult to move forward from there. I do think though that because more and more people are accessing the U-visa remedy—across the country, there are legal aid organizations, immigration attorneys that find that clients can find relief through this remedy—that I see that there is going to be more pressure on USCIS to change their policy. I'm hoping that especially with news coverage about this cap—I'm sure a lot of people don't realize that that exists. A lot of people don't realize what U-visa is. I really think this will help move CIS toward making a policy change.
NT: Speaking of that pressure, what has the legal center done to promote awareness or rally support?
BS: We're really trying to get out there to even let the APAC (Asian Pacific) community know that this remedy exists, because a lot of people don't really understand what the U-visa is and how it can help you. The more we can get the word out to the community, we'll see a higher volume. We'll be able to then have something more to take to CIS to say that, look, there's a high demand. People are eligible. They should be afforded this type of relief, and certain barriers are preventing them from being able to do that.
NT: What impact do you think the Power Act will have, specifically its increase on the cap to 30,000?
BS: If they do raise the cap, if there's a lot of discussion about this issue, I think that will also help raise awareness to the community about what U-visa is. Because ultimately our goal is to be able to find victims of domestic violence that might not know they qualify so that they're able to get this legal status and have a better quality of life. Media coverage around this issue is important for that. Having the ability to help more people will also then help promote the type of work we do. And hopefully that will also gain more support for the work we do in terms of funders. The more that there's coverage of this issue, I think there will be a broader group of people that are interested in what we do.
NT: What's the legal center's next step in promoting or helping to expand the program or further help the APAC community?
BS: We also work closely with another organization called the Asian American Justice Center (AAJC). We actually have different affiliates in different parts of the country including Asian Law Caucus in San Francisco and the Asian American Institute. One of the advantages to working in that kind of coalition is that, for example, AAJC does policy work in D.C. Hopefully, if we can become more involved in this discussion, then that can help with the push toward being able to increase the number of U-visas that are available. We're also hoping we can expand the direct services work we do to other organizations, providing technical support, being able to help others help more people.
NT: Is there anything else you'd like to add?

BS: I think it's important to realize that there are a lot of people who do qualify for legal remedies that are immigrants, and it's important that everybody knows what the information is. Because without knowing the information, there's no way to access the types of services that are available. Information is power. For the immigrant community, a lot of things are word of mouth, so if we can just get to as many people as possible, then the word will continue to spread and more people will get help.
Reach Catherine here; follow her here.