Sports
Heisman Watch 2011 - Week 6 Contenders
Last week I started tracking the best of the 2011 Heisman Trophy hopefuls.
A lot of moves in this week's list, some due to injury, some due to lackluster play, and some because, well, they're not as good as I thought. So, here's the list:
1. Russell Wilson, QB, Wisconsin
I had him on top of my list last week, and a lot of people said he was unproven. I still liked him and said he'd have a big game against the Cornhuskers.
Wilson didn't disappoint: he was 14 out of 20 for 255 yards, two touchdowns, no interceptions.
He's still completing almost 75% of his passes, and until he and the Badgers lose, I will keep him on top of the list.
2. Andrew Luck, QB, Stanford
I moved Luck up for one main reason: he just doesn't lose.
He's still only thrown only one interception on the year and has only been sacked twice.
Stanford's looking to make quite a run not only in the Pac 12 but on the national stage as well; Luck's prominence will always keep him in the hunt.
3. Trent Richardson, RB, Alabama
Richardson has less than 100 carries on the year and is still fifth in the nation in rushing. On 96 carries, he has a remarkable 10 touchdowns.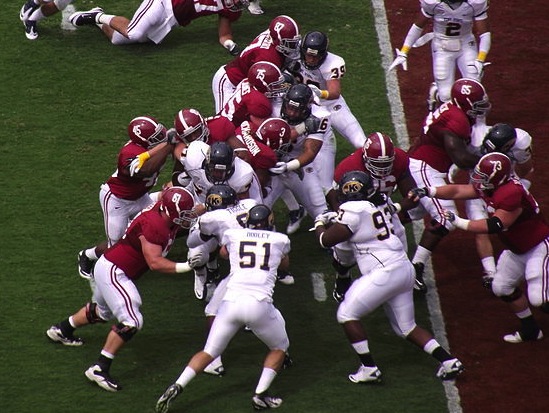 If Alabama wins out, there's no doubt Richardson (No. 3 at left, pushing through Kent State defenders) will end up in New York for the Heisman festivities.
4. Robert Griffin III, QB, Baylor
If it weren't for Baylor's loss to Kansas State, Griffin would still be in my top two. However, it is not only the fact that his team lost; he also threw the costly interception that sealed the game for KSU.
He's still in the top five because of his efficiency and gaudy numbers, and could very easily make his way up the list if Baylor wins more games.
5. LaMichael James, RB, Oregon
James is putting up unreal numbers right now: he has had three straight efforts with 200 or more yards rushing.
Based on that, one could argue he should be at the top of the list.
However, he suffered a horrific elbow injury Thursday against Cal, and no one knows how long he is going to be out. If he misses multiple games, his chances will dwindle substantially.
Still in the running: Marcus Lattimore, RB, South Carolina; Robert Woods, WR, USC; Tajh Boyd, QB, Clemson; Case Keenum, QB, Houston; Kellen Moore, QB, Boise State
________________________
Reach Michael by email, or follow him on Twitter.
Best way to find more great content from Neon Tommy?
Or join our email list below to enjoy the weekly Neon Tommy News Highlights.