Film and TV
"Grey's Anatomy" Recap: "What Is It About Men"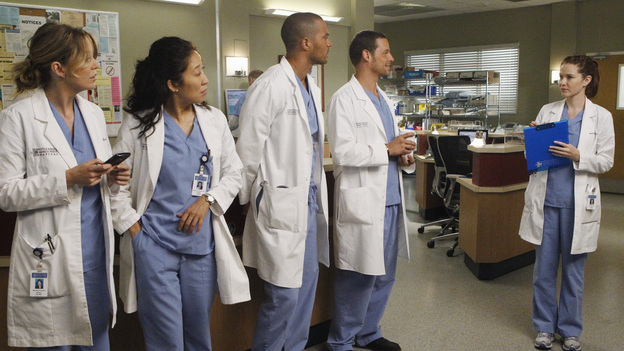 In a "Grey's Anatomy" first Thursday evening, the testosterone filled episode centered around the men's perspective.
The refreshing twist brought out the male doctor's drama and gossip as the women were, for the most part, out of the picture.
The ultimate nerd and war resulted in a major accident at a comic convention and self-proclaimed hobbit was enchanted by Dr. Kepner.
Sloane had the responsibility of taking care of his baby while Arizona and Cali were away at a conference, which brought out his maternal instincts as he freaked out about the baby not crying.
Meanwhile Owen, buried in paperwork, tried to keep his head above water with all the duties that come along with being chief of surgery. And in an effort to not be chained to his desk he got rid of all his furniture so that his office could be wherever he is.
Derek had Alex on his service instead of Meredith this week, which proved to be a lot more problematical than he thought. Avery had difficulty using his surgical skills on Sloane's plastic surgery service.
So with all this frustration, the men did some good old-fashioned male bonding (and gossiping) as they took out their frustration hammering and building Derek's new porch.
The end of the episode wasn't as drama packed as usual but the episode as a whole was refreshing and actually very amusing. Who knew that men could be so chatty and dramatic?
Reach reporter Elizabeth Pereira here.
Best way to find more great content from Neon Tommy?
---
Or join our email list below to enjoy Neon Tommy News Alerts.