National
Grain Elevator Explosion Kills 3 In Kansas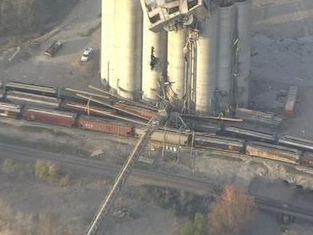 A huge explosion at a grain elevator killed 3 people in Kansas Saturday night. Three others are still missing and two have been hospitalized with burn injuries.
Authorities are investigating the cause of the blast which was felt by people three miles away.
The rescue effort for the missing workers was temporarily suspended Sunday afternoon after officials determined the facility was unsafe for anyone to enter until heavy equipment arrived to help in the efforts.
Workers said they haven't given up hope of recovering one elevator company worker and two state grain inspectors who have been missing since the blast.
Four workers were able to escape without injury from the explosion which rocked Atchison, about 50 miles northwest of Kansas City. Stored grain can create toxic gases which can result in explosions but officials have yet to determine a cause.
The elevator is owned by Barltlett Grain Co. The company has been cited by OSHA for two previous employee deaths.
Best way to find more great content from Neon Tommy?
---
Or join our email list below to enjoy Neon Tommy News Alerts.