Food
Government Officials Outraged By Marijuana-Shaped Candy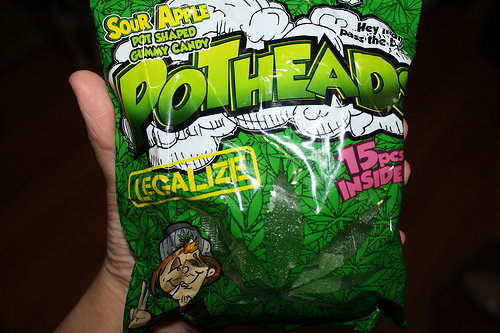 In the mood for a sugar high? Here's something that's bound to do the trick: marijuana-shaped candy like "Pothead Ring Pots" are showing up on store shelves around the country. And though these sweet treats won't get kids high, parents and anti-drug activists are livid over sales at corner stores that represent "a new low."
The candy is being distributed to retailers by the novelty supply company Kalan LP. Along with their line of pro-legalization pot paraphernalia, they also sell items that support the Occupy Wall Street and Gay Pride movements. The candy, which also includes "Pothead Sour Gummy Candy," has been on the shelves for as long as nine months in some areas, and can now be found in 1,000 stores around the country.
"It does pretty well," Kalan LP president Andrew Kalan told The Associated Press. "This is the first complaint I've heard, and people are usually not shy. I'm actually surprised this is the first."
Kalan is referring to outraged city councilmembers in Buffalo, NY, where public officials are refusing to grant licenses to stores that plan to sell the merchandise. As for the stores that already carry it, Councilman Darius Pridgen says he seeks to publicly embarrass them.
"We're already dealing with a high amount of drug abuse and drug activity and trying to raise children so they don't think using illegal substances is acceptable," Pridgen said. "So to have a licensed store sell candy to kids that depicts an illegal substance is just ignorant and irresponsible."
Kalan says his company is simply responding to public demand.
"We don't advocate for a political position," he said. "We just look at what the marketplace wants and respond to it. It's just candy. It's sour-apple flavor. It doesn't' claim to be pot in disguise or anything like that."
Pridgen and his supporters are also going up against vendors of synthetic marijuana like K2 and Spice, which are sold as incense but are made to be smoked. The product contains organic leaves coated with chemicals that provide a marijuana-like high when smoked. The Drug Enforcement Administration recently used its emergency powers to outlaw five chemicals found in synthetic marijuana.
The candy products have no drug-like effects. The sour apple lollipops are shaped like marijuana leaves but contain no illegal ingredients. Still, critics say that the packaging, which features pot leaves, the word "Legalize" and a joint-smoking, peace-sign waving user, is in poor taste. Moreover, they say it's an invitation to try the real thing.
"It's the whole idea that it promotes drugs and the idea that, here, you'll look cool if you use this – which is what gets these kids in trouble in the very first place," said Jodie Altman, program supervisor at Renaissance House, a treatment center for drug- and alcohol-addicted youth.
Laura Kriho, the director of Legalize2012.com, says the marketing campaign is "reprehensible," and agrees that appealing to kids isn't the way to go.
This isn't the first time that a legal candy or mint product has come under fire.
In 2008, Ice Breakers Pacs were criticized for looking too much like illegal street drugs. Police in Philadelphia complained to the Hershey Co. that the packets, nickel-sized dissolvable pouches with a powdered sweetener inside, closely resembled tiny heat-sealed bags used to sell powdered street drugs. Energy drink-infused alcoholic beverages like Four Loko have also been criticized for targeting teenagers.
A spokesman for the Office of National Drug Control Policy said that these products and the advocates for legalization that sell them are trivializing drug use and "eroding perceptions of harm."
As for the Buffalo battle, it seems Pridgen's meeting his goals. Two days after the initial Common Council meeting, the AP took a survey of about a half-dozen stores in Buffalo, most of which are in impoverished neighborhoods where real drugs are a festering problem. The contraband candy was nowhere to be found.
Reach reporter Allegra Tepper here.
Follow reporter Allegra Tepper on Twitter.
Best way to find more great content from Neon Tommy?
Or join our email list below to enjoy Neon Tommy News Alerts.