Sports
Getting To Know Marqise Lee
Marqise Lee is a smiley kind of guy.
That might not be the dominant personality trait most would expect from an emerging Division I football talent.
But of course, as the cliché goes, Lee certainly has a lot to smile about these days.
The Inglewood native has spent the first half of his first semester at University of Southern California doing what most "true" freshmen athletes only dream of: starting, and starting well.
"I never thought I would be playing like this," Lee said during USC's bye week. "I knew I was going to come in and work hard, so I'm happy to actually be playing."
The thing of it is, Lee has done more than just come in, work hard, and play. Halfway through the season, he has 21 catches, 323 yards, and a touchdown in each of the last three games. Against Arizona last week, he produced 144 yards, an effort that ended up being eclipsed only by the 255 of his former teammate at Serra High in Gardena, Robert Woods.
In many ways, Woods—who serves as something between a brother and a mentor to Lee—is indirectly responsible for the success of the younger player.
"To make practice even better, we have competitions to make sure we never ever drop a pass," Lee said of his relationship with Woods. "But he's a brother too."
When Lee was feeling tired during practice Friday, for example, Woods brought his teammate water (a task usually reserved for staff) and told him to keep his head up and work, work, work.
For Lee, who grew up across the street from Eagles receiver DeSean Jackson and still keeps in touch with the star, watching Woods blossom into a top receiver just means he can do it, too.
"Coach Kiffin will say something like, 'I'm gonna try to break a record,'" Lee explained. "Everybody knows it's for Robert, but I come in and say, 'Was he talking to Robert or was he talking to me?' 'Cause I think he's talking to me."
Lee (below with QB Matt Barkley) isn't poised to break records just yet, if for no other reason than that Woods, as the No. 1 receiver, will always get more catches. But Lee has done plenty of things that even he never expected, starting with playing football, period.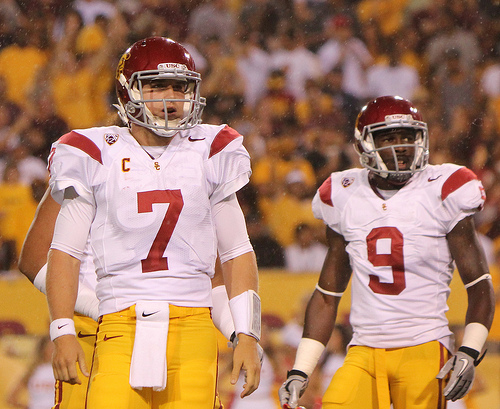 "Growing up I never really had a vision," he said. "The thing was just to go to college."
Lee's first love was basketball, and as a high-schooler he excelled at both hoops and track. He misses basketball so much that he's considering walking on to USC's team come spring.
But he made football his focus, he said, simply because of the numbers. There are far more roster spots on a D-I football team than a D-I basketball team. More roster spots meant a greater likelihood that he would make a team and get to go to a great school.
Even though he had a goal in mind, it wasn't until Lee's junior year that he fully grasped he was, in his words, "decent enough" to play football in college.
"My first offer came from ASU," he said. "Coach was like, "You're good!" I never thought about it that way." Despite having received numerous letters from schools, that offer came as a surprise. Both the offers and the surprises kept coming.
Lee spent the first three years of his high school career at defensive back, and all his initial offers were for roles on the D. But after a senior season at Serra that saw Lee rack up 57 receptions for 1,409 yards and 24 touchdowns, the offers started changing.
Even as a four-star Blue Chip recruit, ranked fourth overall in the state, Lee didn't expect to be taken seriously as a receiver at the collegiate level. When on a recruiting trip at USC Kiffin told Lee, "I want to try you at receiver," Lee was dumbfounded. He wasn't sure where he'd fit in with Woods and the rest of the receiving corps.
"I thought it was going to be tough, but that's the whole point of coming to SC," he said of his eventual decision. "Most people thought I'd play offense for a month and then get switched back to defense, but it didn't happen that way."
Could Lee be making the same kind of impression on the Trojans' lackluster defense? Maybe, but he's not wasting any time wondering. Neither is Kiffin, who from the start of camp lauded Lee's impact as "unusual."
Any doubt Lee might have had was negated in Week 4, against Syracuse. That's when the young wideout scored his first college touchdown. He could have played it cool…acted like it was no big deal, as so many young athletes do. But instead, Lee was unabashedly delighted.
"The dudes actually made fun of me for the next couple of days, because I couldn't' stop smiling," he laughed. "I kept saying, 'This is amazing, this is the greatest feeling of my life.'"
Lee had 35 messages on his phone after that game, and if the last couple weeks are any indication, he might want to make sure he gets an unlimited plan. His phone and social media accounts were both flooded after his standout performance against Arizona.
With Woods demanding double coverage on nearly every play, Lee's chances will no doubt increase. If he keeps catching balls the way he has been…well, there are sure to be a lot more smiles around the locker room.
_________________________
Reach Kate by email, or follow her on Twitter.
Best way to find more great content from Neon Tommy?
Or join our email list below to enjoy the weekly Neon Tommy News Highlights.