Opinion
Gaddafi's Violent Death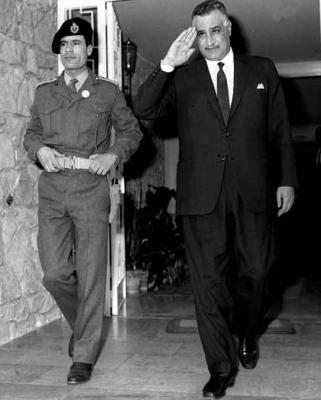 Former Libyan dictator Muammar Gaddafi's 42-year rule came to a violent end on Thursday when rebels apparently killed the leader in his hometown of Sirte.
The Gaddafi regime, which gave up its nuclear weapons program in 2003, has a long history of terror not limited to the bombing of Pan Am Flight 103.
The late Egyptian leader Anwar Sadat characterized Muammar Gaddafi as a "madman" for his reckless, violent behavior. For decades Gaddafi's government funded dozens of terror organizations in the Middle East, Africa and Latin America. Gaddafi's fomentation of violence has ranged from the Philippines to India. He was also no stranger to extreme anti-Jewish attitudes, which prompted a remaining minority population of Libyan Jews to flee.
Gaddafi, who often referred to his enemies as vermin, was ironically captured in a sewage tunnel in his hometown.
"He called us rats, but look where we found him," Ahmed Al Sahati, a 27-year-old fighter, told Reuters.
A video captured the last few minutes of Gaffafi's life, showing angry rebels dragging him while chanting "Allahu Akbar" ("God is Great").
In another video, Gaddafi appears to be dead as rebels forcibly remove his clothes and kick him. The details are still murky, as the videos provide only a brief glimpse and don't show who pulled the trigger. But what is clear is that Gaddafi died the same way he lived—violently.
The ouster of Gaddafi is a triumph for Libyans, but where the country goes from here is anyone's guess. A power vacuum could allow a regime as bad or worse than Gaddafi's to take root.
"After Gaddafi regime's demise it is a fact that the Islamist militias have the upper hand while the new military will have a challenge to stabilize and ethnic minorities such as the Amazigh and the Toubous will demand rights," Dr. Walid Phares, who serves as an advisor to the Anti-Terrorism Caucus in the U.S. House of Representatives, told Fox News Live on Thursday.
Rivalry among tribes will present a challenge. As tribes attempt to gain control, it's entirely possible that Islamic totalitarian movements will take advantage and attempt to seize power.
Reach Reut Cohen here or follow her on Twitter.
Best way to find more great content from Neon Tommy?
Or join our email list below to enjoy the weekly Neon Tommy News Highlights.