Film and TV
Film Review: "A Dangerous Method"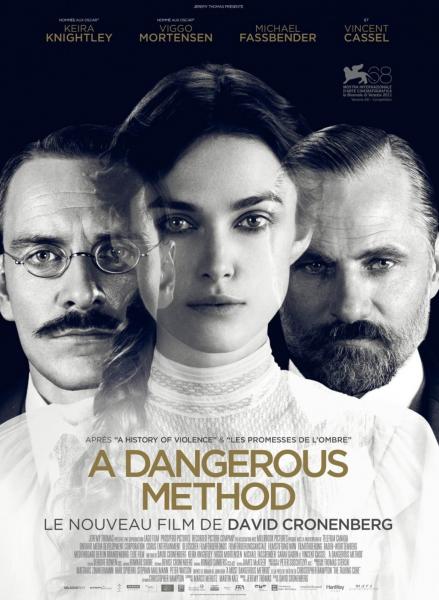 David Cronenberg's newest movie, "
A Dangerous Method
," provides an interesting look at the psychiatric field in the early 1900s.
The film, which follows a young Carl Jung (Michael Fassbender) as he first employs Sigmund Freud's (Viggo Mortensen) "talking cure" on a young patient, Sabina Spielrein (Keira Knightley), provides insight into the beginnings of psychoanalysis. The topic itself could be either incredibly boring or really quite interesting depending on how it's presented, yet the film somehow manages to walk right down the middle. While the movie doesn't necessarily have viewers on the edge of their seats, it still manages to keep their attention.
Part of this is probably due to the pacing. "A Dangerous Method" is a very lingering film, with a general sense of laissez-faire. To some extent, the actors reflect this; both Fassbender and Mortensen deliver lovely, if understated performances.
Keira Knightley's performance is by turns similar to her co-stars' and surprisingly unrealistic. At the beginning of the film, Sabina is afflicted by a mysterious condition, and Knightley seems to only be convincing herself that she is genuinely afflicted — it mostly comes off as an actress playing pretend. However, as the talking cure begins to work on Sabina, Knightley's performance improves drastically. Vincent Cassel makes a dangerously charming appearance as the hedonist Otto Gross.
The real highlight of the movie is the relationship between Jung and Freud. The movie itself does not tell a story so much as offer a look into the lives of these two historic psychologists. Fassbender and Mortensen play off of each other well, illustrating what happens when two great minds collide. Mortensen, in particular (who looks like much more than a decade has passed since his portrayal of Aragorn in "Lord of the Rings"), turns in a very enjoyable performance.
"A Dangerous Method" is a beautiful movie, with incredibly picturesque scenery. However, the editing is choppy at times, which can be disorienting, and the sound mixing is hyperrealistic, slightly detracting from the world of the film. Also, given that the movie takes place over the span of eight years, it is slightly jarring that the appearance of the actors does not change at all (other than when some of the females are pregnant, and babies grow up); Sabina, who begins the film age 18 and ends it 26, looks the exact same throughout.
As a whole, the movie is generally well done, but intangibly disappointing. It's a nice enough film, but nothing really stands out about it.
Reach Katie here.
Best way to find more great content from Neon Tommy?
---
Or join our email list below to enjoy Neon Tommy News Alerts.