Entertainment News
Pottermore Secrets Revealed From One Lucky User
Wands at the ready! Enrollment at Hogwarts is about to commence!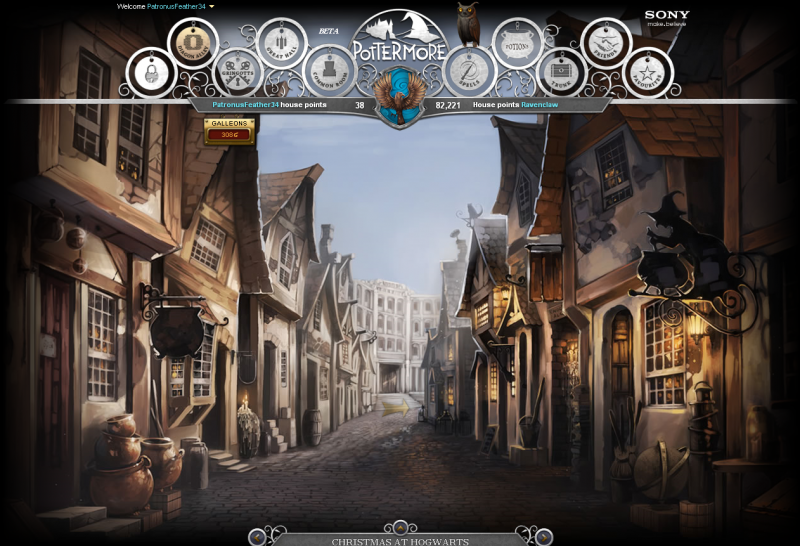 J.K Rowling's online interactive world, Pottermore, is scheduled to send out owls at the end of October inviting Harry Potter fans from around the world to interact in one magical place.
At the release of this article, open registration for the site was scheduled to launch at the end of October with no specific date announced. Fans can find out updates on the sites launch at Pottermore Insider.
For now allow me, a Beta tester, to use my invisibility cloak to escort you into an insider's look of the world of Pottermore! Alohomora!
Logging into Pottermore, users will find a variety of interactive ways to fully enjoy the site. In order to progress to higher levels of wizarding challenges within the site, users must follow along with the chapter's narratives in order to successfully pass their O.W.L.s (Ordinary Wizarding Levels). Not to worry, studying is not required.
Visiting Olivander's wand shop in Diagon alley for the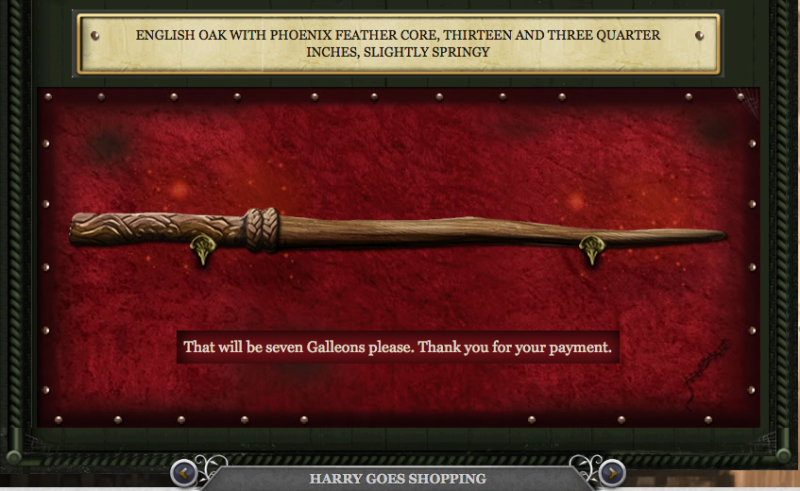 first time is sure to delight even the staunchest of Harry Potter purists. As Ollivander carefully considers your height requirements and core being to successfully let the wand chose the wizard. My wand: English oak with phoenix feather core, thirteen and three quarter inches, slightly springy.

After you collect all your first year supplies from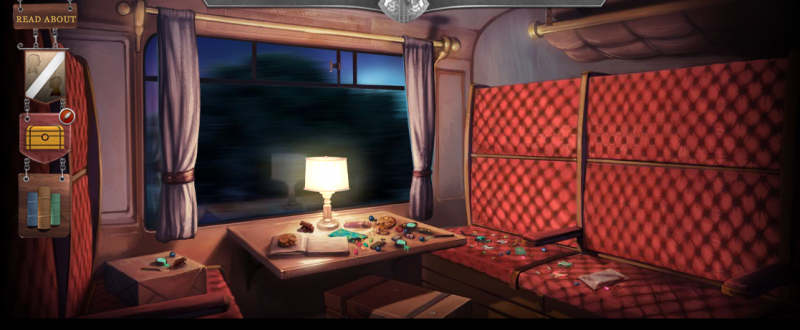 Diagon Alley it's time to board the Hogwarts express at platform 9-3/4, King's Cross Station, London. At the end of the journey you will find yourself in the Great Hall ready to be sorted with as much tension and apprehension as Harry Potter felt on the night of his fateful sorting process.

Once again, similar to the wand process, fans will experience a series of questions that will lead them to their determined house. I admit you may find yourself a bit apprehensive about being sorted. Because once your house chooses you, there is no going back. However, the Sorting Hat's process of choosing the right house for you will not disappoint.

While my heart was set on Gryffindor, the Sorting Hat yelled Ravenclaw and there was no turning back. The site does an excellent job of explaining in depth what it means to be in your selected house and instills a similar type of house pride that was pallpable in the series. Pottermore Insider effectively activated a Twitter house pride campaign effectively creating a homecoming like week for each house.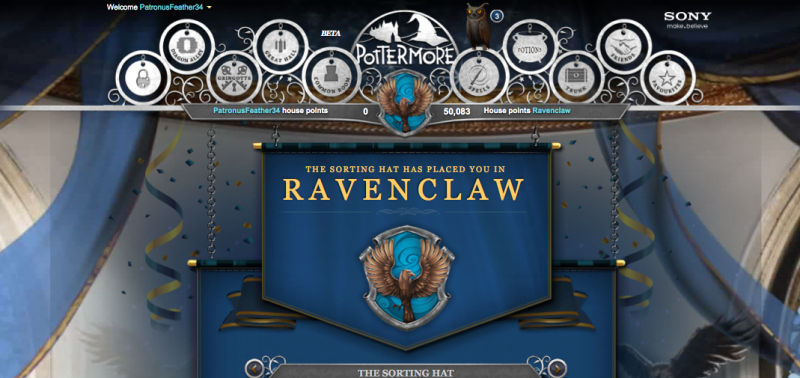 When you journey through Pottermore chapter by chapter, highlighting the main plot progressions, participants will feel immersed into the world of Harry Potter unlike ever brefore.
As you experience the author's most cherished moments unlocking hidden writings and candid video message's from the author herself! Fans will be geeking out all along the way.
Additional easter egg like surprises are scattered throughout the site in the form of chocolate frog cards, spell ingredients and history of magic books. Once the user uncovers new materials they are stored inside your trunk at Hogwarts and points are added to your house.
Yes, that's right, all your interactions on pottermore are scored in the race for the house cup! Pottermore is truly an interactive experience inside the world of J.K. Rowling's "Harry Potter."
Word to the wise, if you are anxious for your owl to arrive post haste, it is highly encouraged you check back regularly to Pottermore Insider. According to the site, beta testers alone are 1 milllion strong with over 550 million page views!
The site plans to release invitations slowly at the end of October to ensure a smooth integration for new users. As a beta tester I found the server at capacity several times not allowing me access. I can assure you once you are a member of the world of Pottermore you will spend hours of your day living online.
Reach reporter Sarah Ledesma here. Follow reporter Sarah Ledesma on Twitter.

Best way to find more great content from Neon Tommy?
---
Or join our email list below to enjoy the weekly Neon Tommy News Highlights.