Nation and World
Investors Are "Spooked" As Eurozone Crisis Escalates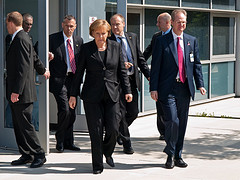 Investors are getting into the Halloween spirit a little early this year... They're "spooked," said Reuters.
And it's a German woman, Chancellor Angela Merkel, who may be scaring them most.
After the European Union canceled their Tuesday morning meeting, investors sensed immediately what would follow.
Given the sensitivity of the market's reaction to leaders' statements (or lack of), it was just a matter of time that the U.S. stocks would take a dive. And they did- Tuesday's market ended "sharply lower," according to Stock Market Watch.
What the rest of the world waits upon is Germany's thoughts on how involved it wants to be with the rest of the EU's debt; and EU financial ministers and financial investors are particularly anxious about German Chancellor Angela Merkel's thoughts.
Stock Market Watch said Merkel's comments carried some doubts about the plan that will work to restructure the Eurozone's debt crisis, starting with Greece. The plan is slated for discussion on Wednesday in Brussels.
The Wall Street Journal said that EU officials suspect that Germany is urging banks to reduce Greek government bonds by 60 percent, but that France has objected, saying it should be no more then 40 percent.
However, "without an agreement on how Greece's debt will be restructured, it will be tough for the leaders to announce the future size of their beefed-up bailout fund, the European Financial Stability Facility," said WSJ.
"The job facing European leaders is no small one and can be likened to climbing Everest without crampons," Angus Campbell, head of sales, Capital Spreads, told Reuters.
In other words a near impossible task to recapitalise [sic] Europe's banks and prevent a default situation within the sort of timescale that is rumoured [sic] will be announced tomorrow.
And along with it, either a continuation of stock market tricks… or treats.
Best way to find more great content from Neon Tommy?
---
Or join our email list below to enjoy the weekly Neon Tommy News Highlights.