Arts+Culture
Emily Schuman's Styled Life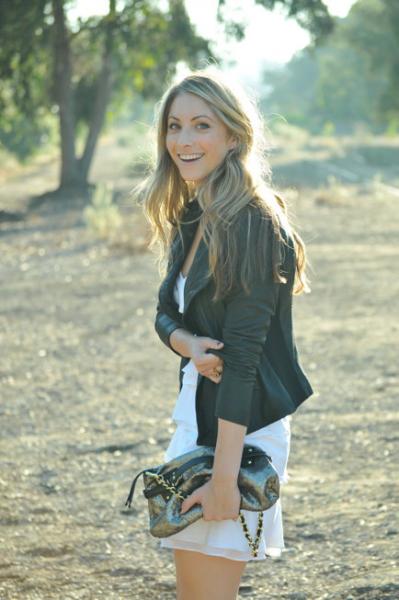 Meet Emily Schuman, a modern Renaissance woman.
This gal proves five times a week that she's a true expert in the fields of fashion, food and home décor via Cupcakes and Cashmere, her fashion and lifestyles blog.
Deemed 2010's Best Fashion Blog in the tenth annual Weblog Awards, Schuman draws in flocks of adoring readers by simply posting what she's passionate about. And there's something for everyone.
Just one visit to the blog is enough to prove its completely addictive quality. The tasteful layout, artful photography and captivating writing leaves readers inspired to whip up home-made peanut butter cups, revamp their office space and host an envy-inducing soiree—all while rocking a pair of killer Prada pumps.
Her passion translates beautifully to the blogosphere. Regular readers are privy to a well-balanced variety of Schuman's fashion expertise, beauty how-to's, delicious recipes, fanciful entertaining ideas, and innovative home decorating tips—with suggestions for every budget.
Schuman has clearly come a long way since her humble beginnings as a newbie blogger in 2008. This Sociology and Media Studies student of Scripps College landed a job at Teen Vogue and Domino Magazines the day after graduation. Talk about perfect timing.
She then started blogging as a way of documenting the things that inspired her and over time was able to quit her day job, turning blogging into a full-time a career.
Schuman's most recent project, entitled "A Styled Life," is a series of three whimsical videos made in collaboration with Juicy Couture. The video trio provides Cupcakes and Cashmere fans with a virtual dose of fashion, entertaining, and everyday advice a la Emily.
The first video, "Getting Ready in a Snap," shows off Schuman's trademark beauty tips: always simple yet elegant. The second boasts a concise guide for entertaining in style, ultimately putting together an effortlessly chic rendezvous. The third and final video follows a day in the life of Emily, out and about, finding inspiration in her backyard, Los Angeles.
Unfortunately, the collaboration left much to be desired. This seemingly flawless duo—the trendiest fashion blog on the web and the ever-popular brand—had some big shoes to fill in creating these videos. The flirty music and engaging cinematography, both characteristically Cupcakes and Cashmere, were well executed, but the "tips"—which flashed quickly across the bottom of the screen in a difficult to read font—were nothing short of obvious.
"Don't forget to add accessories on your way out the door," and "Create a custom playlist that fits the mood of your party," are just a few lack-luster examples.
Perhaps the video content was curtailed by the length—or lack thereof. The longest one clocked in at just 56 seconds.
Although Shuman's newest endeavor did not quite live up to her usual standards of near perfection, this fashionista, foodie, and decorating enthusiast is forgiven…so long as she continues to chronicle the beautiful minutia of her styled life.
Reach Remi here.
Best way to find more great content from Neon Tommy?
---
Or join our email list below to enjoy the weekly Neon Tommy News Highlights.