MLB
For Dodgers Fans, McCourt Saga Far From Over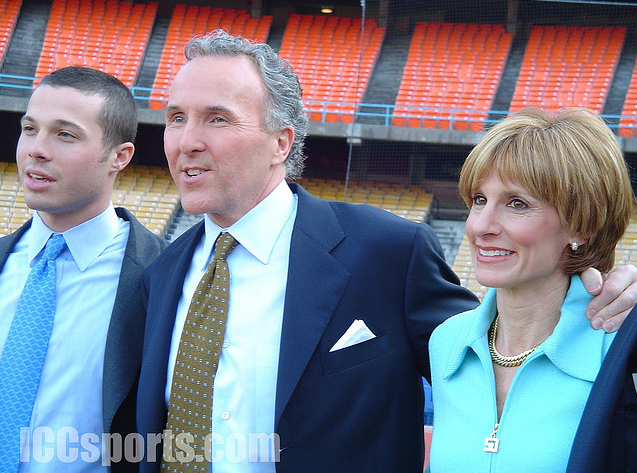 One challenge down, one to go for Frank McCourt and Dodgers fans.
McCourt reached a settlement with his ex-wife Jamie, as she has agreed to let go of any claim to the Los Angeles Dodgers for $130 million, according to Bill Shaikin of the LA Times.
It's an important step for Frank McCourt, but not his last challenge by any stretch. MLB commissioner Bud Selig has asked U.S. Bankruptcy Court to order McCourt to sell the team. A Selig victory will be a win for Dodgers fans that have a laundry list of grievances against the owner. MLB alleges that McCourt has used $180 million of Dodgers revenues for personal use.
However, McCourt still maintains that a new television rights deal -- reported to be worth $3 billion -- will bring in enough money for him to maintain control of the club. But even that could be troublesome, with Fox Sports filing its own lawsuit to block the deal.
The Selig-McCourt drama could be settled, or at least made more clear, in a hearing on Oct. 31. The future of Frank McCourt's control of the team hangs in the balance.
The future of the Boys in Blue on the field remains important as well. If McCourt retains ownership of the Dodgers, he has a deep financial well out of which to climb. The team's parent company is deep in debt, anywhere from $483 million to $750 million.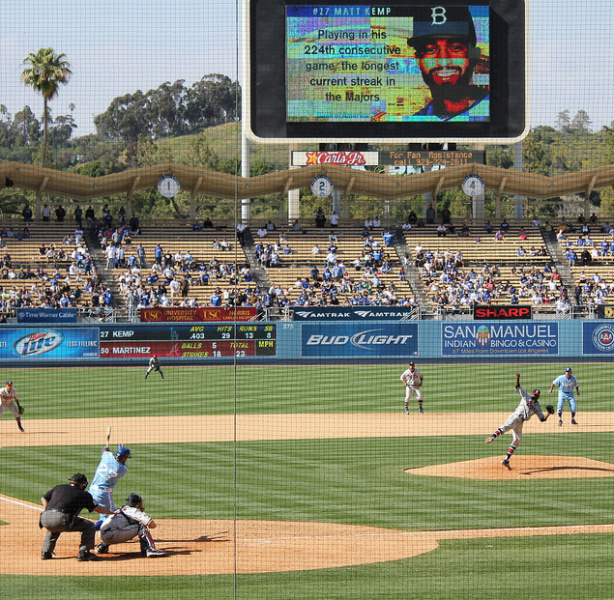 And the Dodgers are not exactly printing money at the box office. Ticket sales dropped 16 percent, falling under 3 million tickets sold
for the first time since 1995
. And fewer fans
bothered to show up
, which hurts advertising and concession sales. Dodger Dogs are going cold.
The reports are not much better in TV numbers. Dodgers ratings on Fox Sports Prime Ticket dropped 30 percent in 2011, the fourth-biggest ratings decrease in baseball, according to data compiled by Sports Business Journal. An average of only 65,000 households watched the Dodgers on a nightly basis. More people were watching in the small-market Tampa Bay area.
All of this is bad news for LA fans who will watch the Cardinals and Rangers compete in the World Series with hopes that their team can return to the Series for the first time since 1988.
The team finished a respectable 82-79 in 2011, and have a bright future at a few positions. Matt Kemp had an MVP-caliber season in which he and Andre Ethier were the lone weapons in the Dodgers lineup. But Kemp is eligible for free agency after next season, and watching him walk away could be the last straw for LA fans.
The other piece that needs to be locked up long-term is starter Clayton Kershaw, who put up Cy Young-type numbers in 2011. Kershaw, 23, has been more consistent than Kemp, posting three straight seasons with an ERA below 3.00 and a strikeout rate of at least one K per inning. GM Ned Colletti says the money is available to extend Kershaw, Kemp and Ethier, and it needs to get done.
Besides that core of three players, though, the Dodgers have plenty of missing pieces. No. 2 starter Hiroki Kuroda is a free agent and could potentially head back to Japan. His departure leaves a hole in what was a very good rotation last season.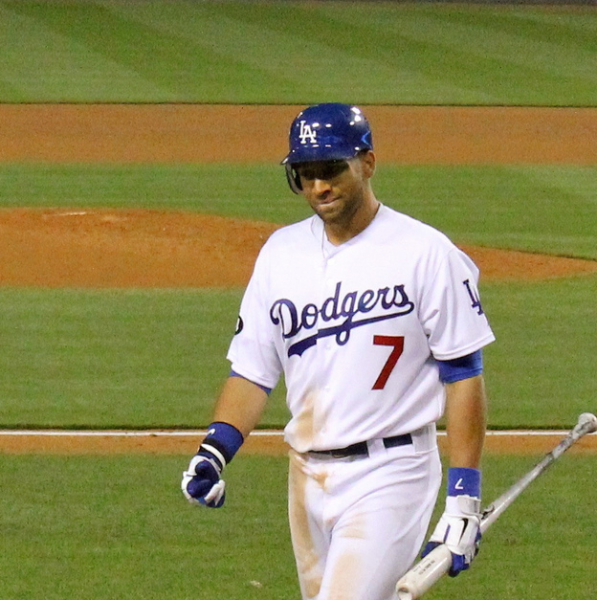 LA's offense was below average last season, despite Kemp's strong play. 1B James Loney finished the year with a great final two months, in which he compiled an eye-popping .416 on-base percentage and 1.024 OPS. But he also had a mediocre 2010 campaign and first four months of 2011. If Colletti can't bring in
Albert Pujols or Prince Fielder
, Loney will face a lot of pressure to produce.
The Dodgers also have a shortage of impact bats in the farm system. Dee Gordon could be a quality shortstop for years to come, but where's the rest of the lineup going to come from? That's a problem for the Dodgers. If they have no quality offensive prospects, they will have to fill a lot of holes with Major League free agents. And with revenue down and ownership in upheaval, they won't have money to throw around like the Yankees, Red Sox, and Phillies.
It all comes back to money. And these days, a $100-million payroll is no longer reserved for only the super-wealthy teams. A total of 12 teams started the season with a payroll of at least that size. At a time when salaries continue to grow, Dodgers' ratings and attendance are shrinking.
If the ownership situation is not settled quickly, Colletti could show up at the free agent store with a light wallet. And that would mean another average season in Chavez Ravine.
----------------
Reach James by email or follow him on Twitter, @JamesSantelli.
Best way to find more great content from Neon Tommy?
Or join our email list below to enjoy the weekly Neon Tommy News Highlights.