International
Coptic Christians Mourn Protesters' Deaths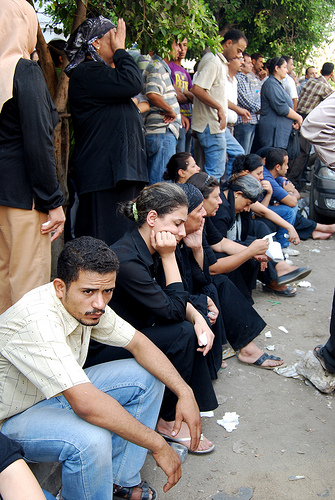 Mourners filled the streets of Cairo on Monday after deadly clashes over the weekend saw the deaths of many Coptic Christians. Now, Egyptian officials and religious leaders are seeking a way to subdue religious tension in a time of transition for the country.
More than 20 Christian protesters died over the weekend after Egyptian police and other citizens attacked their demonstrations. On Monday, Coptic Church condemned the attacks as well as Egyptian law enforcement.
From the Los Angeles Times:
"Coptic blood in Egypt is cheap and the military council knows they can get away with killing us because we're a minority," said Fakhri Girgis Fakhri, a mourner at the funeral presided over by Coptic Pope Shenouda III. "When a Muslim protester gets killed, the whole country gets on its feet, but when Copts are killed, nothing happens."

The violence broke out Sunday when thousands of Copts protesting the recent burning of a church in southern Egypt were attacked by thugs as armored personnel carriers rammed into crowds and crushed demonstrators. Police said the protesters started the trouble by pelting security forces with stones and gasoline bombs.

"Strangers got in the middle of our sons and committed mistakes to be blamed on our sons," said a statement from the Coptic Church. It added that attacks and discrimination against Christians are "problems that occur repeatedly and go unpunished."


Dozens of people have been detained and the ruling Supreme Council of the Armed Forces has ordered an investigation.

Many Egyptians have long awaited the resignation of former President Hosni Mubarak, but now many are opposed to the new military council, led by Field Marshal Hussein Tantawi, who served for 20 years under Mubarak.
From CBS News:
Tension has been growing between the military and the youth groups that engineered the uprising, with activists blaming the generals for mishandling the transition period, human rights violations and driving a wedge between them and ordinary Egyptians.

"The army incites sedition to remain in power," said Mariam Ayoub, a relative of a slain Christian protester, Michael Mosaad, as she stood outside the Coptic hospital. "They tell all of us that this is what happens without emergency laws."

The spiritual leader of the Coptic Christian minority, Pope Shenouda III, declared three days of mourning, praying and fasting for the victims starting on Tuesday and also presided over funerals for some of the Christians killed. Sunday's sectarian violence was the worst in Egypt since the uprising that ousted Mubarak.


"Strangers got in the middle of our sons and committed mistakes to be blamed on our sons," the Coptic church said in a statement. It lamented "problems that occur repeatedly and go unpunished."
The violence was also strongly condemned by the European Union. No other major diplomatic bodies have made any reference to the incident.
Best way to find more great content from Neon Tommy?
---
Or join our email list below to enjoy Neon Tommy News Alerts.