Sports
College Football Week 8: Four Games To Watch
This Saturday of college football includes three games between Top 25 teams, including Wisconsin, LSU and Stanford all trying to remain undefeated as they take on conference rivals. USC and Notre Dame also renew their rivalry in South Bend, under the lights at Notre Dame Stadium for the first time since 1990.
All picks are straight up.
USC at Notre Dame
Fitch: USC - I believe that USC has to see this game as a test of how well their defense will measure up in the weeks to come with competitors such as Stanford and Oregon. Notre Dame has a fast-paced offense that managed to pound the Michigan State Spartans in Week 3. This week's game should go down to the wire based on how well the Trojans can maximize on their opportunities in Notre Dame's mistakes.
Parrone: USC 31, Notre Dame 28 - There very well may be a time and place when I pick the Fighting Irish over my beloved Trojans. But it won't be today! USC exacts revenge on its bitter rival with a strong all-around performance from Matt Barkley. The Trojans won't be a brick wall on defense, but Notre Dame QB Tommy Rees will find a way to give away the ball just enough to spoil the game for the Irish. And here's a guess that Matt Kalil, aka the Flyswatter, saves the day at some point in the game.
Shamout: Notre Dame 34, USC 27 - It doesn't make me happy to write this. I very much hope Matt Barkley and the – wait, make that T.J. McDonald, Nickell Robey and the Trojans prove me wrong. I think Barkley and receiver Robert Woods will come to play, but which USC team will show up on the other side of the ball? The one that limited Cal to nine points and got five takeaways, or the one that squandered halftime leads against Minnesota, Utah and Arizona?
If the game lasted 30 minutes, I'd be inclined to go with SC, but I think Tommy Rees has too many weapons to choose from at home against a Trojans secondary that has been exposed on several occasions this season. How much game time USC's Marc Tyler's will see following a separated shoulder last week remains to be seen.
Santelli: Notre Dame 35, USC 34 - It pains me to go with the Irish, as my sister is an ND alum and I would like to see them fall. That said, Notre Dame is simply the better team. The one bugaboo for them this season has been turnover margin, and that is largely because of bad luck (8 fumbles lost versus just 2 recovered). If the Trojans don't have an answer for WR Michael Floyd, Notre Dame comes out on top.
(Check out our full coverage of the USC-Notre Dame game at this link.)
No. 20 Auburn at No. 1 LSU
Fitch: LSU - Auburn is taking a risk here at having second-string quarterback Clint Moseley start after his performance last week against Florida. That being said, LSU has the strongest offense and one of the toughest defenses in the country. Auburn is not only going to have to outplay LSU, but they need to hope that they can force LSU to make uncanny mistakes and take advantage of them.

Parrone: LSU 27, Auburn 9 - I couldn't have been the only one who saw just how bad Auburn's offense was last week. The only reason they managed to escape with a win against Florida was because the Gators were equally inept on that side of the ball. LSU has got their formula perfected: play stifling defense while the offense grinds the other team into submission. Even the loss of Spencer Ware and Tyrann Mathieu won't help Auburn that much. It looks like Les Miles isn't the only Tiger to enjoy a little grass on occasion.

Shamout: LSU 27, Auburn 10 - The Auburn offensive line has already surrendered 13 sacks this season. Expect that number to go up on Saturday against the quickest defensive line in the country in No. 1 LSU. With a passing attack that averages less than 165 yards per game, it is hard to see Auburn being able to move the ball down the field with any kind of consistency. The Bayou Bengals should come out on top in the battle of the Tigers.

Santelli: LSU 31, Auburn 14 - Even without the Honey Badger around to force fumbles, the Tigers should still dominate at home. LSU hasn't played a close game yet, and they don't intend to change that trend as they take on a lifeless Auburn offense.

No. 6 Wisconsin at No. 16 Michigan State
Fitch: Wisconsin - Though Michigan State had a solid performance versus Michigan last week, they won't be able to match up to the Wisconsin defense. Wisconsin's passing game is incredibly strong with their senior quarterback Russell Wilson who has completed over 74 percent of his passes for the season. Though Michigan State has great defense, it will be a tough task to measure up.

Parrone: Wisconsin 38, Michigan St. 14 - Do you think that Wisconsin has been sending NC State coach Tom O'Brien thank you cards every week this season for gifting them Russell Wilson? If they're not, they certainly should be. Wilson is well on his way to becoming the greatest graduate transfer of all time, leading a Badger attack that is absolutely steamrolling everyone in their path. This week gets a little tougher, because the Spartans are better than the bottom feeders (not counting Nebraska) that Wisconsin has been feasting on. But not enough to make this a close game.

Shamout: Wisconsin 26, Michigan State 13 - Wisconsin's smallest margin of victory this season was 31 points, and that was against No. 8 Nebraska. Michigan State probably represents the biggest obstacle left on the Badgers' schedule, so you can bet the men from Madison will be looking to rack up any extra BCS points they can with a big win over the Spartans. However, the MSU defensive line should be able to pressure Wilson into some bad throws, and they won't find the going as easy as they have at home.

Santelli: Michigan State 23, Wisconsin 21 - Beware the Spartans' defense. MSU ranks 8th in FBS with 3.5 sacks per game, and 2nd in total defense, allowing just 3.3 yards per play. Russell Wilson and Wisconsin are certainly their toughest test this season, but they have the ability to shut down the Badgers for a home upset.

No. 25 Washington at No. 8 Stanford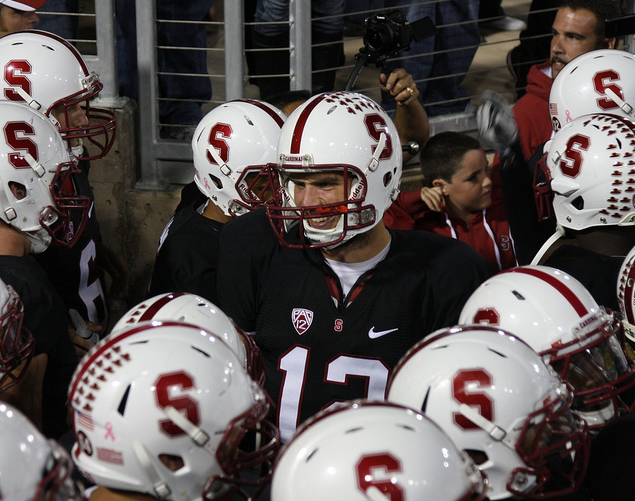 Fitch: Stanford - Battle of the quarterbacks! Andrew Luck is view as the top contender in the country for the Heisman while Washington QB Keith Price has the second-most touchdown passes in the country. Stanford's defense manages to have great numbers but has yet to be challenged. However, if they manage to pull off a solid win here, it could potentially prove to the country that they are worthy of being a possible top contender for the national title, as this will be one of the strongest offenses the Cardinal has come to face.

Parrone: Stanford 34, Washington 20 - The Huskies been the surprise team in the Pac-12 so far this season, but a little bit of reality is going to sink in this week. You see, the Huskies have to play this guy named Andrew Luck, and it turns out that he's a halfway decent player. I'd take Stanford in most games just because of him. And the Cardinal have a great team surrounding him as well, despite the loss of leading tackler Shane Skov several weeks back. Keith Price has been unexpectedly great for U-Dub, but Stanford will lay the smack down in the 2nd half.

Shamout: Stanford 48, Washington 24 - Keith Price and Chris Polk are performing wonders for Steve Sarkisian's Huskies this season. Price has thrown 21 touchdowns, and Polk has rushed for 728 yards. However, they haven't seen anything like Stanford's defense yet. One could also argue that Stanford's defense hasn't seen anything like Washington's offense yet too, since the Cardinal have yet to face a ranked opponent. However, the real problem for the Huskies is their defense, which is giving up over 420 yards per game.That won't get it done against Andrew Luck and company.

Santelli: Stanford 42, Washington 17 - Keep in mind, Stanford is more than just Luck. They are also 14th in defense in the FBS, allowing only 4.6 yards per play. The Cardinal are a complete team, and are looking to move up among the undefeated teams with a decisive home victory.

----------------

Follow Alix, Andrew, Omar and James on Twitter.

Best way to find more great content from Neon Tommy?

Or join our email list below to enjoy the weekly Neon Tommy News Highlights.