Science
CERN's Faster-Than-Light Neutrinos Explained By Special Relativity, Claims Physicist
Correction: An article published by Neon Tommy with the title "CERN's Faster-Than-Light Neutrinos Explained By Special Relativity, Claims Physicist" contained incorrect information. The story said, "...an experiment called OPERA arrived approximately 60 milliseconds fater than light-speed." The correct information is 60 nanoseconds. Neon Tommy regrets this error.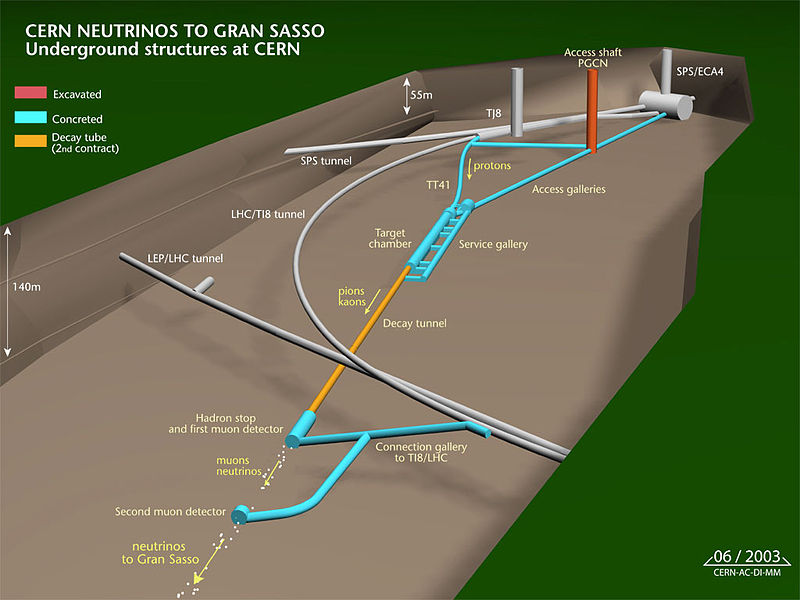 The
discovery
of a particle moving faster than the speed of light may have been disproven now that a physicist has said researchers at labs in Switzerland and Italy overlooked the relativistic motion of their GPS satellites.
The discovery published by CERN three weeks ago claimed beams of neutrinos sent between labs about 730 kilometers apart in an experiment called OPERA arrived approximately 60 nanoseconds faster than light-speed.
The results were within the statistical margin of error, but they contradicted one of the most fundamental elements of physics, Einstein's theory of relativity, so CERN opened their findings to the larger scientific community, believing they had overlooked something.
Ronald van Elburg at the University of Groningen in the Netherlands said in a paper published Friday that, ironically, a failure to account for special relativity is what caused CERN to seemingly violate it.
Elburg argued that since the OPERA experiment relied on GPS satellites to synchronize the measurement of time between the two labs, the researchers should have taken into account the time-distorting effects of relativity produced by the distance and movement of the satellites, but did not do so.
From Technology Review:
So from the point of view of a clock on board a GPS satellite, the positions of the neutrino source and detector are changing. "From the perspective of the clock, the detector is moving towards the source and consequently the distance travelled by the particles as observed from the clock is shorter," says van Elburg.
By this he means shorter than the distance measured in the reference frame on the ground.
The OPERA team overlooks this because it thinks of the clocks as on the ground not in orbit.
How big is this effect? Van Elburg calculates that it should cause the neutrinos to arrive 32 nanoseconds early. But this must be doubled because the same error occurs at each end of the experiment. So the total correction is 64 nanoseconds, almost exactly what the OPERA team observes.
Elburg's paper is by no means a final answer to the puzzle, as the peer-review process is still ongoing and his criticism will have to stand up to scrutiny itself, but for now it seems that once again, nothing can travel faster than light.
Best way to find more great content from Neon Tommy?
Or join our email list below to enjoy the weekly Neon Tommy News Highlights.