Los Angeles
School Discipline Policy: Suspended Students Feel Love Only From Gangs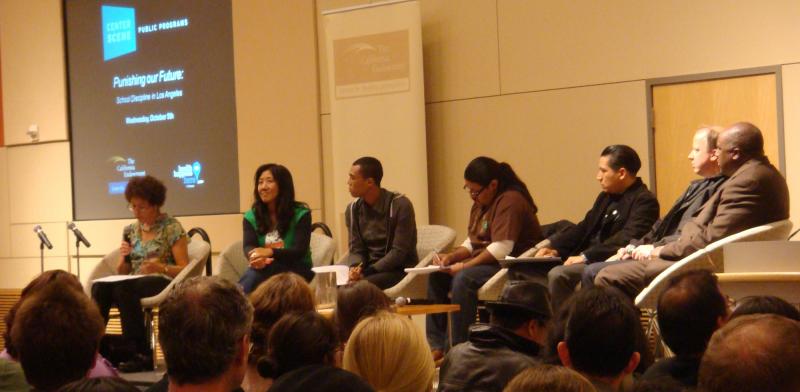 The California Endowment sponsored a forum on the overuse of harsh school discipline Wednesday night, attracting around 100 people from police force, schools and non-profit organizations.
The forum discussed the negative effects of zero tolerance policy, how school discipline abuse criminalizes the next generation and pushes them to possibly join gangs. The power of education relies on acceptance and guidance, rather than punishment, participants argued.
If a student gets suspension, he will have a legal reason not to be at school, said George Weaver, a child development specialist. When he finds he is not welcomed anywhere, but only the gang accepts him, he will go to where he is loved and accepted.
"The power is our peers say to us, I care about you," Weaver. "I love you. I accept you and I am here to help you."
In the recent two years, schools in California have issued more than 720,000 suspensions and expulsions and most of them are not related to severe offences such as violence or drugs. Students are taken by police because of common nonviolent offenses, such as calling teachers names or being late for class.
School dropouts have a high possibility of joining gangs and can end up going to jail instead of college, which bring a lifelong negative repercussion to their family, the community and themselves. Poor communities are more vulnerable, particularly African-American and Latino.

In terms of the police role, Tim Anderson, deputy chief of Los Angeles School Police Department, pointed out that police are not social workers or councilors and they should maintain a positive leadership role to ensure the safety of the community, but he also encouraged communication and transparency with the community.
The forum was a promotion of the National Week of Action organized by the nonprofit Dignity in Schools Campaign, which focuses on school dropouts.
Organizer Carla Gonzalez said they want to call on different forces and raise social awareness on the students' dire need and let their voices be heard. She acknowledged the police system is necessary for discipline, but there needs to be a more rounded solution.
"We are going to push every single board and every single institution that we can to make sure our students don't get criminalized any more," Gonzalez said. "The challenge is to convince districts and parents that there are other alternatives to discipline our youth. It doesn't have to be resolved by police interaction."
Seventeen-year-old Cinthia Gonvalev of Roosevelt High School has been volunteering in Dignity in Schools Campaign for two years. She witnessed many of her community members and friends involved in gangs and end up in jail, but the volunteering experience has changed her opinion. Those people don't become gangsters all of a sudden, she said. Rather, it's a process that students go through, and these students were expelled from schools.
"I realize that it's not their fault," she said. "They join the gangs at an early age when they could have been in school. I encourage people to raise their voice and tell their stories."
Reach Shako Liu here.
Best way to find more great content from Neon Tommy?
Or join our email list below to enjoy Neon Tommy News Alerts.