California
California Conservatives Propose Anti-Illegal Immigration Ballot Initiative
Following the passage of the California Dream Act, anti-illegal immigration Republicans are making moves to undercut the Dream Act and put further restrictions on benefits available to people living in California illegally.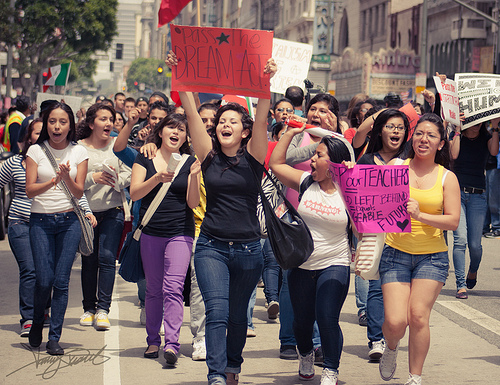 Former state GOP Chairman Tirso Del Junco and fellow Republican Bill Siler have proposed a law that would limit financial aid and Medi-Cal benefits available to undocumented people in the state.
This comes after California Governor Jerry Brown last week signed the second part of the California Dream Act, which allows undocumented immigrants living in California to apply for state financial aid.
"Not withstanding any other law, no person without lawful immigration status shall be eligible for any state-funded grant, scholarship, fee waiver, reimbursement, or student financial aid program for educational services," reads the proposal received by state Attorney General Kamala Harris Monday.
Some other provisions included in the proposal:
Police officers who arrest any illegal immigrant would be required to verify whether an "immigration detainer" has been issued. If one has, the officer must turn over the arrested person to federal authorities.
Illegal immigrants would be prohibited from getting a driver's licence, which is already part of California law.
Proponents of the Dream Act
argue that the law is "only fair" to undocumented students, many of whom have lived in the state for years and did not chose to come to the state illegally.
Supporters say that increasing California's educated workforce will strengthen the state's economy.
State Assembly Member Tim Donnelly had already filed a ballot referendum to repeal the law, saying that it was "
fundamentally unfair
" to legal Californians.