National
Cain Pushes Past Perry As GOP Frontrunner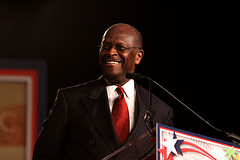 According to the LA Times, a new survey released by CBS/New York Times shows that Herman Cain has jumped into the GOP lead.
The former pizza chain executive (Cain) [is] leading the field with 25% of the vote, 4 percentage points ahead of Mitt Romney.
"Newt Gingrich places third at 10%, followed by Ron Paul at 8% and Rick Perry at 6%.
Cain and Romney were tied at 17% each in the previous survey; Perry had placed at 12%," said the Times.

The Times also said that the survey was conducted after the most recent Republican debate, between Oct. 19-24 and that the reason for Cain's success may be from securing tea party voters.
Best way to find more great content from Neon Tommy?
Or join our email list below to enjoy the weekly Neon Tommy News Highlights.