Books
Book Review: "It's So Easy" By Duff McKagan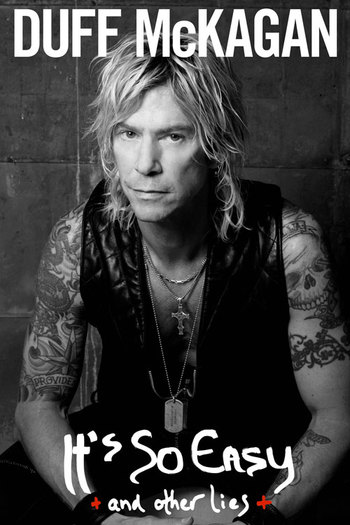 "It's so Easy: and other lies," a memoir by Duff McKagan allows the rock legend to tell his side of the story about his life and career not only as a musician but also as a human being.

Duff McKagan is best known for being the original bassist for Guns N' Roses as well as the bassist for Velvet Revolver and Loaded.

McKagan grew up in Seattle where he was musically inspired by the Seattle punk rock scene and Iggy Pop.

In 1984, he packed his bags and moved to Los Angeles in hopes of becoming a musician.

What he found, will go down in rock history as one of the greatest bands of all time: Guns N' Roses.

In his memoir, McKagan explores his beginning roots in rock from his teenage years, the creation and disintegration of the original Guns N' Roses, his battles with addiction and his triumphant recovery.

While this may be viewed as just another musician's story of sex, drugs and rock n' roll: it is not. It is the story of a man who rose to stardom, fell and rose again through the sheer power of his will.

The memoir powerfully reveals the struggle of Guns N' Roses' harsh beginnings in their Gardner Alley storage space behind Sunset Boulevard to playing packed stadiums in the world's largest venues. "I felt we represented something, something primal and animalistic," said McKagan about the success of Guns N' Roses.

This happiness was shortly lived. Within a couple of years of its founding, the band fell apart.

He reveals how the lack of communication between the members ultimately contributed to the disintegration of the band. From there he takes the reader on a long journey through his struggles with addiction, his search for love, his brush with death and his phenomenal recovery from it all.

The book is divided into eight parts each with an appropriate title that reflects a phase in McKagan's life.

In Part One: "Knockin' on Heaven's Door," he reveals his tough upbringing in a huge family in Seattle. Later, he portrays his move to Los Angeles and the slow build-up to the founding of Guns N' Roses.

In Parts Two through Three he accurately and effectively shows the struggles that the band went through and how their unity helped them to survive and leave a mark on the world. In the latter, he reveals the effects of fame on the band and how their success ultimately tore them apart.

Parts Four through Six portray the height of his addiction to alcohol and experimentation with drugs. McKagan gives a raw vision into the complicated life of an addict, his second chance at life and his eventual road to recovery through martial arts.

Finally, in the last two parts he reveals his chance meeting with Susan Holmes, building a family with her and attending Seattle University. He shares his launch back into the music business with the founding of Velvet Revolver and later, Loaded.

McKagan's emotional portrayal of his alcohol addiction and his struggle to cope with the disintegration of the band gives the memoir an overall tone of honesty.

Through his style, he is able to build layers that create a vision of what his life was and is. These layers not only create a vision of his life but the simplicity of his language allows the reader to step into his shoes and understand his side of the story.

Needless to say, "It's So Easy" is more than just another musician's portrayal of his struggles with addiction and fame. It's the raw and uncensored journey into the life of a man that rises from the depths of despair into the throes of paradise.

Reach Denise here.


Best way to find more great content from Neon Tommy?

Or join our email list below to enjoy the weekly Neon Tommy News Highlights.