Entertainment News
Beyonce's Bogus Baby Bump?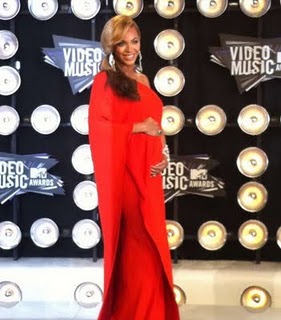 Beyonce appeared on an Australian TV show last week, and an incredibly strange incident occurred. Her mid-section seemed
to collapse
a bit causing some to wonder if she's wearing a prosthetic belly and a surrogate is carrying her baby. The singer's publicist, Yvette Noel Schure, says these rumors are "stupid, ridiculous, and false."
Some aren't buying this excuse. Entertainment Weekly backs up the publicist asking would the barer of Sasha fetus fake us out? "Aren't there plenty of rational explanations for this? Awkward shadows cast from those unflattering TV lights? Maybe some wayward Spanx rolled down the wrong way? Plus, we've already seen the Pregnance in a bikini, and it's real."
There are plenty of reasons for a pretend pregnancy, not only will she gain much more attention as a pregnant mother but she always will be amazingly thin after she "has" the baby. Beyonce is seizing the opportunity to turn her pregnancy into a money-spinner by launching her own maternity collection for her House of Dereon line. Beyonce and Jay Z will welcome their baby in some way February 2012.
Reach writer Jordan here
Best way to find more great content from Neon Tommy?
---
Or join our email list below to enjoy the weekly Neon Tommy News Highlights.