Sports
Behind Enemy Lines: Q&A With Utah And ASU Writers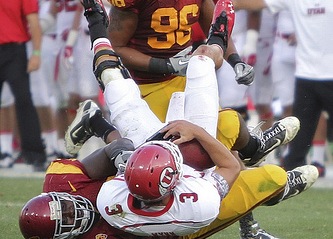 After defeating the Arizona Wildcats in a high-scoring affair last Saturday, the Trojans won't be playing this week.
In the win over the Wildcats, Matt Barkley passed for a school-record 468 yards, but the Trojan secondary was burned for 425 yards. Like Barkley, Arizona quarterback Nick Foles threw for four touchdowns.
Because the Trojans are off, I've decided to go behind enemy lines twice this week in the hopes of covering both sides of the upcoming ASU-Utah match up.
The Trojans have played both of these Pac-12 South schools this season. In fact, both games were very close until the Sun Devils exploded for 22 unanswered points to close out their win in Tempe.
On Saturday, the Utes (2-2, 0-2 conference) will have to play without their starting quarterback Jordan Wynn, who injured his left shoulder in last week's loss to the Washington Huskies.
The Sun Devils come into the game with a 4-1 record (2-0 in conference), but they have only won four of their last 17 road games, dating back to 2008.
ASU running back Cameron Marshall has rushed for 218 yards and 5 touchdowns in his last two games against the Trojans and Beavers. Utah running back John White IV has been inconsistent. In the Utes' four games, White has recorded two 150-yard games along with two games in which he was held to fewer than 50 yards.
Last week, the Sun Devils trailed the Oregon State Beavers 13-0, but roared back to score 35 of the game's last 42 points. In Utah's most recent game, it was down 10-7 at halftime, but with starting quarterback Jordan Wynn out for the second half, the Utes ultimately lost 31-14.
Robert Jackson and Brad Denny are back, once again, to give their perspective on the game between the teams they cover.
Robert Jackson is the online sports director for ksl.com, and Brad Denny is an ASU football columnist for SB Nation, as well as co-host of the Speak of the Devils Podcast.
Welcome back, friends!
1. I have to ask about the in-state rivalry game with BYU (dubbed the Holy War), which was played on September 17. Utah led 14-10 at halftime, but ultimately won by a landslide, 54-10. The Utes also forced 7 turnovers in the game. What exactly happened that day?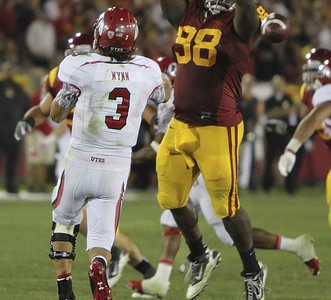 RJ: Everything that could go right for Utah ended up going their way. Utah scored within 14 seconds on an errant BYU snap, but only led by 4 at the half despite 3 BYU turnovers. In the second half, Utah's defense played even more aggressive, forcing four more BYU turnovers and plenty of quick three and outs. Against a very tired BYU defense, Utah piled up the yards on the ground. The Utes even had a blocked field goal still go through the uprights. It was just their day. Almost an eerie replica, albeit opposite, of the game against Washington last week, where the Utes couldn't do anything right, committing five turnovers and fumbling the opening kickoff that got taken back for a touchdown.
2. Arizona State's defense has forced four turnovers in two consecutive games now. How can the opportunistic Sun Devil D create problems for Utah's offense on Saturday?
BD: Arizona State is catching a big break with the injury to Utah starting quarterback Jordan Wynn. His replacement, Jon Hays, is in his first season at the FBS level and has seen only limited time this season. The most disruptive thing the defense can do is to stop the running game of Utah, led by the talented John White, and put the game on Hays. With his inexperience, the defense should be able to rattle him with their pass rush and force him into mistakes.
3. Last December, Wynn had surgery performed on his right, throwing shoulder, and in the team's last game, he injured his left shoulder. What's the latest on quarterback Wynn and his status for Saturday's game and the rest of the season?
RJ: The latest medical report released by the U states that Wynn will be out at least 2-3 weeks, although most people are speculating that he is done for the rest of the year after Griff Robles was switched back to quarterback from linebacker. Robles played quarterback in high school, but the coaching staff moved him to linebacker in spring ball. With Wynn out, the depth chart is 1. Jon Hays, 2A. Griff Robles and 2B. Tyler Shreve, a freshman the Utes will most likely try to redshirt.
4. What should we know about Hays? Assuming he gets the start, how do you expect him to respond?
RJ: He was only recruited to Utah after his Division II school shut down its football program (Nebraska-Omaha). He was personally recruited by Norm Chow, who has coached a ton of NFL caliber talent, but it remains to be seen whether he saw something in Hays or if we desperately needed someone to back up an already injury prone starting QB. Hays is a confident kid that will try to do whatever he can to help the Utes win. He scrambled and dove for a first down against the Huskies last week, something that Wynn would never do. He has the desire to win, but it remains to be seen if he possesses the talent to do so.
5. ASU junior running back Cameron Marshall has rushed for more than 200 yards and 5 touchdowns in his last two games combined. How has he been so effective?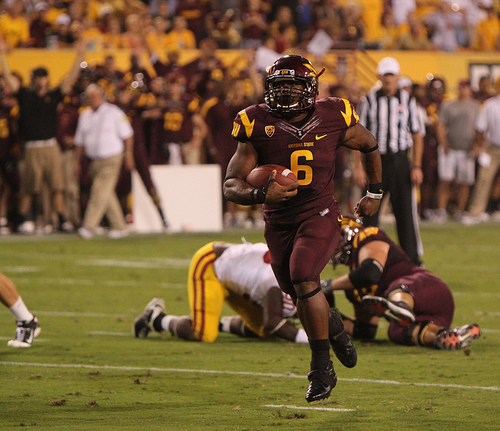 BD: The amazing thing about Marshall's performance of late has been that he's been running on injured ankles. Marshall is one of the best-kept running back secrets in the nation, and he's a great combination of power and speed. His seven rushing touchdowns are tied with LaMichael James for the conference lead.
The ASU offensive line has also done a much better job in the last two games of generating a push in their run blocking, something that had not happened since the opener. There are finally running lanes for ASU's stable of talented running backs and they are no longer being hit soon after receiving handoffs.
6. With Wynn out of commission, how much do you expect the team to rely on running back John White IV, a junior college transfer who's had some big games thus far?
RJ: I thought the Utes would try to run the ball more against Washington, but they completely abandoned it after a few unsuccessful carries. White is typically a slow starter, so if he gets stuffed early, I don't know how committed Norm Chow is to the run. But if the Utes have any chance to win this game, it rests not on the shoulder of Jon Hays, but in the legs of John White IV.
7. Although the team comes in with a 4-1 record, it has only played one road game, which it lost to Illinois. How will the atmosphere around Rice-Eccles Stadium compare to the home environment the Sun Devils have grown accustomed to early on this season?
BD: Since 2008 the Sun Devils have not been a good road team, so this game will present a major challenge. They have shown a tendency under Coach Erickson to be more prone to mistakes on the road, whether it's special teams blunders, penalties, costly turnovers or as in the Illinois game, awful pass protection.
Like in Illinois, this road game comes before a major game—with Illinois it was USC, this week it's Oregon. It will come down to one of two outcomes. First, ASU learned its lesson in Illinois and comes to play focused and disciplined. Conversely, they succumb to old habits, make plenty of mistakes and ultimately cost themselves a major conference win.
8. A couple weeks ago, we discussed the Sun Devils' propensity to commit a number of penalties. Well, in each of the last two games, the team has lowered its penalty yardage to the 70-80 yard range, which is not great but a significant improvement upon past games. In your estimation, what's the reason for this improvement in recent weeks?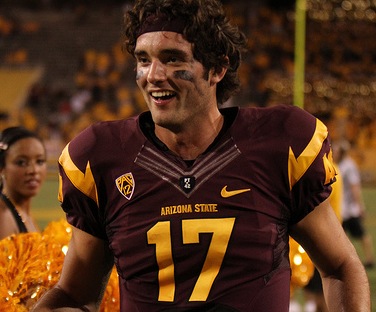 BD: It's interesting in that both USC and Oregon State the last two weeks have taken on ASU's familiar role as the mistake prone team, combining for 23 total penalties.
Every week, Erickson acknowledges that penalties are a problem, that they'll work on them and so on. It's a speech all too familiar to ASU fans.
Being a highly penalized squad seems to be a familiar trait of all Erickson teams, so it's more an issue of limiting the damage rather than eliminating them outright. The last two weeks, they have done that, and not surprisingly, have won each game. I think the players are starting to realize that this team could be special, so perhaps that familiar message is finally starting to sink in.
9. From Utah's perspective, what are the keys to beating the Sun Devils?
RJ: 1) Offensive creativity. Norm Chow will need to find ways to move the ball with Hays under center. Look for him to use the "Wildcat" formation, trick plays, short passes to Anderson and Christopher, end arounds to Reggie Dunn, and lots of counters and draw plays to counteract the aggressive ASU defense.
2) The defense will need to create some turnovers to stay in this game. Sun Devils quarterback Brock Osweiler has thrown more interceptions than any quarterback in the conference, and the Utes' defense is fifth in the country in forced fumbles, seventh in turnovers forced and 13th in turnover margin.
3) Minimize mistakes and play Pac-12 football. This ain't the MWC anymore, Dorothy. You can't turn the ball over inside the five multiple times and get away with it in this conference. Against UNLV or New Mexico, they'd just go three-and-out and punt it back to you. Pac-12 teams will ruin you.
10. What are the keys to the game for the Sun Devils?
BD: First and foresmost, they can't beat themselves. Whether it's penalties or the three turnovers in their first three drives last week, ASU needs to cut down on the mistakes, especially in a conference game against a good team on the road.
Secondly, they need to make the Ute offense one-dimensional. John White is a very good running back, so if they can stop him and put the game on quarterback Hays' inexperienced shoulders, then that should lead to big plays for the defense.
Finally, ASU will likely be missing their two best offensive linemen in center Garth Gerhart and left tackle Evan Finkenberg. As we saw in Illinois, this potent Sun Devil offense can be quickly derailed if the line can't protect Osweiler.
11. Who will win Saturday's match-up between the Sun Devils and Utes?
BD: Despite the injuries along the offensive line, I think that the ASU offense should be able to put up plenty of points on Utah. Conversely, the defense should be able to make life difficult for Hays, which in turn should help in their tough task of containing White. As long as they don't implode with bad turnovers and penalties, I think ASU leaves Salt Lake City with a 31-21 win.
RJ: I'm 0-2 in picking Pac-12 games, picking the Utes to beat the Trojans (14-23 L) and the Huskies (14-31 L). After watching ASU beat USC, then struggle against Oregon State, it gives me hope, albeit small, that Utah can win against the Sun Devils. But with an inexperienced quarterback lining up against the "meanest man in college football," ASU's Vontaze Burfict, I think the Sun Devils get the tough road win in Salt Lake City, 27-21.
______________________
Reach Aaron by email, or follow him on Twitter.
Follow Robert Jackson on Twitter here, and Brad Denny here.
Best way to find more great content from Neon Tommy?
Or join our email list below to enjoy the weekly Neon Tommy News Highlights.