USC Sports
USC Football By The Numbers - How Much Do Penalties, Turnovers Hurt?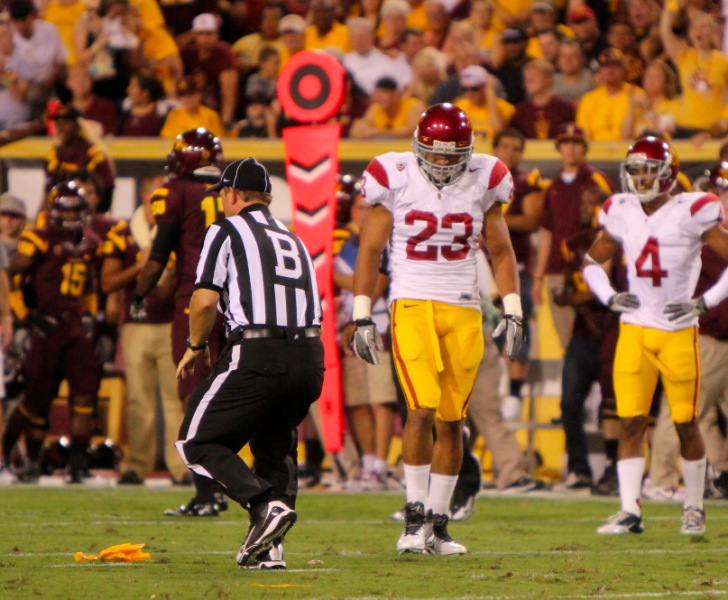 The USC football team sits at 3-1 heading into Saturday's game, but mistakes like penalties and turnovers have Trojans fans concerned.
Here are ten things to know about errors for the Trojans:
1. USC has been penalized for 281 yards, the 14th-most penalty yardage in the Football Bowl Subdivision. USC's opponents have compiled 189 yards of penalties in four games, which would rank 64th of 120 FBS teams.
To put it another way, the Trojans high-ranking foul troubles would be more understandable if the referees officiating their games were just flag-happy, increasing penalty yardage on both sides.
Alas, that's not the case. USC has drawn more penalty yards than their opponents in each game. The penalty yardage total from all four opponents would put a hypothetical "All-USC opponent" team in the middle of the FBS pack.
Or as the loudmouth fan five rows behind you would so eloquently ask of the refs, "HOW MUCH ARE THEY PAYING YOU???"
(Note: For the purpose of this piece, all delay-of-game penalties used for punting position have been removed. So yardage will differ from official totals.)
2. The Trojans are getting more of the "big ones," averaging 9.7 yards per penalty, with opponents averaging just 7.6 yards per penalty.
This is not really that surprising. The Trojans have drawn six personal fouls, to their opponents' four. Besides those 15-yarders, none of SC's counterparts has had an accepted holding penalty thus far, with three declined holding calls. Of the 11 offensive penalties called against the Trojans' opposition, ten have been 5-yarders.
3. The Trojans offense has drawn 145 yards in penalties. The offenses of their counterparts have been tagged for just 59 yards.
This 86-yard difference in penalty yardage is important, since it's the type of thing that correlates with losing football. We'll let Football Outsiders explain:
"Teams with more offensive penalties generally lose more games, but there is no correlation between defensive penalties and losses. Defensive penalties often represent strong defensive play that goes just over the line between legal and illegal. As long as penalties are only called every so often, this kind of close play leads to successful defense."
Though that research was done to apply to NFL teams, it seems reasonable enough to apply to a college team like USC. After all, its BCS program with NFL-level talent, and plays all BCS schools this season.
4. USC's offensive penalties, when compared to their opponents, have cost the Trojans an average of 1.5 points per game in 2011.
This stat comes from the use of the Win Probability Calculator at AdvancedNFLStats.com, which projects how many points a team can expect at different points of a game.
We plugged each foul into the system to figure out the Trojans' point expectancy before and after a penalty occurs. USC's fouls on offense have robbed the team of about 12 total points this season, with the offenses of teams they've faced losing 6 total points via offensive fouls.
Keep in mind that these are still "expected points" and are more predictive over a larger number of plays. USC OT Matt Kalil had a 15-yard face mask penalty in the 2nd quarter versus Syracuse that took the Trojans out of the red zone. While this penalty took 1.5 "expected points" from USC, Barkley came back the next play and completed a pass to Robert Woods for a touchdown. That will happen, but trust the bigger sample sizes.
5. Keep an eye on false starts when the Trojans hit the road. Drawing too many of those can be a bad sign.
This comes from more Football Outsiders research:
"The penalty that correlates highest with losses is the False Start, and the penalty that teams will have called most consistently from year to year is the False Start."
USC has not had much trouble with false starts, but mostly because they've played three games at home. They drew an average of 1.7 false starts at the Coliseum, then got marked for three such penalties in the primetime atmosphere of Sun Devil Stadium. It's up to the Trojans to overcome false starts in upcoming loud environments of Notre Dame, Colorado, and Oregon, all with hostile night crowds.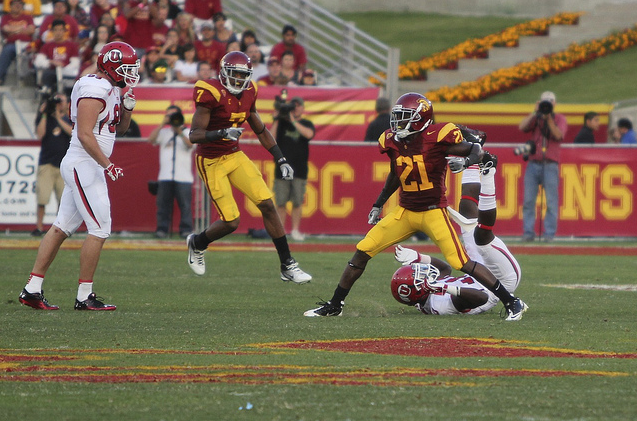 6. The Trojans' D is pretty well-behaved, standing about even with penalty yardage of opposing defenses. Which might not be a good thing.
USC's defense has been charged for 102 penalty yards, with the opposition drawing 105 yards. Take out T.J. McDonald's three personal fouls against ASU, and 'SC defenders have drawn only six accepted penalties for 57 yards in the first four games.
But remembers FO's assessment that "defensive penalties often represent strong defensive play that goes just over the line." Though the Trojans have shown aggression in reaching the QB for 10 sacks in 2011 (27th in FBS), one could point to the USC defense's lack of penalties and mere three takeaways and say they're not being aggressive enough.
Speaking of takeaways...
7. USC's four turnovers against Arizona State would be expected to cost the Trojans 17.8 points. It ended up costing them 32.8 points.
FO has done research into how many points a turnover costs a team in point expectancy, based on field position and down of when it occurred. Most take away (pun intended) about 3.5 to 5 expected points per turnover, based on those variables.
In the Trojans' case, their offense's point expectancy totaled about 11.8 points when combining the four drives. For example, Burfict's interception of Barkley came at the ASU 12-yard-line on 2nd down, when the Trojans expected to get 4.1 points on the drive.
Add those 11.8 points to the 21 points that the Sun Devils acquired off 'SC turnovers, and you've got a big helping of "Why The Trojans Lost."
8. The Trojans defense has just one interception (102nd in FBS), despite 14 pass deflections on the season (28th in FBS).
To be clear, the correlation between deflections and interceptions is not the strongest (last year, the r-value was close to .5, which is still pretty good). That said, the trend appears to be that teams get one interception for about every 3.15 deflections. It looks like the USC defense has just gotten unlucky with pulling in picks, since that formula would expect the Trojans to have about four interceptions in 2011, not one.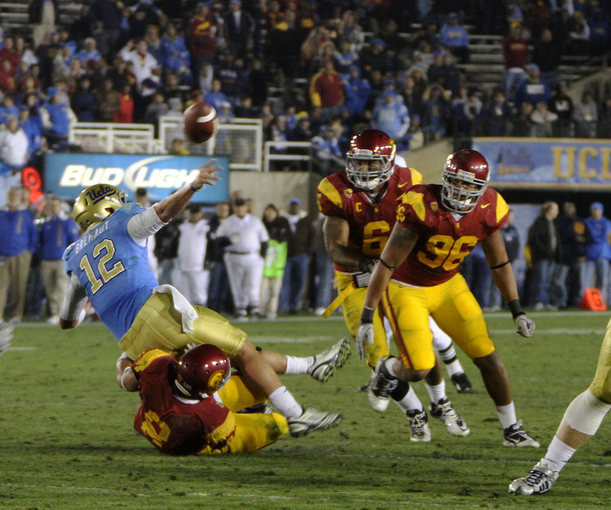 9. It's just bad luck that the Trojans have lost 67 percent of their fumbles and only recovered 40 percent of the opposition's fumbles. Nothing else.
While it is a skill to force fumbles, recovering a bouncing football is not a skill. The Trojans' inability to wrap up fumbles is simply not predictive of future "performance" at doing so. Simply put, half of all fumbles pulled in by the defense, and half by the offense.
USC has recovered just five fumbles, while opponents have recovered nine. That's a difference of about 17 points this season, or 4.25 points per game, simply because of poor luck.
10. USC's defense is 103rd in the FBS with only three takeaways. Arizona's D is 114th with just two. Though several other teams have two takeaways, Kansas is the only other team with one.
The Wildcats are also one of only eight teams with no defensive fumble recoveries, despite forcing four fumbles so far this season. It's apparent that both 'Zona and 'SC have been snakebit with bad fumble luck. Well, as they say, something's gotta give.
----------------
Reach James by email or follow him on Twitter, @JamesSantelli.
Best way to find more great content from Neon Tommy?
Or join our email list below to enjoy the weekly Neon Tommy News Highlights.