USC Sports
USC Football By The Numbers - Go For Two, Kiffin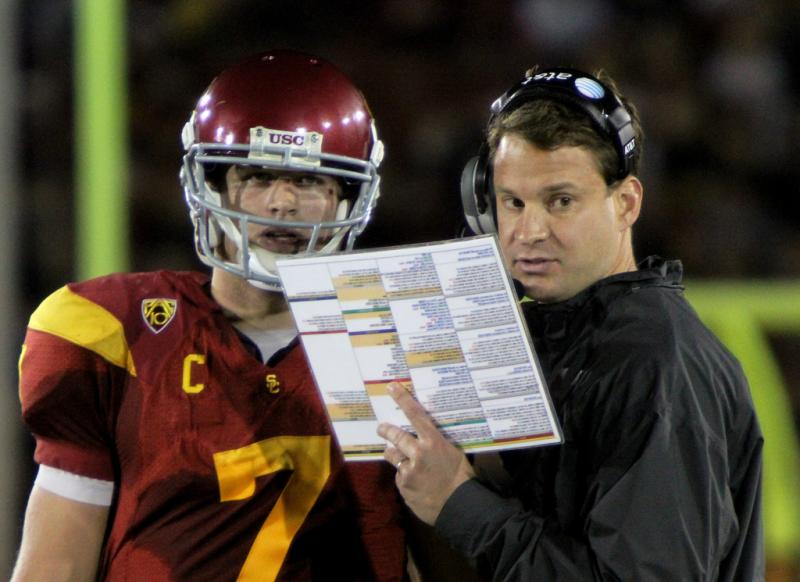 No man wants to be booed in his own stadium. Certainly no man wants to hear sarcastic cheers from his own fans.
USC head coach Lane Kiffin got both on Saturday from the crowd of 68,273 at the Coliseum. Kiffin called for his Trojans to attempt a two-point conversion after the first two 'SC touchdowns against Minnesota, and after both attempts failed, a good volume of boos came down on the coach. When a third touchdown put the Trojans up 18-3, Kiffin sent Andre Heidari out to kick the extra point, and received mocking applause from the USC faithful for "taking the point."
That's the way it goes for head coaches. No one would blame Kiffin for continuing to go the safe route by having Heidari kick extra points for the rest of the season.
I'm sorry, but head coach's job is not to minimize blame and criticism. It is to win football games. And in the long run, consistently going for two will help USC to win football games.
Let's start with examining the value of kicking an extra point. What is expected to be an automatic point was actually only converted about 97-percent of the time in Division I FBS last year. That means kicking for the PAT has a point value of 0.97. Keep in mind that Heidari is a freshman kicker that will face some tough road environments like Oregon, Notre Dame and Arizona State this season. But 97-percent would put him at FBS average.
Since a successful two-point conversion is worth two points (I've lost you, haven't I?), teams would have convert about 48.5-percent of all two-point attempts to equal the point value of one-point attempts.
With those basics in hand, let's look at the ability of the Lane Kiffin/Matt Barkley offense to score in two-point conversion and conversion-like situations (you'll see what I mean by "conversion-like" in a minute).
USC's offense was 5-of-9 in two-point conversion attempts last year, and 2-of-4 with Matt Barkley at quarterback (Mitch Mustain was 3-of-5). Combine that with the two failed attempts with Barkley behind center on Saturday, that puts Barkley at 2-for-6 in two-point attempts under Lane Kiffin.
Well, six attempts is a pitiful sample size for what we're trying to project, so we'll expand the data to include all goal-to-go situations inside the opponents' 5-yard line. These are similar to two-point attempts in that the offense is working with a short field and almost always trying to get into the endzone on any given play (not just gain yards), and the defense's main goal on a play is to stop the offense from getting in.
USC's offense has attempted 23 such plays in the Kiffin era. The Trojans have scored on 14, good for a 60.9-percent success rate and a 1.22 point value if all plays were worth two points. That's very good.
Now let's combine two-point conversion and conversion-like situations. In total, the Kiffin/Barkley offense has been 16-of-29 in these situations.
That's a 55-percent success rate, and a 1.1 point value.
Even when you take out situations in which USC only needed one yard to score, the offense was still successful in 12 out of 20 such plays (60-percent success, 1.2 point value).
But that 55-percent success rate over 29 plays is the most important thing, as it tops that 48.5-percent success rate needed to make the decision to "go for two" a good call.
Of course, 29 plays is still a rather small sample size to analyze a football team. After all, a much larger sample of plays compiled by AdvancedNFLStats.com shows that pro teams score on just 44 percent of two-point plays.
But simply looking at USC, a 29-play sample is not terribly small for this type of play. The Trojans scored 51 touchdowns last season, so such a sample represents a decent size, at least to examine and draw a couple conclusions.
An interesting point from the data is that Barkley has done well passing the ball in the short field. The junior quarterback completed 8 of 13 passes in goal-to-go situations inside the five, giving USC a point value of 1.23 when he throws the football under such conditions. Even if Barkley were to miss on his next three passes inside the 5-yard line, the data puts a better value on his passes in two-point situations than on kicking the extra point.
Here is the data for all two-point and two-point-like situations with Barkley at quarterback in 2010 and 2011: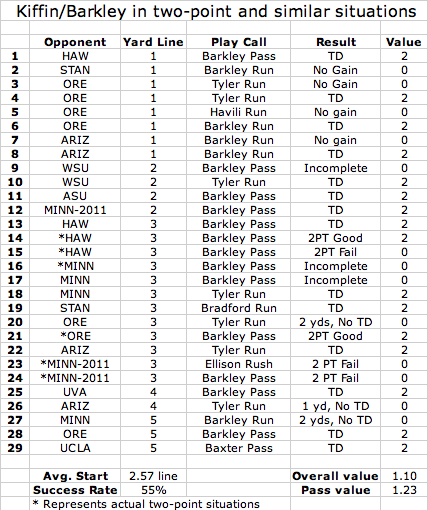 Another factor to consider is the addition of a strong running back in Marc Tyler. The senior averaged 5.3 yards per carry on 171 attempts last season and scored nine touchdowns. Off-the-field issues kept him from the lineup against Minnesota, but the 230-pound Tyler is the best backfield option in the red zone.
The two backs who carried the load (pun intended) on Saturday, Curtis McNeal and D.J. Morgan, are certainly talented, but had only six combined carries entering Saturday's game. In goal-to-go situations, including two-point conversions, Kiffin would likely be more comfortable in a short field with the larger and more experienced Tyler. (For the sake of completeness, I will add that Tyler has scored touchdowns in 4 of 8 goal-to-go situations inside the 5-yard line).
By putting the ball into the hands of Barkley and Tyler, coach Kiffin has a good chance of converting two-point situations at least as often as that magic 48.5-percent rate.
Should Kiffin continue to go for two, it would serve him well to select some better plays. On the opening drive against Minnesota, Barkley went 7 for 9 passing the ball, including five completions to Robert Woods (pictured right). And running back D.J. Morgan held his own in the first drive of his 'SC debut, gaining 19 yards on four carries.
But instead of calling the number of Barkley or Morgan, Kiffin decided to give the ball to Rhett Ellison, who did not reach the goal line. Why take the ball away from Barkley, who had a great start to the game?
That's one poorly executed play out of a much larger set of circumstances, though. And if USC can continue to average 1.1 points per conversion attempt, as the Barkley-led offense has shown the ability to, Lane Kiffin must continue his strategy of going for two in situations where old-school coaches normally wouldn't.
"If you get in a certain look that you have an advantage, it's worth it at that point in time to go up two," Kiffin said after Saturday's game. "I'd like to think that at 'SC our coaches would be able to design some plays [for two-point situations]."
By going for the two-point conversion consistently over a long season, Kiffin would be projected to add 0.13 points per touchdown (1.1 points by going for two - 0.97 points by going for one). There are times during a game where kicking the PAT is a better idea, like when your team is ahead by three, but most of the time, Kiffin should go for the gusto. USC scored 51 touchdowns last year, so attempting two-point conversions on most of those TDs would add about six points for the Trojans over a full season.
For decades, football coaches have let critical fans and newspaper columnists keep them from thinking outside the box to help their team. They've played it safe and done what is expected. Nobody blames the coach who sends out his kicking team for the extra point.
Nothing ventured, nothing gained, nothing booed.
But if Kiffin can ignore the boos and the traditionalists, and have faith in his outstanding quarterback and running back, he will have much to gain. About half a point per game, to be exact.
----------------
Reach James by email or follow him on Twitter, @JamesSantelli.
Best way to find more great content from Neon Tommy?
Or join our email list below to enjoy the weekly Neon Tommy News Highlights.