Sports
USC Football Fall Notebook: Ready For The Road...Without Armstead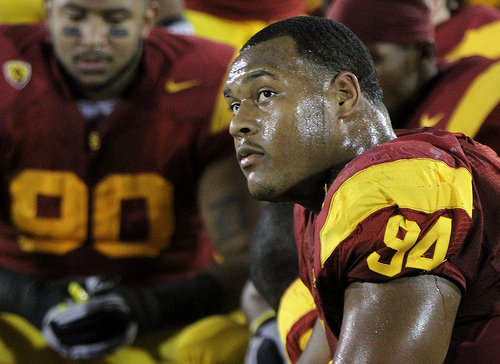 After much speculation, it's been confirmed that senior DE Armond Armstead will redshirt the 2011 season.
"It's the best thing," head coach Lane Kiffin said, "with him having missed so much practice and game time." Kiffin would not comment on whether doctors had cleared Armstead to play following the medical troubles that have kept him out of practice since spring.
Those players who have been on the field had a singular focus at Tuesday's practice: 'SC's first road contest of the year, at Arizona State.
"It's going to be a hostile environment, no doubt," said quarterback Matt Barkley. "But that hasn't fazed us or me in any circumstance."
Barkley's offense has been highly touted after three games this season, what with Marc Tyler's dynamic return and the emergence of Robert Woods as Barkley's favorite target.
But the defense will undoubtedly be tested this week, as Sun Devils' QB Brock Osweiler is expected to run a pass-heavy offense. Osweiler had a rough outing in his team's road loss to Illinois last week—he was sacked six times and turned the ball over thrice. Trojan DE Nick Perry is confident he and the D-line will put Osweiler through another tough Saturday.
"We're ready…we're just gonna attack like we know how," he said. "Put pressure on the run game and get stops up front."
Senior LB Chris Galippo said he uses the animosity from opponents' fans as motivation.
"I'm sure they're gonna black out the stadium," he said. "And it's gonna be great."
_________________________
Reach Kate by email, or follow her on Twitter.
All videos courtesy of Staff Reporter Scott Enyeart. Reach Scott by email, or follow him on Twitter.
Best way to find more great content from Neon Tommy?
Or join our email list below to enjoy the weekly Neon Tommy News Highlights.