Sports
USC Football: Arizona Preview and Analysis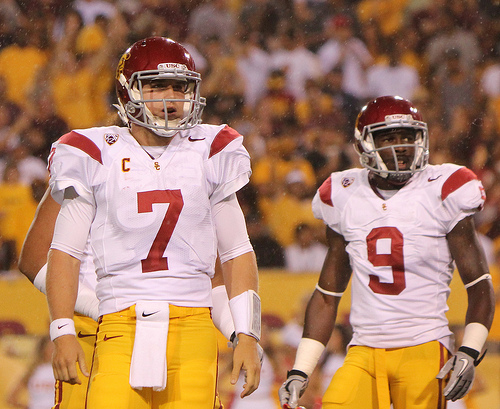 It's not time to panic just yet.
USC (3-1) is back home in the Coliseum this week after its first loss of the season, hosting Arizona (1-3), who hasn't had that much success lately either.
The Trojans are reeling after a sloppy performance in the Arizona desert, falling 43-22 to Arizona State despite taking the lead in the third quarter.
But if USC is on the ropes, Arizona is on the mat and close to being out for the count. The Wildcats dropped their third straight game this past Saturday, getting blasted by Oregon 56-31 at home.
What to Watch For:
The Wildcats were victorious the last time they made the trip out to Los Angeles in 2009, and kept USC out of the Holiday Bowl as a result. While the roster has changed dramatically since then, there are Trojan players who remember that defeat and won't want it to happen again.
The painful loss last week will test all of Lane Kiffin's abilities as a head coach. It's his job to make sure that a still promising season doesn't unravel right in front of his eyes.
While the team didn't collapse on itself after losing its first game last year, Kiffin needs to keep his team focused in any way possible. He doesn't have the built-in advantage of motivating his players with a better bowl game to play for.
After reports surfaced that former defensive backs coach Willie Mack Garza was involved in some shady dealings with recruiting pariah Willie Lyles, Kiffin is facing even more questions about his tenure at Tennessee. Winning will help deflect some of this unwanted attention.
Whoever is responsible for Arizona's early season schedule probably is not very popular right now. As victims of three consecutive top-10 opponents in Oklahoma State, Stanford and Oregon, the Wildcats are probably relieved to see the Trojans on their schedule.
In fact, Arizona has lost eight straight games to FBS opponents, with its one win in that stretch over Northern Arizona. Mike Stoops might not be in danger of losing his job, but if this streak continues that could change very quickly.
When USC is on Offense:
While Matt Barkley was hardly the only reason the Trojans crumbled last week, he certainly can't be absolved of the blame either.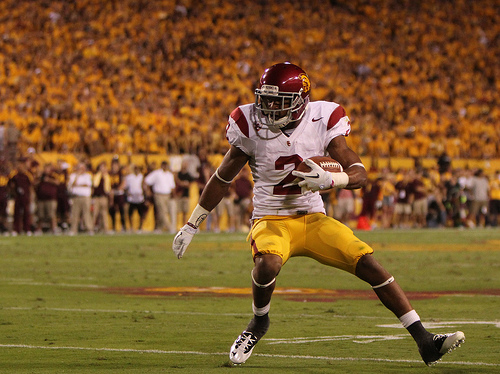 Three quarters of poor throws (didn't think it was possible to overthrow Robert Woods deep) and turnovers were sandwiched around his brilliant stretch of play to start the second half.
Woods (pictured left) again proved to be nearly impossible to cover, breaking the century mark for the third time this season. He also broke off his first big return of the season, but as luck would have it, the only place he could go to was right into the arms of the kicker.
And Marquise Lee has grown a lot in the last couple weeks, displaying incredible awareness on his touchdown grab. Those two, plus others, should see some open space in Arizona's beat up secondary.
Though safety Marquis Flowers is expected back in the lineup, he could be somewhat limited by a knee injury. Trevin Wade and Shaquille Richardson would be a solid tandem at corner, but they've yet to show it so far this year. Jonathan McKnight, related to none other than former USC tailback Joe, is out for the year with an ACL injury.
Marc Tyler can make up for his momentum-swinging fumble in the third by gashing the 'Cats porous run defense. Arizona gave up over 400 yards on the ground to the Ducks, and while Tyler is no LaMichael James, he should still have a huge day.
The UA defense is anchored by linebackers Paul Vassallo and Derek Earls, who are first and second on the team in tackles. Besides these two there isn't a whole lot to get excited about.
The Wildcats only have three sacks on the year, which isn't a surprise considering three defensive ends from last year's team got drafted. The lack of any pass rush should be welcome news to a USC offensive front that didn't play its best game last week.
The Trojans should be particularly concerned about their inability to finish drives. It's pretty reasonable to believe that USC would have won the game if it could have executed better in the red zone. And no offense to Andre Heidari, who had a great game with three field goals, but no one wants to see you on the field unless you're kicking an extra point.
When Arizona is on Offense:
USC's defense crumbled against the first good passing attack it faced this season, and faces another tough task in stopping UA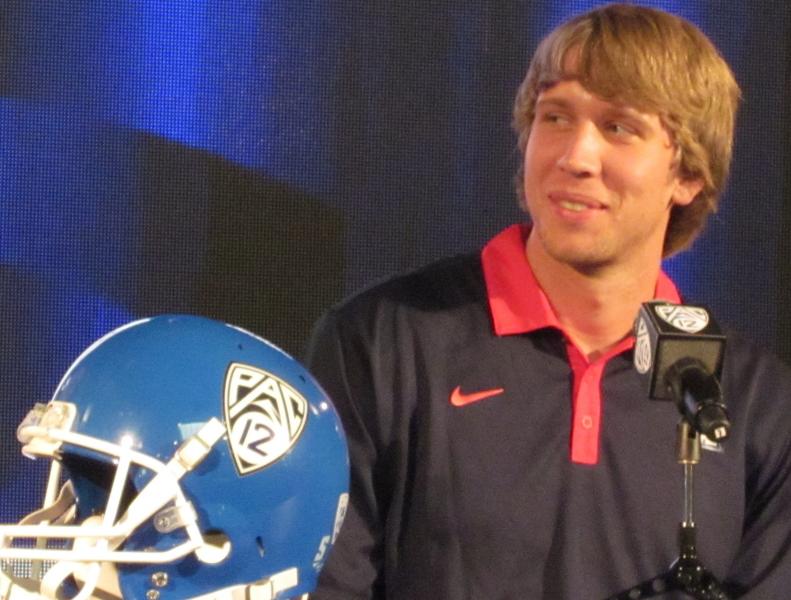 quarterback Nick Foles (at right). One of the country's most experienced passers, Foles has been one of the few bright spots for the Wildcats this season.
More often than not, Foles will be looking for All-American wide receiver Juron Criner. The 6-foot-4 senior is still recovering from an appendectomy earlier this season, but has performed well in his return. Still, a hand injury he sustained against Oregon could keep him out of Saturday's game.
Foles has many other options to look for in the passing game though, as seven pass catchers have more than 10 receptions each. David Roberts has 21 catches on the year, and is a safety net for Foles in the short passing game.
USC's secondary was exposed last week against ASU, and their inability to cover the running backs out of the backfield was particularly baffling. You can be sure that UA has added this play to their gameplan.
The fact that the defense still only has one interception is a little frightening at this point. While you may not agree with the very questionable calls against TJ McDonald last week, there is no question that he needs to focus on getting the ball back for the offense. And Torin Harris' injured shoulder certainly doesn't make things any easier.
A third of the way through the schedule, USC's defensive line simply isn't getting the job done. It failed to take advantage of ASU's questionable offensive line, which gave Brock Osweiler all the time he needed to swing pass the Trojans into submission.
However, the D-line has a chance to make amends this week against Arizona's weak offensive front. The beleaguered unit has already given up 12 sacks this season. Nick Perry played well last week despite being held numerous times, and will be turned loose against Foles.
The Achilles heel of Arizona's offense has been its running game, where the 'Cats have averaged less than 63 yards per game. Running backs Keola Antolin and Ka'Deem Carey have gotten very few chances to showcase their skills.
Part of the problem has been playing from behind so often, as throwing the ball has been a necessity to try and stay in the game. But if they aren't able to get anything going on the ground, the Trojans will put all their efforts into stopping the passing game. Being incredibly one-dimensional is rarely a hallmark of a great team.
Prediction: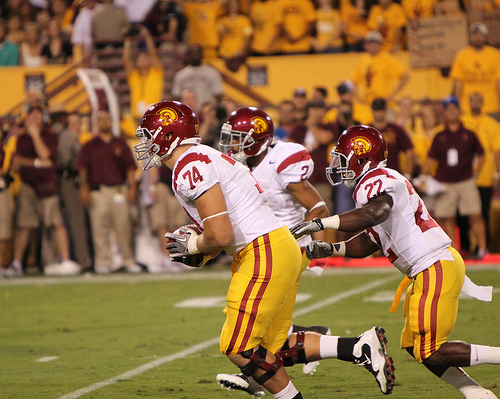 This game will show what the Trojans are all about. Good teams use losses as motivation for their next game and come out firing on all cylinders, while bad teams allow past defeats to follow them the rest of the season.
While not great yet, USC falls more on the side of the former. The leadership on the team is excellent, and appears to understand the importance of staying positive despite all the negatives that have plagued this team over the last couple years.
The Trojans will come out on top, beating the Wildcats 34-21. Foles will put up some good numbers, but Arizona's poor line play will prevent them from being a real threat. Barkley recovers from last week's loss and has one of the more efficient games of his career.
________________________
Reach Andrew by email, or follow him on Twitter.
Best way to find more great content from Neon Tommy?
Or join our email list below to enjoy the weekly Neon Tommy News Highlights.