US To Fight Big Banks On Mortgage Securities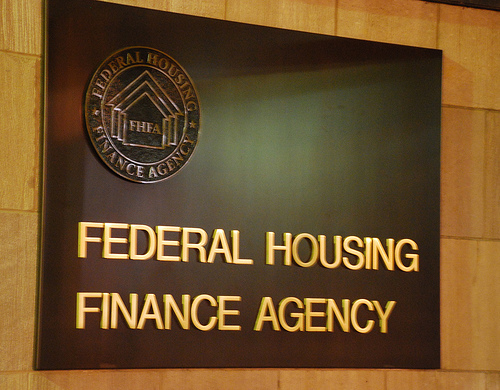 The U.S. Federal Housing Finance Agency (
FHFA
) is planning to sue several banks it says was involved in misrepresenting the mortgages during the housing bubble.
The federal agency is expected to take on large banks including Bank of America, JPMorgan Chase, Goldman Sachs as well as others. According to the agency's investigation, such banks are to blame for billions of dollars in damages because they failed to follow securities laws and "inflated or falsified" borrowers incomes the New York Times reports.
A similar case had already been filed by the federal agency in July for $900 million against the global financial service company UBS AG based in Switzerland.
Although the Banks have refuse to comment on the agency's impending lawsuit, the Times reports the blame is being shifted.
From the New York Times:
Bank of America, Goldman Sachs and JPMorgan all declined to comment. Frank Kelly, a spokesman for Deutsche Bank, said, "We can't comment on a suit that we haven't seen and hasn't been filed yet."
But privately, financial service industry executives argue that the losses on the mortgage-backed securities were caused by a broader downturn in the economy and the housing market, not by how the mortgages were originated or packaged into securities. In addition, they contend that investors like A.I.G. as well as Fannie and Freddie were sophisticated and knew the securities were not without risk.
Filing for the suit against the big banks are expected by Friday and at the latest by the following Tuesday. The agency is expected to seek damages in the hundreds of millions.
Best way to find more great content from Neon Tommy?
Or join our email list below to enjoy the weekly Neon Tommy News Highlights.