National
Unions Throw Support Behind "Occupy" Protests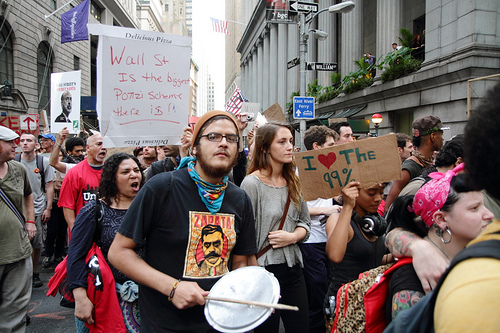 The Occupy Wall Street movement, a series of grassroots protests against corporate greed that began in lower Manhattan and has since sprouted in cities across the country, has now received official support from workers unions.
A handful of groups, including the Transportation Workers Union and the United Auto Workers, announced their backing of the demonstrators and pledged to join their ranks in protests over the weekend. There is a demonstration in Los Angeles set to begin Saturday; no word yet whether any local union branches plan to support as well.
In New York, representatives for several unions expressed philosophical support for the anti-corporate protests as well as anger toward the treatment of demonstrators by New York policemen.
"It's brought a new public focus in a different way to what we've been saying along," Jim Gannon, who represents the Transportation Workers Union, told The Village Voice. "...on many levels, our workers feel an affinity with the kids. They just seem to be hanging out there getting the crap beaten out of them, and maybe union support will help them out a little bit."
Some videos posted by the Occupy Wall Street movement have shown NYPD officers beating a few protestors and spraying them with mace. A message posted on the Occupy Wall Street website calls for the resignation of Police Commissioner Raymond Kelly.
Prior to Thursday's announcement of union backing, notable figures such as Michael Moore, Susan Sarandan and Noam Chomsky have publicly supported the demonstrations that began two weeks ago.
The LA sector of protests is scheduled for downtown Los Angeles, with demonstrators marching up to City Hall and setting up tents in Pershing Square.
Reach Tom Dotan here
Best way to find more great content from Neon Tommy?
Or join our email list below to enjoy Neon Tommy News Alerts.