Los Angeles and Region
Teachers Union Demands LAUSD Rehire Staff, Cites Budget Surplus
Editor's note: A similar version of this piece appears at KCET's blog "First and Spring"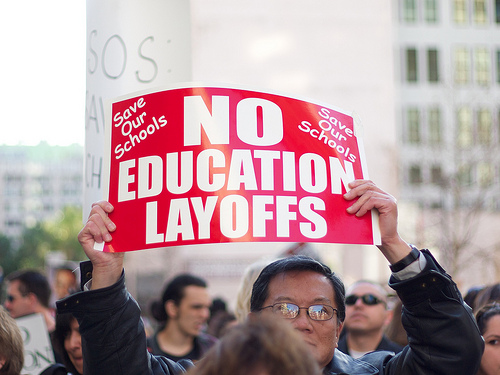 Despite LAUSD Superintendent John Deasy's recent admission that he was "very, very concerned about our budget next year," the union representing educators in the school system came out with a bold demand Tuesday, calling for the re-hiring of the remaining 1,209 teachers and professionals who were laid off last school year.
According to United Teachers Los Angeles, there is an unexpected $55 million year-end budget surplus from the 2010-11 school year, revealed in a Sept. 9 memo from Chief Financial Officer Megan Reilly.
"With this windfall, the District has no more excuses," UTLA president Warren Fletcher said.
According to the UTLA press release, the LAUSD's revised budget numbers showed the surplus in unrestricted funds.
Nevertheless, even with the surplus, Deasy and the district still have to contend with an impending budget that could include more significant cuts.
"There is no room in our budget for any cuts," Deasy told the LA Daily News last week.
According to the same article, $2.5 billion in cuts could be coming in the spring if year-end revenue comes up short. As of yet, an expected $4 billion in increased state revenues has not come through.
State legislators previously told the districts to assume they would receive the same level of funding from the state as they did in the prior fiscal year. But that looks to be in jeopardy with the lack of state revenues.
Which leads to another problem for Deasy in his new job overseeing the nation's second largest school district.
The new gig also includes grappling with AB 114, a controversial law passed as part of the state budget deal in June. In addition to telling districts to "assume the same level funding," the law forces school districts to retain teachers even if their funding is decreased.
District officials around the state have decried the requirement, wondering where else they can squeeze the budget if new cuts come through.
AB 114 — backed by the California Teachers Association — has also provided more ammo for UTLA, which released a press release in early September demanding the LAUSD follow the new law, and re-hire employees lost to Reduction In Force (RIF) slips.
Furthermore, Deasy and the union continue to clash over a new evaluation system for teachers, and a contentious program that allows outside educational groups to bid for new and existing campuses.
Best way to find more great content from Neon Tommy?
Or join our email list below to enjoy the weekly Neon Tommy News Highlights.