Columnists
Struggling For Place (Written For Anyone I Know)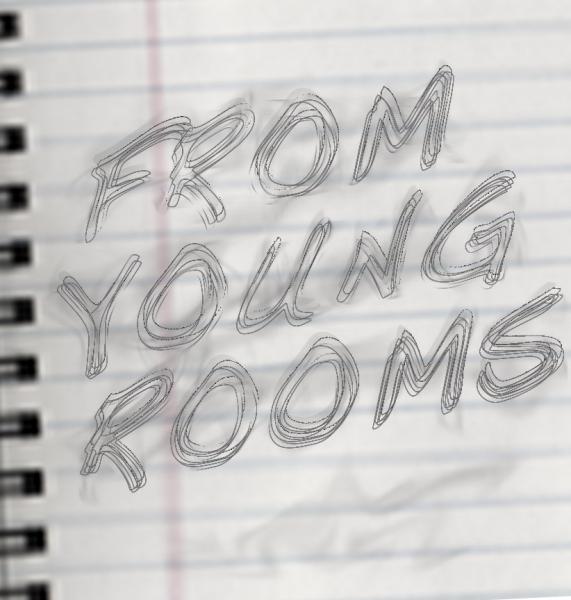 Editor's Note: "Struggling For Place (Written For Anyone I Know)" is part of Michael Juliani's poetic series, "From Young Rooms."
I move forward like a ship pushing enormous water in my apartment
"I don't need you" turns to "Why do I believe you?" The separate legs of male and female pain meeting at the waist
You have to be in love with love in order to love.
(11:32 a.m.): The end of the first week back at school everyone got sick. From polluted air conditioners or not enough REM sleep, it left us absently gaining the courage to eat lunch through all the phlegm.
It's felt like a month here, just from the life. It's not summer in socks anymore. The vented hallways, aged, rubbish chutes at the end—oven aroma of freshly maintained grass leaking into exit stairwells—gardeners in the morning sounding like they're making World War III. If a girl asks to share a long table with you—like this one has here, in the small shade on the patio of this building…sun dress, spaghetti straps, half-Hispanic—it does not mean she's interested, she's out of better options, or doesn't like sitting alone.
It's bewildering to think that any of us are going to marry each other. Let's just watch each other work for a bit—the way someone works is more indicative, laced with personality than any big/drenched-hearted drunken show you'll get crumpled together in a bean bag chair at a party, sharing chasers. Holding each other drunk like we're wounded. A need for people through alcohol begins those relationships where you start living together, the girl's heels under the desk, her pink shampoos and razors in the shower next to the brown bars of soap.
(3:38 p.m.): The apartment after my movie is the product of sore eyes. A poet emailed me his new manuscript this afternoon—I'm waiting for word back from another magazine about a piece. Our trashcan is a Staples box wedged into a slightly wider one and set on the floor rubbing the bottom of the counter. It's jammed with collapsed, bumpy pieces of paper that look like an aerial view of white mountains. My red bowls for cereal rest sliding on top of everything on the gloss of a discarded magazine. A white food container resealed and back in a plastic bag.
Fictionalized Pictures of the Young Man Nobody Notices (Hair):
I have a simple dominance like a power outlet, eye socket
I move like collected dust with shoulders and light. when I'm encouraged I don't stop talking because I'm swearing. because I'm kissing.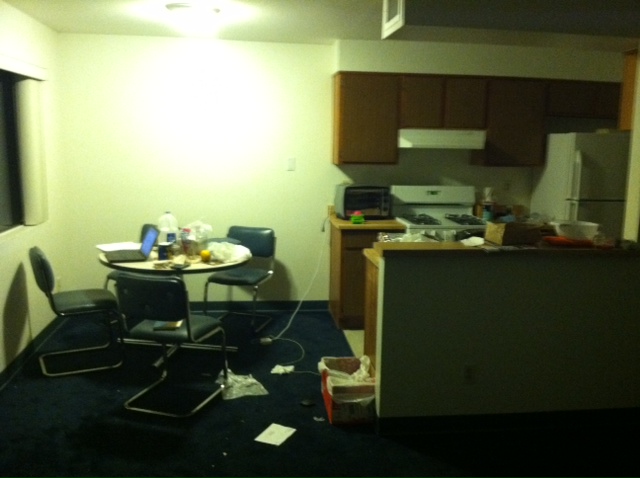 "Dean asks, 'Wanna get lunch and do nothing?' Ever feel like without the right people around you you're just a dirty old dog? The thing about wanting other people's morals to collapse is true—it's a burning, honest feeling. In the library I try to sit near the most beautiful girl towards the back of the hall—I never talk to her. Sometimes she's anorexic, her clothes dangling from her body of stale milk. I feel for them the way Dostoevsky feels for prostitutes, but it's not my place. Some men look for fragility, trying to fill holes with small dominance—some try to compete with other martyrs. I have always envied girls for not being me. I punish people, passively, for the discomfort and disappointment they cause me—when my male professors press the wrong buttons, in sensitivity, in the hard line, I devour the rift between us and sink into my mind—my figurative hands wail from the elbows up at them. I care about how I'm dressed, how I look—I just don't care what you think about it, that's why you think I look like I don't know what I'm doing. One thing's for sure, the anorexics study more than I do, get better grades. They have little else to control than the important parts of their lives, and their bodies. The idea of that sounds like such trash."
Him—hand on cheek, walking a longer ways to listen to music and avoid the harried work—miserly, European, the wavering version of cobblestone and wet clothes. A putrid sense of tolerance and a revulsion toward most of society (even in his face, the venom), both are reflective of his sense of self. Thinking: if the frats won't kiss my feet, I must slap their face.
Seen at the McDonald's drive-thru. Seen being polite to strangers. He quit chewing gum when the right side of his mouth ached and cracked and throbbed as if from chewing aluminum. Quit smoking cigarettes when he got sick of hiding the smell. Not a promiscuous guy simply because he's shy, healthy and moral completely out of shyness, an inability—the fear of the involvement of normal strangers in the intimacy of vice. Telling his friend's girlfriends to convince other girls to sleep with him. In the back of his mind he wants to seem like a cowboy.
Strangers rarely remember you—and if you're not going to be remembered you might as well act like no one's there—he spends a lot of time considering this, acting normally. He looks up young women's legs in class as if told to do so at birth. After all, desires for true love and shirtless debauchery both come from a natural place—both could stop the rest of life with the flicker of opportunity. He'd leave the library or the lunch counter immediately for either of them.
Also, the fact of turning into his father is inevitable—it's already done, just coated with stabbing denial, the vehemence he has defending his lies to people who want to trust him. He's heard that this fate is very Greek (reading an interview with a playwright) and should be accepted, and with the pressure to continue onward. It'd be a very easy and therefore pleasurable thing to give in to his demons—man loves to frighten people with his darkness, like revealing a hidden talent, something pure, large. He feels that he already frightens people, everyone but his friends—it's his friends he most wants to shock.
But from having given up before he knows there's no love reward (sympathy) waiting at the end of that clear black train—the only thing left is more reward for his indulgence, coal upon coal, more difficulty showering, clipping toenails, leaving his folded position in bed, his roommate within his own life, bringing lightning to the room opening the door to come and go. The easiest thing in the world for him to do is burn a bridge. Seeing one again—(charred, deformed)—is like a small throb of trauma.
And the biggest lie being told, to himself, that which rejects the jaded traces of need and love, the warmed end of his indulgences, the other purity he hadn't yet clamored for so actively or had decided to abandon due to the difficulty—the only difference between his world and the best world remains the fact that he hadn't had the strength to work hard, to make each day a tool rather than a weapon. The boy couldn't look at all the cement around him on campus and change the weather with just two good thoughts. At the wall of: "…which is better—cheap happiness, or lofty suffering?"* There wasn't a cure for his stretching into the wrong dreamlike state, considering that every day in every moment we are doing the best we can, even in failure. And what would be the greatest relief? To realize that he didn't, after all, have to make something out of nothing.
Fictionalized Pictures of the Young Woman Nobody Notices (Legs):
--"What do they want from me? The tight ovals of their asses in those dresses, their legs like bleached demonic columns. Sorority girls have started dressing boho-chic now, forcing us 'alienated' girls to more drastic measures—piercings, torn leggings, paint splatter, bare shoulders with flower tattoos. But I don't do those (except for my upper ear). I even try to dress like them sometimes, when I go out, when I go to their parties, I do it half-consciously, in the mirror in my sweltering bathroom, my hair smelling like fruit. I don't think it's such a big deal.
I'd read more but I don't have time. I'd go on dates if someone asked me on one.
All my friends from high school live in pictures on my wall, around my mirrors, next to a stack of old burned CDs I listen to in my car on my way to work on weekends. I know I'm used, boys from so many parties talk their way into my drinks—or don't even talk, we're just the last two people left in a room at the end of the night. I'm more afraid of being walked home by somebody than I am of going alone, even in these streets with all the crime alerts, the girls getting their butts squeezed, even at 3 a.m., even at 4 when all the cops go home for an hour, I'd rather walk home alone. I need that time for myself sometimes. Then I'll make it to class in the morning and with my bra too.
But it's also my fault. I'm always looking for a place, and today it's hard for girls to swim around except in binaries. You're either in submission or too aggressive, and I know it should occur to me that aggressive is good, that it means I'm holding the horns of my life, not paying attention to any of this bullshit that isn't really real. Like if I had a choice, I'd still wear high heels till the day I die…they make me feel strong and pretty, and like a woman—the clack against marble floors, like a leader is coming.
This is all why I bake so much (also why I sometimes won't eat dinner nights I know I'll be drinking beer). At the football games I wear Matt Barkley's jersey—my dad has a lot of opinions and love for him I don't understand. I was in an elevator with him once, he was really nice. I saw my ex-boyfriend at the last game, I was walking up the aisle and he was on the right, wearing the same jersey—he was very drunk, his hair all swirled and sweaty, grinning and yelling everything like an idiot.
A lot of us get a bad name from the few. I'm also here to go to school. I have so much homework. And of course I overthink everything."
*From Fyodor Dostoevsky's Notes From Underground