Commentaries
REVIEW: Wavves Moves More Mainstream With "Life Sux"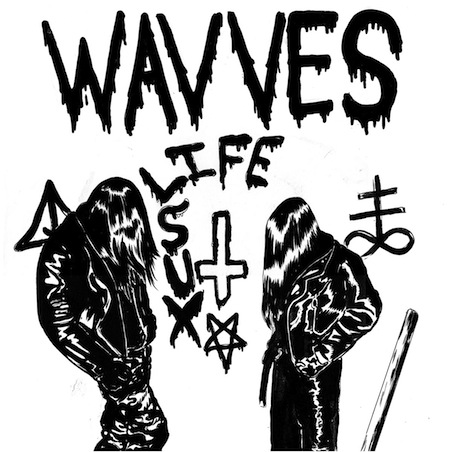 Wavves, a lo-fi surf rock band from San Diego made up of Nathan Williams, Jacob Cooper, and Stephen Pope, released their new EP,
Life Sux
, on Sept 20th.
Though the band has had a tumultuous past, riddled with drama, alcohol additions, and meltdowns, Wavves is quickly propelling itself into fame. Pushed by their song feature in Scott Pilgrim vs. The World, Wavves gained more fame, and also began changing their sound.
They began moving away from the lo-fi in their previous release King of the Beach and followed through with Life Sux. Though some fans see this as "selling out", their move away from lo-fi has opened up their music to more audiences. The lo-fi in their earlier albums just created a wall of noise that covered their talent. In Life Sux they not only clean up their sound but join up with other artists.
Wavves is the king of subtle rhythms. "I Wanna Meet Dave Grohl" seems to be all over the place with a kind of messy beat, but there are still some surprise parallels there. They try not to be overtly catchy and fun, but still achieve it. They also include a message to the world: "Still never gonna stop me!"
"Bug", like most of their songs, has a sense of humor, accusing "You're no fun!" This is another stand out song, with solid guitar riffs and fun rhythms.
Their song "Nodding Off" features Best Coast, but doesn't offer anything new or groundbreaking. This one easily blends in with the rest of the album.
"Poor Lenore" is one of the best of the album. It's different, it's nice. It's oddly calming in a way, even though it employs similar instrumentals to the rest of the songs.
Contrast that with "Destroy" (feat. members of Fucked Up). The title of this song should give a clue to what this song sounds like. It's fast paced and starts off standard, but then dips into heavy rock/scream genres. This is very much a "let's fuck shit up" song.
They wrap things up with a bonus live track, "In the Sand". Again, nothing new. Steady instrumentals, sly rhythms, and constant vocals make this an appropriate end to a Wavves album.
Wavves relies heavily on chorus and repetition, which is good but can get old. Regardless, Life Sux still shines as one of Wavves best albums.
So, even if you don't own vinyl or fedora, give Wavves a chance.
Best way to find more great content from Neon Tommy?
---
Or join our email list below to enjoy the weekly Neon Tommy News Highlights.