MLB
Race For The NL Cy Young - Who Should Win?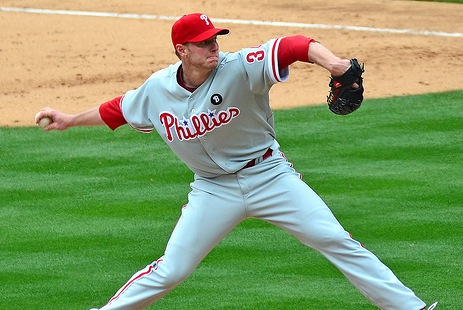 In the American League, Jered Weaver, Josh Beckett, and a few others have turned in stellar seasons, but it's looking like Justin Verlander has his league's Cy Young award on lock.
In the senior circuit, however, all kinds of craziness is occurring.
To help you sort out all the chaos surrounding the National League Cy Young award, Trevor Kuss of Baseball Nerds and I will debate each other.
We're both well aware that many pitchers turned in phenomenal seasons, but in this segment, we go all out for one pitcher, each.
I believe Clayton Kershaw should go home with the hardware; Mr. Kuss says it should be Roy Halladay.
Why Roy Halladay Should Win (Trevor Kuss):
While Clayton Kershaw, among others, has had an amazing season in his own right, my pick for NL Cy Young is Roy Halladay.
When comparing Halladay to Kershaw or any of the other candidates for the award, almost all of the main statistics are a draw except for a small handful. Others have had good seasons also, but Halladay and Kershaw have pulled away from the rest of the contenders.
Kershaw has established himself as the top strikeout pitcher in the NL with 236 total and a K/9 rate of 9.71 while Halladay's strikeout rates stand at 211 overall and 8.645 for K/9.
Halladay is 8th in the league in K/9 and third in overall strikeout numbers. While Kershaw has been impressive with his ability to send a hitter back to the dugout without them having put the ball in play, Halladay has staked a claim on being the best strikeout pitcher that also has amazing control. He leads the league in BB/9 and K/BB rates with 1.229 and 7.033, respectively. If the season ended today, the K/BB rate that Halladay holds would go down as 13th best in the modern era of baseball.
The other key stat for pitchers (and arguably, the most important) is WAR.
Halladay currently leads national league pitchers in WAR with 8.1 while Kershaw is second with 6.7. WAR is important because it is an aggregate of many different stats and shows how much value a player brings to his team. It is not a perfect tool, but gives a better idea of the value a pitcher holds. Cy Young voters may not use stats as their biggest influence when they cast their ballots; the narrative is often important for them.
While Halladay is on a much better team with a better offense, there is an ace with Kershaw putting up incredible numbers. When trying to decide the Cy Young award, winner stats are really the only way to logically look at who has performed the best and base opinions off of that information.
Basically the debate comes down to what type of ice cream you prefer. Whether it's Chocolate (Kershaw) or Vanilla (Halladay), either way you're still getting some awesome ice cream. Vanilla gets a bad rap sometimes for not being as flashy as chocolate, but sometimes the boring familiar flavor of the vanilla bean is just as good as flashy chocolate and in some ways can be even better. It's exciting to see such amazing seasons from so many different pitchers, but I'm a vanilla guy myself.
Why Clayton Kershaw Should Win (Aaron Fischman):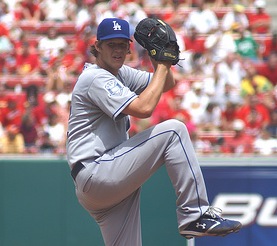 Although at least 10 National League guys have had great years throwing the baseball, there are five N.L. pitchers that especially stand out as deserving to win the Cy Young. So how can we separate these five finalists? Well, let's first look at the basic numbers (for now, I won't use any advance stats even though a compelling argument can be made for including them).
Keep in mind that over the years, voters have increasingly ignored wins and focused more on the quality of a pitcher's starts (or appearances, in Kimbrel's case) or in other words, stats that are not dependent on a pitcher's offensive supporting cast.
Roy Halladay (Phil): 219.2 IP, 2.34 ERA, 1.04 WHIP, .241 BAA, 211 K's, 30 BB's, 9 HRA
Cole Hamels (Phil): 199.0 IP, 2.71 ERA, 0.98 WHIP, .212 BAA, 177 K's, 41 BB's, 15 HRA
Clayton Kershaw (LA): 218.2 IP, 2.30 ERA, 0.98 WHIP, .207 BAA, 236 K's, 51 BB's, 13 HRA
Craig Kimbrel (Atl): 72.2 IP, 1.73 ERA, 0.99 WHIP, .170 BAA, 120 K's, 29 BB's, 1 HRA (44 Saves, may I add).
Cliff Lee (Phil): 219.2 IP, 2.38 ERA, 1.02 WHIP, .224 BAA, 223 K's, 42 BB's, 16 HRA
In my humble opinion, these statistics support the argument that Halladay and Kershaw should be the top two vote-getters when all is said and done. With regard to Kimbrel, his dominance cannot be disputed, but as starters, Kershaw and Halladay made much more of an impact this season.
Because their respective numbers are so tight, this year's voters should consider factors that may not normally have been emphasized in past years.
For one, Kershaw is considerably more valuable to his team than Halladay.
I realize that it may seem unfair to penalize Halladay, Hamels and Lee for playing on the same team, but it's a legitimate concern.
Frankly, Kershaw has had to deal with much greater pressure, being his team's undisputed ace. Yes, Hiroki Kuroda is having a solid season, but Kershaw is easily the best starting pitcher on his team. Besides Kershaw and Kuroda, no other Dodger starter has an ERA of less than 4.00. In contrast, every member of the Phillies' rotation boasts an ERA under 4.00. In addition, the Dodger offense has produced far fewer runs than the Phillies. Philadelphia places 11th in runs scored, whereas the Dodgers are 23rd in that department.
While it is true that Halladay deserves to be recognized for his amazing control (he's walked just 30 batters for an amazing K/BB ratio of 7.03), Kershaw bests him in dominance (and it's not even close).
Let me explain. Besides the fact that Kershaw has struck out 25 more batters than Halladay, the Philadelphia right-hander is plagued with a much higher opposing average. In other words, it's great that Halladay has such tremendous control, but because he's always near the plate, batters are hitting .241 against him. That's still a good number for Halladay (and bad for opposing hitters), but we must remember that batters facing Kershaw are hitting a miserable .207 this season.
Finally, this may sound crazy, but I believe Kershaw's significant improvement in control should be recognized.
Due to the nature of Kershaw's game, he's been known to be a little wild.
Last season, of all NL pitchers, Kershaw walked the seventh most batters. In 2009, he was third worst in that department. This year, however, the young southpaw isn't even in the NL's top 30 in most batters walked. Considering how much movement Kershaw's pitches possess, it's nothing short of remarkable that he's reduced his walks by such a significant margin. Even more impressive, he has done so without compromising his ability to strike out batters. His K-output has even gone up from a year ago (212 to 236), and he still has two or three starts remaining.
Let Us Hear It:
Don't be shy. In the comments section, tell us who you think deserves to win this high honor. We would love to hear what you think.
__________________________
Reach Aaron by email, or follow him on Twitter.
Best way to find more great content from Neon Tommy?
Or join our email list below to enjoy the weekly Neon Tommy News Highlights.