National
Pat Robertson Expands List of Controversies With Alzheimer's Comments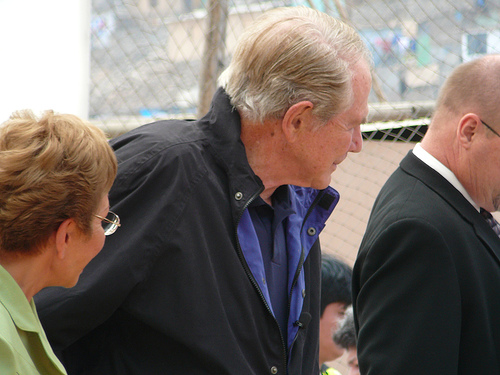 Televangelist and "700 Club" host Pat Robertson
sparked controversy
Tuesday after he characterized Alzheimer's disease as a "kind of death" and told a caller that the memory-impairing disease was an acceptable excuse to divorce one's spouse.
Already Robertson has received criticism from those offended by his remarks, especially from Christians condemning Robertson for encouraging divorce in such a situation. The L.A. Times compiled a list of comments posted online by readers of Christianity Today:
"I am horrified by Robertson's response!" said one.
…
"Such irresponsible, callous comments made by Robertson. My father cared for my mother who was diagnosed with Alzheimer's at age 55...until the day he placed her ravaged body in the grave. He kept his vows. Be ashamed of yourself, Pat Robertson."
Others affected by Robertson's words disagreed with his characterization of the disease, which afflicts more than 5.1 million Americans, the majority of whom are over 60. As CBS News reports:
"I don't think an Alzheimer's diagnosis is like death," Beth Kallymer, a social worker with the Alzheimer's Association, told CBS News. "Even in the final stages, people can still connect and relate and have a need for intimacy - even when they don't know who you are."
Robertson, 81, is no stranger to public outrage. Among his trunket of controversies and off-color statements:
"We have sinned against Almighty God, at the highest level of our government, we've stuck our finger in your eye. The Supreme Court has insulted you over and over again, Lord. They've taken your Bible away from the schools. They've forbidden little children to pray. They've taken the knowledge of God as best they can, and organizations have come into court to take the knowledge of God out of the public square of America."
The Haitians "were under the heel of the French. You know, Napoleon III and whatever," Robertson said on his broadcast Wednesday. "And they got together and swore a pact to the devil. They said, 'We will serve you if you will get us free from the French.' True story. And so, the devil said, 'OK, it's a deal.' "
Answering a viewer's question about how a Christian should respond to an atheist who does not believe in hell and therefore does not believe he will be going there after death, Robertson pulls out a 9 mm handgun and waves it around to make his point that just because you do not believe in something, doesn't mean it's not there.
Robertson's show, "700 Club," airs on ABC Family and is syndicated worldwide.
Reach Aaron Liu here.
Follow him on Twitter.
Best way to find more great content from Neon Tommy?
---
Or join our email list below to enjoy the weekly Neon Tommy News Highlights.