Film and TV
The Newest "New Year's Eve" Trailer: Same Old, Same Old?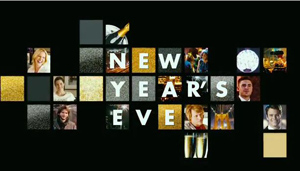 What's next, "St. Patrick's Day"?
The newest trailer for the holiday flick "New Year's Eve" is up, and you can check it out below, but let's just say it doesn't look like anything new and exciting.
Essentially, the movie seems like a remake of "Valentine's Day," which was a remake of "Love Actually." So, it's a romantic comedy centered around a holiday with a backdrop of a big city, in this case, New York, with a massive amount of couples whose storylines are all intertwined. Oh, and there's lots and lots of star power.
As Katherine Heigl's character says, "There's gonna be more celebrities here than rehab," and from the looks of the trailer, it's the truth. The sheer amount of celebrities producers managed to pack into the movie is impressive, but overwhelming.
A star is just enough to make or break a movie. Pack in too many stars and you just have a bunch of big names fighting for the top spot on the big screen.
It's far, far too much of a good thing, and as we saw with "Valentine's Day," it doesn't work.
An old premise and too many celebrities may ultimately kill "New Year's Eve," but if you're a lover of Gary Marshall romantic comedies, fear not. The trailer still gives some hope for "New Year's Eve," and here's why.
From the looks of the Jessica Biel/Seth Meyers storyline, it (thankfully) doesn't look like every micro-plot line is going to be centered around falling in love. Audiences need a good "race to have the first baby of the New Year" comedy once and a while.
Even with the superstar cast, there are some standouts. Even though we only saw a few seconds, it seems like little Abigail Breslin is all grown up and gone wild in the movie. "This isn't a training bra!" she declares to mom Sarah Jessica Parker, flashing her chest. Wow!
Other moments we're excited about: Zac Efron and Michelle Pfeiffer on a motorcycle together, Lea Michele performing at the annual Times Square celebration and Jon Bon Jovi getting smacked in the face.
Sure, the premise isn't anything new, but maybe the little moments will make the movie. We'll just have to wait until December to see.
Reach writer Jennifer Schultz here or follow her on Twitter here.
Best way to find more great content from Neon Tommy?
Or join our email list below to enjoy the weekly Neon Tommy News Highlights.