California
L.A.'s "DREAM Team" Advocate For Undocumented Students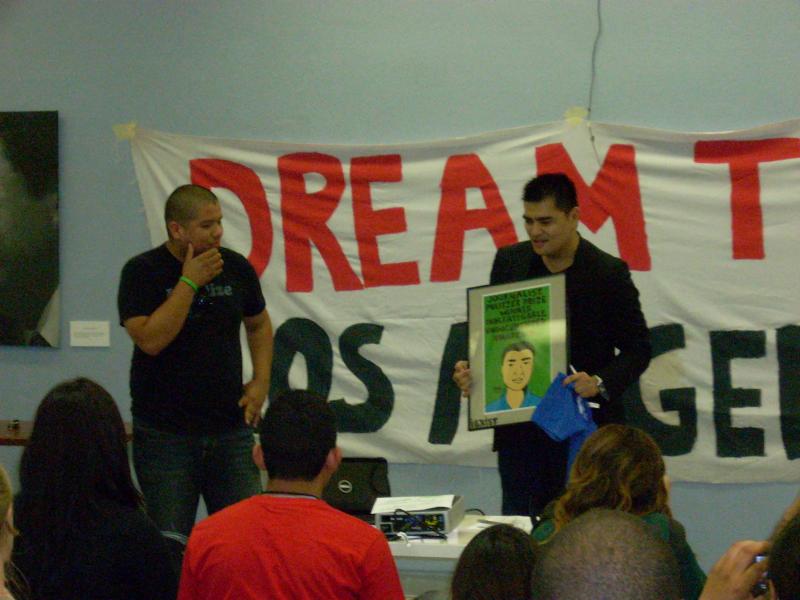 Julio Salgado is a college graduate. He's an artist. He's also a vocal member of a strong community of undocumented immigrants and supporters.
Salgado and nearly 80 others who share his passion gathered Wednesday evening at the UCLA Labor Center for an open house event, and were treated to a special appearance from the undocumented immigrant and former Washington Post journalist Jose Antonio Vargas. The event, organized by a group known as DREAM Team Los Angeles, aimed to plan a course of action for the undocumented community in Los Angeles.
Vargas opened the meeting by addressing the crowd and urging them to continue to fight for immigration reform, especially the passage of the Development, Relief and Education for Alien Minors Act, otherwise known as the DREAM Act.
"Illegal immigration is not just about undocumented people," Vargas said. "It's about our teachers, our coaches, our pastors. It's about ordinary Americans who have stepped up where the government has failed."
Vargas became a highly followed advocate for undocumented immigrants in June when he published an article in The New York Times Magazine describing his life as an illegal immigrant from the Philippines who eventually became a Pulitzer Prize-winning journalist.
"I feel as if all I'm really doing is telling the biggest story of my life," Vargas said. "It just happens to be my story, and it just happens to be our collective story."
Despite his national prominence, Vargas stressed that he was not a leader. He said that group participation and activism would ultimately be essential to realizing the hope of any meaningful immigration reform.
"You're the inspiration," he said to the crowd. "We're living in a time in which we can tell our own stories, and that's what we have to do. We have to tell them as fully, and as aggressively, and as loudly as we can."
Carlos Amador – one of the leaders of DREAM Team Los Angeles (DTLA) – echoed this sentiment. Ultimately, he said, the power for affecting political change starts with the people speaking up and making their voices heard.
"We're no longer going to stay in the shadows," Amador said. "We're going to speak, share our stories and change the movement."
DTLA was active in campaigning for the passage of AB130, the first half of the California DREAM Act, which allows for undocumented college students in California's public university system who are eligible for in-state tuition to receive privately funded scholarships. Gov. Jerry Brown signed this bill in July.
At the top of DTLA's agenda is AB 131, the second half of the California DREAM Act, which would give undocumented students the right to the same state grants and financial aid awards for public higher education as
citizens and legal residents.
This bill has passed through the State Assembly and Senate, and is currently awaiting Gov. Brown's signature.
A federal DREAM Act, which would give undocumented students a path to conditional legal status and eventual citizenship through school or military service, has not been passed.
Another priority for DTLA is speaking out against the deportation of undocumented students and graduates who haven't participated in criminal activity. One man associated with DTLA, a college graduate named Matias, is currently facing deportation.
According to Kent Wong, director of the UCLA Labor Center, the Obama administration has already deported over 1 million people, more than President Bush ever did in a single term.
"It's outrageous that we have to be working so hard to stop the deportation of so many of our students," Wong said.
Salgado, who creates visually striking works of art that channel the voices of immigrants, agreed that deportation remains the greatest fear for the undocumented community.
"Our friend Matias is college educated, not a criminal at all," Salgado said. "He's been told to leave despite the contributions that he's made. That scares us, because it shows just how much this administration is walking with a blind eye to our community."
According to Salgado, that fear is exactly why the undocumented community needs to join together and continue to remain active in grassroots movements like DTLA.
"After all," he said, "we all know what it's like to be alone."
Best way to find more great content from Neon Tommy?
Or join our email list below to enjoy Neon Tommy News Alerts.