Los Angeles and Region
L.A. Football Stadium Proposal Gets A Nod From Bill Clinton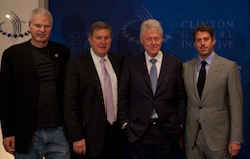 Former President Bill Clinton applauded Tuesday AEG's proposal to build what it says will be an environmentally friendly football stadium in Downtown Los Angeles, the company said in a press release.
The recognition is the latest in the string of positive reviews from the environmentalist community this month for the proposed $1 billion, 72,000-seat Farmers Field facility next to the L.A. Convention Center and the AEG-owned L.A. Live hub.
"The Clinton Global Initiative is a forum for visionary companies and leaders who are committed to designing a sustainable future for individuals, businesses and communities, by repurposing business methods and culture to solve critical global problems," Clinton said in a statement. "AEG has proven to be the world's most environmentally conscious venue operators (sic), and Farmers Field will be another true example of their mission to marry design, innovation, social responsibility and community engagement, resulting in a measurable impact for future generations. I commend AEG as a model socially responsible company that is the hallmark of CGI."
Whether the stadium can deliver on its goal to be the world's most environmentally sustainable stadium remains a debate. AEG has said the stadium would become the first in the NFL to be LEED-certified. But without official rankings of which stadiums in the world top the list of sustainable practices, AEG's benchmarks to beat are fuzzy.
"We will work with them to create the best stadium we can for the environment," said Allen Hershkowitz, an expert on sports stadiums for the Natural Resources Defense Council, which has endorsed the project. "I can't promise you they will be the best in every category (of sustainability)."
Like reporter Paresh Dave on Facebook, follow him on Twitter, circle him on Google+ or send him an e-mail.
Best way to find more great content from Neon Tommy?
Or join our email list below to enjoy the weekly Neon Tommy News Highlights.