National
Jon Stewart, Bill O'Reilly Debate Taxes On "The Daily Show"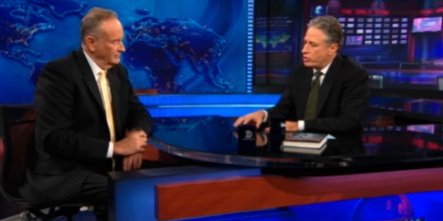 When Fox News host Bill O'Reilly and "The Daily Show" host Jon Stewart get together on television, you can almost always be sure the discussion will be spirited, lively and heated. O'Reilly's appearance on the "The Daily Show" Wednesday night was no exception, with the host of "The O'Reilly Factor" clashing with Stewart over issues ranging from taxes for millionaire, government spending and $16 muffins.
The discussion got feisty very quickly, as Stewart took on O'Reilly over his threat to quit his Fox News show if the tax rate rose above 50 percent.
"What percentage of that threat is empty?" Stewart asked, to which O'Reilly jokingly replied "All of it," before replying seriously that "there comes a point where, if you're going to be taxed for the federal government at 50, and then you got to pay your property taxes, your sales taxes...so it comes to a point where you say, you know 'is this worth it or not.'"
"What is this whole business with the poor, poor rich and wealthy in this country? So unfair to them," Stewart said mockingly. "Are you ever going to wise up? Ever?," O'Reilly responded. He then went on to tell Stewart that he would be fine paying higher taxes if the government wasn't so wasteful in its spending. To prove his point, he brought up the infamous $16 muffins that were ordered for a Justice Department meeting, a story that he was delighted to find that Stewart had evidently not heard about. (Note: officials have said the muffins did not cost $16, and that the figure included multiple items.)
Things got more and more heated as the two men took their discussion to the Internet, with Stewart getting visibly peeved at O'Reilly as the cable news host discussed how burdensome taxes in America had become. "Stop it..stop it," Stewart interrupted, pointing out that the income tax has actually gone down. "Every other tax in the country has gone up, what's the matter with you?!" O'Reilly said. Stewart responded: "You're not living in reality!"
Stewart then read O'Reilly a list of statistics about the rising inequality in this country, and how it benefitted the rich. "So we should shoot them," O'Reilly said.
"I'm not saying we should shoot them! But we shouldn't act like returning to the tax rate of the 90s is class warfare on par with Lenin and Marx!" Stewart said, his response being met by cheers and applause. He continued, "You know what is is? I'm looking out for the folks."
The interview marked O'Reilly's eight appearance on "The Daily Show." Incidentally, O'Reilly was on the program to discuss his new book "Killing Lincoln," the one subject the two men did not seem to get to.
Watch Part 1 here:
Watch Part 2 here: